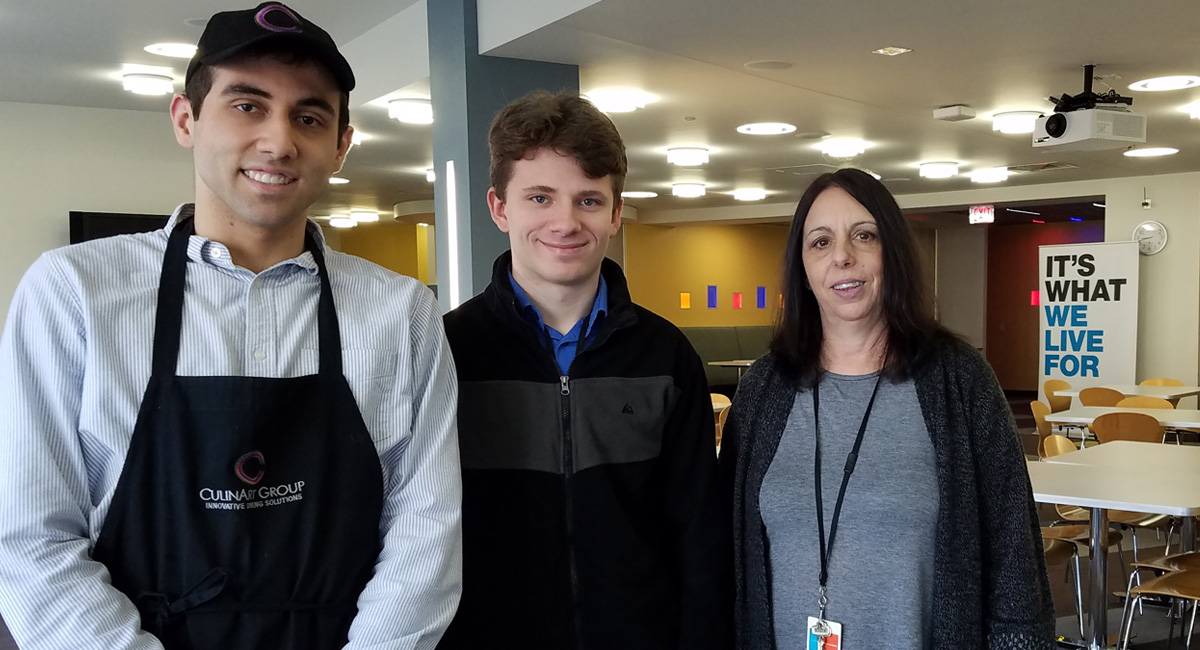 Springing into the Semester with ProjectSEARCH
By Sara Porcaro | March 31, 2020
Earlier in the year, when business cafeterias were open and offices humming with activity, the second semester of this year's ProjectSEARCH class was in full swing--and with it, three interns working hard to learn new skills from their coursework. Now the offices of Blue Cross and Blue Shield of Rhode Island (BCBSRI) are closed as the employees of the local health insurer practice social distancing to help stop the spread of COVID-19. While they were open, however, the ProjectSEARCH experience stayed true to its mission--and the interns had fantastic experiences to learn from!

Since the fall semester, three students remained with the program: Ian, Andrew, and Andy, who moved from their first rotations to their second after winter break. Andrew first worked in Strategic Sourcing and Vendor Management, organizing documents from vendors with speed and efficiency that earned him high praise. He then shifted track and worked in the cafeteria, where he stocked, cleaned, and prepared food. The best news for Andrew was that, for his third rotation, there wouldn't be a switch to a new area of BCBSRI. Rather, Andrew was hired to work in the cafeteria for the rest of the year and beyond!

"I'm very happy that they offered me a job here," Andrew said with a smile. "I like this kind of work a lot, and it feels good knowing they wanted me to stay."

"He's doing amazing," noted Job Coach Donna McKenna. "Andrew has made great connections with many of the professionals at the office, and people are happy to see him every day."

In fact, the Culinart team, which manages the BCBSRI cafeteria, wanted Andrew to stay with the team so much that their job offer was a counter-offer to another job Andrew interviewed for elsewhere. His skills and reliability made him a fantastic fit for the team, and he learned the steps not only from his supervisors, but from fellow ProjectSEARCH graduates working alongside him, like cashier Anna Maria. However, despite having the job secured, Andrew kept at the specialized ProjectSEARCH curriculum with Ian and Andy while offices were still open, where they learned a number of important skills. From learning about safe transportation usage to cell phone etiquette, the students came together every morning for workshops and assignments on real-life skills for their success in the workforce.

"I learned better communication skills with ProjectSEARCH," said Ian. "It's easier for me to open up now, and I have better time management and other soft skills, too. It's nice."

Ian's work in the mail room also came to end as he shifted to his second rotation, where he worked primarily with stocking in the cafeteria, as well as cleaning conference rooms after his stocking work was finished. His career goal for after his ProjectSEARCH graduation is to find a job stocking, and during his second rotation, he found he enjoyed the work quite a bit. Their peer, Andy, has also had a great experience working in the mail room, where he prepared sales and request kits, got copy machines ready, and learned new software under his supervisor, Carol. All three students proved, through their dedication and perseverance, their capabilities on the job--and all had a sense of pride surrounding it.

"I definitely recommend ProjectSEARCH to any students looking to learn new skills," Andrew said. "This has been great for me, and I'm happy I did it."

Ian agreed, noting his excitement to graduate. "I'm looking forward to summer," he said. "We'll celebrate then, and I'll be able to work as a camp counselor at my favorite campground in New Hampshire in July."

While we're now in the time of social distancing, these dedicated students certainly have the memories of a fantastic experience--and the continued learning and skills to aid them in the future! ProjectSEARCH remains a fantastic opportunity for youths looking to sharpen their vocational skills, and the students agree. Their work throughout the school year has been an incredible display of achievement and success, and we're wishing them the best as they forge onwards towards the summer!
---
---