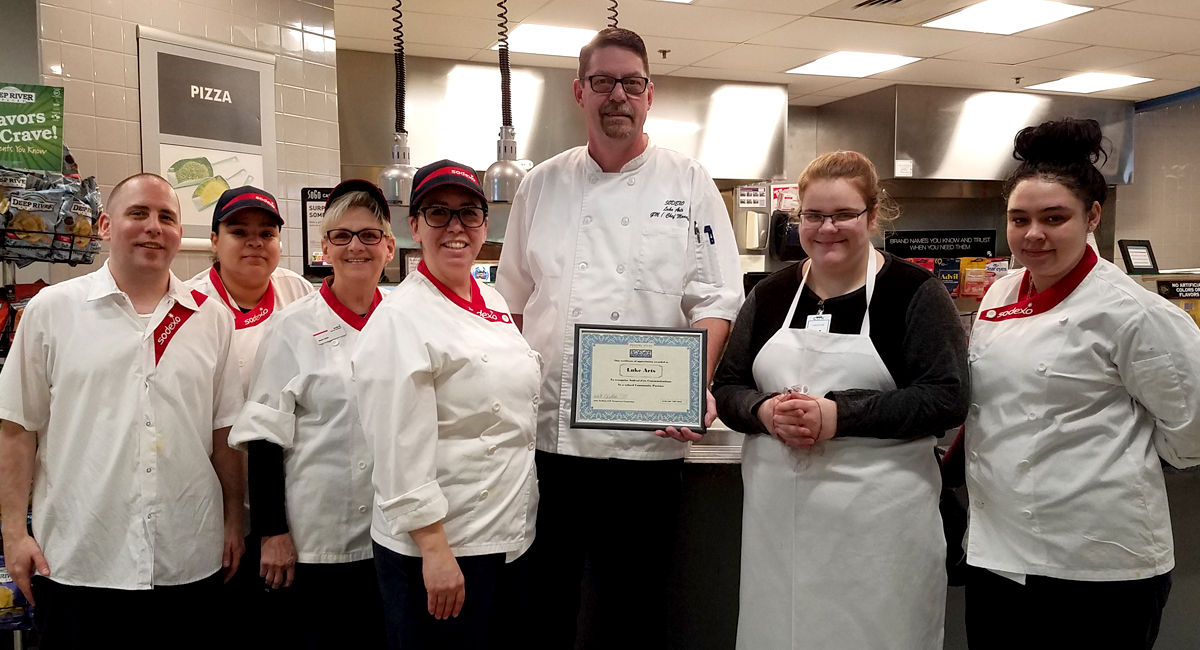 Seizing the Chance for Change: Community Partner Luke Arts
By Sara Porcaro | March 17, 2020
For individuals seeking employment, there are endless opportunities lying in wait: work trials, temporary positions, internships, and more, all of which allow individuals to see what work they enjoy most and set the course for their journeys afterwards. But behind every work trial--every semester, every training program or work trial--is a supervisor and a team that welcomes those looking to learn new skills, happy to bring a new member aboard and show them the ropes. Sometimes, that's all it takes for individuals to shine: someone to give them the chance to demonstrate their skills and make a difference. That's why we're recognizing our community partner Luke Arts, head chef at the Cox Communications cafeteria, who always opens his kitchen for individuals looking for work trials!

Since Luke was 15 years old, he's worked with food: first at a local pizza restaurant, and later at a variety of other restaurants until he found a position in the Johnston and Wales Culinary program. For 17 years, he worked in the university's kitchens alongside student assistants--some of which were students with disabilities who loved the work they did and wanted to find a career in it. Luke saw the great work they did--as well as saw them struggle to secure long term positions in other restaurants--and knew he was in a position to help them reach their goals. From then on, Luke helped individuals gain more permanent employment in the kitchens and get the experience they needed to succeed.

"I sort of took them under my wing," says Luke. "Seeing how happy [individuals] are when they're given a chance, and seeing them do so well on the job--it just feels really good."

After a period of lay-offs from the university, Luke found himself working for temp agencies, where he started working with Sodexo at the Cox office--and where he stayed for a permanent position afterwards. He met current Perspectives Career Developer Loraine Lesniak there, who worked with Trudeau at the time, and built the connection that allowed for the cafeteria's current work trial system: one that allows individuals to learn necessary food preparation and safety skills to take with them to future careers.


OPPORTUNITIES TO LEARN ON THE JOB


The current trial employee, Nancy from Cranston West High School, works in the back of the cafeteria preparing healthy, homemade meals for breakfast and lunch. Yogurt cups, salads, fresh baked goods, and other items for recipes are always set and ready to go when Nancy works, and she's learned various food safety skills along the way. She hopes to begin the ProjectSEARCH program soon, where she can continue exploring different fields and opportunities that interest her. As of now, Nancy's goal is to work in in a kitchen, and with how supportive everyone's been, as well as how much she enjoys the work itself, she's glad to have the chance to learn and grow with the Sodexo crew.

"Luke is really nice," Nancy says with a smile. "So is everyone else here; they're all really friendly and easy to work with. I'd love to work in a kitchen like this."

One of Nancy's co-workers, Kim, has worked in the cafeteria for four years, where the sense of community between coworkers, and their welcoming attitudes, have always been strong. In that time, she's seen many individuals come for work trials under Luke's approval, all of them hard-working and eager to learn as they bring their positive attitudes into the kitchen. She finds Nancy to be no exception, as Nancy's work ethic has her completing all her tasks in a timely manner; her contributions to the team are appreciated by all, and Kim says as much.

"I would absolutely vouch for Nancy if she wanted to apply here," she notes. "She's really good at the work she does." When asked about the work trial programs, Kim says, "What Luke is doing is great, and I think more places should do it; it gives individuals a chance to contribute and show they're capable."

At Perspectives, we're always grateful to community partners like Luke, who are willing to recognize the unlimited potential in individuals and honor their willingness to learn and try new things! As Luke and his fellow kitchen staff say, sometimes, all one needs is a chance to show what they can do--and at the Cox Communications cafeteria, Luke takes charge and provides those chances, always happy to help. For this, Perspectives has awarded him with a certificate in his honor, as well as a few gifts to show our appreciation! Thank you for all you do, Luke--the individuals we support are grateful for the chance to learn from your kitchens!
---
---