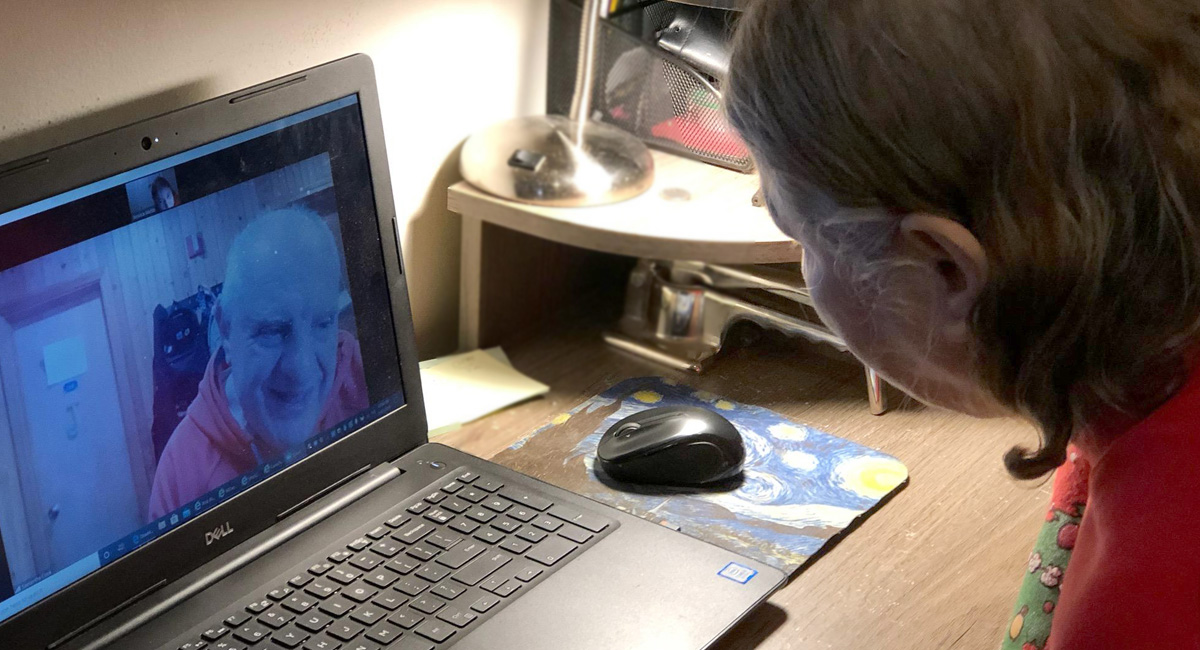 How Perspectives Perseveres through the COVID-19 Pandemic
By Sara Porcaro | April 7, 2020
With Easter coming up fast and the spring weather bringing our favorite flowers into bloom, March 15th already seems so far away. On that day, the state of Rhode Island officially shut down non-essential businesses and encouraged us all to practice social distancing to help flatten the COVID-19 curve--and Rhode Islanders everywhere responded to the call, finding ways to stay positive from the comfort of their home for the sake of the community. At Perspectives, we've seen a flurry of incredible things these past few weeks: not only creativity and skill with fun home projects, but compassion for fellow community members and proactive efforts to keep everyone safe and healthy!

The state-wide shutdown has been a swift response to the COVID-19 pandemic, taking care to close down not only public spaces like malls, schools, and dine-in restaurants, but even state parks and beaches, to protect residents from the virus's spread as April arrived. To say this has changed the way we live our everyday lives is an understatement. The economic impact alone, with thousands of unemployment claims coming into Rhode Island's system as non-essential businesses close their doors, has brought uncertainty and distress to community members--but thankfully, measures have been taken to provide citizens with relief.

Not only that, but countless resources have come pouring in, with gyms offering online workouts and museums, parks, and performers offering online alternatives to education, exploration, and entertainment. Dozens of articles have appeared with creative and fun ways to spend the warm spring afternoons, helping people stay active and connected in a time of isolation. For the individuals we support at Perspectives, those ideas have produced fantastic things: brand new art projects like birdhouses and home decorations, baking and cooking lessons, home manicures, virtual meetings with family and friends, and plenty of fresh air and conversation as individuals spend time together at home.

"I think we are thriving through this," says Site Supervisor Meagan Long. "We've come together as a team, too, to make sure the individuals we support know we're there for them during all this. We're very proud to be here and be able to help out!"

Aside from the plethora of home activities, and all the great ideas individuals and our professionals are coming up with together to keep every day fun and positive, everyone's also doing what they can to keep each other safe from infection. For instance, one dedicated individual, Kara, has been involved in the household hygiene: she routinely disinfects common surfaces, like kitchen counters and tables, and she makes sure that the common areas people spend the most time in stay clean for all.

"[Kara] has a great eye for detail," says Site Supervisor Siobhan Catterson-McCaffrey, "and she does an unbelievably thorough job in her cleaning with a little direction."

Beyond that, her housemates have adapted to stay positive and encouraging of others while also being mindful of healthy habits. Rather than hugs or high fives, individuals and professionals have opted instead for elbow bumps or other ways of expressing their appreciation for one another. They're enjoying their time practicing computer skills at home, taking walks around the neighborhood or exercising on home exercise equipment, and of course, enjoying each other's company. Changes continue to come, with the Brown University Partners for Adult Learning (PAL) program going online to keep tutors and tutees connected and learning together.

All in all, despite the sudden shift of our lives with the COVID-19 pandemic, the individuals we support and our professionals continue to shine in their ingenuity and their tight-knit teamwork. They remain positive, taking on challenges with a unified front and sharing in each other's successes, all while staying healthy and helping to flatten the curve. We're all in this together, and we'll get through this together--and these bright faces are just another reminder of the joy we can find, no matter the circumstances!
---
---