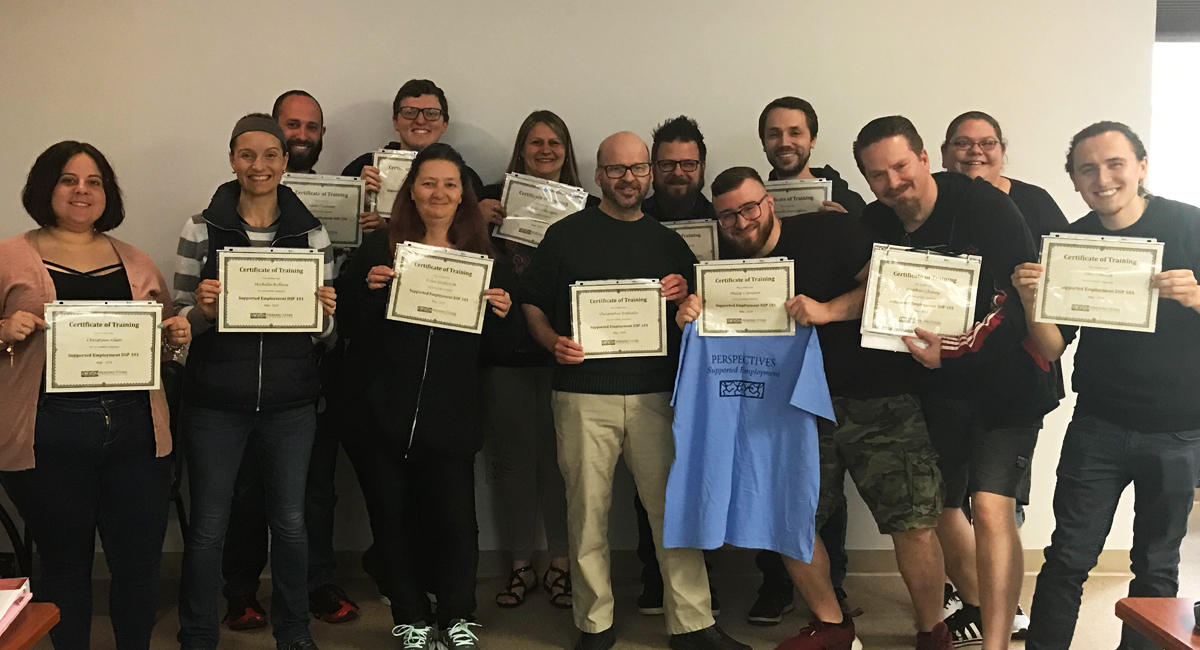 From Drawing Board to Classroom: Supported Employment 101
By Sara Porcaro | June 25, 2019
From one year to the next, change is inevitable. Whether relocating to a new home, finding new employment, or taking one's plans from the drawing board into action, the power of 365 days of progress is immeasurable. At Perspectives, too, much has happened in the past year--countless changes as the agency pushes forward in their quest for better services for individuals we support. One of those changes has been the official start of Supported Employment 101 Trainings for Perspectives professionals, established with Dr. Judy Drew!

Last year, Salve Regina University's Dr. Drew teamed up with Perspectives and wrote the curriculum for the recently launched program, which had a series of successful pilot trainings that received great feedback from its participants. As well, Dr. Drew mentored three Perspectives professionals to teach this curriculum to the rest of the agency in Dr. Drew's place: Career Developer Ashley Ponton, Program Manager Karen Rogers, and Training Director Patricia J. (PJ) Harder. However, a major difference comes between last year's general trainings and this year's new classes: now, while keeping the integrity and core elements of Dr. Drew's program design, Ashley, Karen, and PJ have all taken their own approaches to the content, dividing the course amongst each other and choosing how to best frame each part for full understanding.

"At the original trainings last year, we were mixed with professionals from other agencies," PJ explains. "Doing a version more tailored to our unique Perspectives culture has really helped connect our professionals across programs with our common goals and bring us all together."

This program is geared towards Direct Support Professionals (DSPs) who support individuals in their everyday lives, including in the home, in day activities; in this class, they learn ways to better support individuals in finding and maintaining a career of an individual's choosing. With the course divided into three sections, participants are taken through a variety of topics--everywhere from the importance in the language we use to what employment can offer individuals. Professionals learn with an eye towards understanding the many different motivations, possibilities, and barriers that exist for individuals seeking employment, and with a broader grasp on what employment has to offer.

"Supported Employment 101 was a great experience; it's helped me a lot", says Site Supervisor Adam Dunham. "Whether at home, at an individual's job, or out in the community, this class definitely taught me how to best approach any situation. Anyone who takes this training will benefit greatly!"

After the first course, the participants gave their feedback, discussing things that impacted them and potential ways to improve. In all the responses, one theme ties them together: these dedicated professionals have all found a new angle to approach everyday scenarios with, and ways to better use their language and support to help individuals achieve their goals.

For Site Supervisor Christopher Bouchard, the class was eye-opening--namely in how we think about work. "Most of the time we relate work to money," he says, "but work is more than money; it's the pride, community, friendship, and opportunity to learn new things, too."

Another round of the course begins this July--and with all the positive feedback received from the first round of courses, the trainers are excited to bring Dr. Drew's curriculum to a new wave of participants! If you'd like to learn more about Supported Employment 101, you can reach out to our training department at trainingdept@perspectivescorporation.com and find out how to get involved.

---
---