As we come to the middle of Developmental Disability Awareness Month, Perspectives is proud to raise up the voices of individuals everywhere--individuals that show our local communities their kindness, creativity, their many talents, and so much more. Whether at their jobs, on sports teams, out volunteering, or doing any of the other things they love, they work hard, and their friends, colleagues, and peers know that. But this month, we're looking beyond the contributions they bring to community: we're looking at the goals they have for their daily lives, and the ways they can achieve them with options like the Shared Living Arrangements Program (SLA)!

After the close of the Ladd School, moving into new, fully equipped homes--ones where they could decorate how they liked, talk to their neighbors, go out for a morning coffee, or any of the other little things we might take for granted--was a completely new experience for individuals that left Rhode Island's institution behind. But soon enough, individuals living in these new homes were learning how to live their lives to the fullest in their communities, and they, their families, and disability advocates continued to push for new ways to get individuals the supports they needed in everyday home life. One of these ways was through SLA, a program that matches individuals with a home provider: a person that opens their home and family life up for the individual to become a part of.

"It's an opportunity for someone to gain more natural supports," says SLA Director Rachel Morgan. "Through SLA, individuals can get a more consistent and customized routine because the same family members are the ones supporting them every day--and routine is major for a lot of individuals to be able to thrive."
"Through SLA, individuals can get a more consistent and customized routine because the same family members are the ones supporting them every day--and routine is major for a lot of individuals to be able to thrive."
And for individuals looking for not only that stability, but that sense of connection and strong relationships that a family can bring, SLA is ripe with opportunity. That's why, as this type of support continues to grow, Perspectives professionals are making strides to match qualified home providers with individuals looking to start their SLA journey. However, it comes down to far more than just what kind of supports someone needs in their day to day life; it's also about matching people who share similar interests, hobbies, lifestyles, and more, creating a situation where an individual can truly integrate with the members of their new home.

"Obviously, we wouldn't match someone who likes to hike on the weekend with someone who loves to spend a weekend playing video games inside," says SLA Program Coordinator Ed Hand. "So when we get an individual looking to do SLA, we make sure we know what they're looking for, and for them to find ways to get to know a potential provider."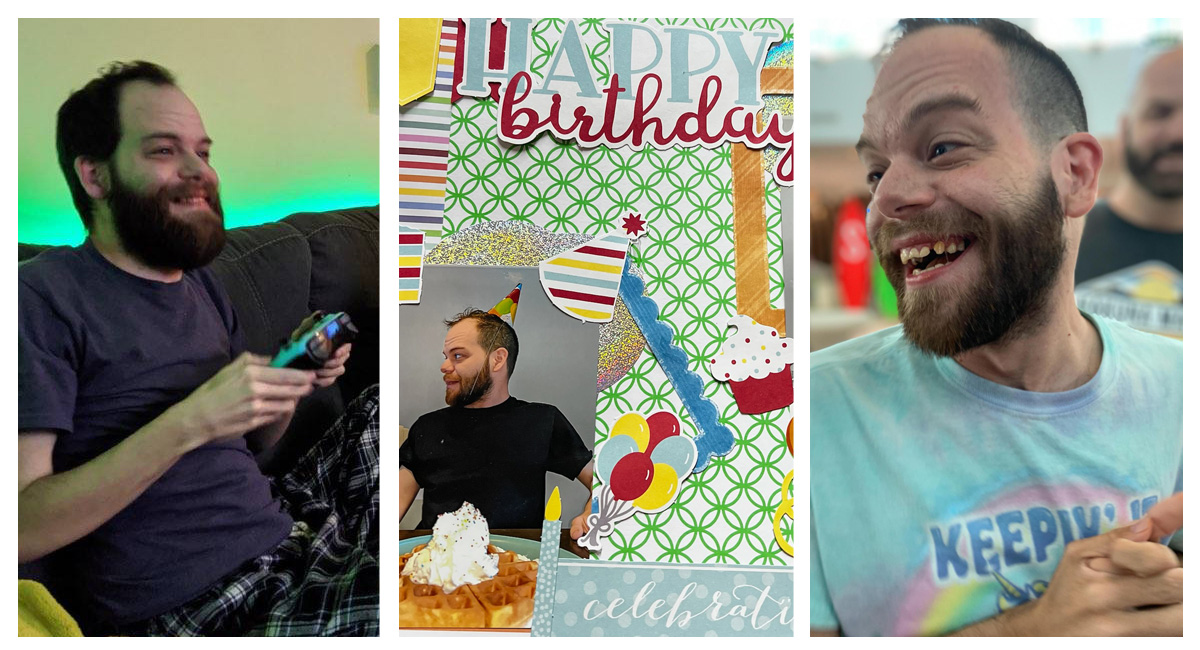 It's a key part of the process: matching up individuals and home providers, and then checking in regularly to ensure that the arrangement is going well and the home provider has any support they need. The COVID-19 pandemic certainly made things more difficult, as home visits went virtual and meetings between participants had to take place either online or in settings where social distancing could work. Nonetheless, the SLA team's commitment to safety, quality, and solid supports ensured that anyone working to start an SLA experience had all the information they needed to make the best choice for themselves.

"We had to get creative with how we got everyone together to meet and learn about each other," Ed notes, "but as of now, we have 33 successful SLA placements, and we're looking to keep growing the SLA program."

This DD Awareness Month, we're proud to not only raise awareness for the incredible individuals we support--for all their talents, the things they do each day, and their connections in their communities--but also for the opportunities available for them to truly take charge of their own life. SLA is just one of those opportunities, and as we continue into the future of human services, Perspectives is committed to making sure everyone has the tools, resources, and support to make the choices about their life that are right for them. If you're interested in learning more about SLA, whether to be a home provider or to discover a new way to live, check out Perspectives' SLA page here!