The role of technology in our daily lives was already large—but with the COVID-19 pandemic, that role has increased so quickly that, especially in the beginning, it was hard to keep up for the many professionals who had to take their jobs, social moments, and more inside their home. However, even with the pandemic pushing more technology into people's hands than ever, it's still a fact that access to technology among individuals with disabilities is dramatically lower than for individuals without disabilities—something that harshly impacts their connection to their communities, their independence around the home and at work, and more.

That's why the Person Centered Supported Employment Performance Program (PCSEPP) is not only a program that supports individuals in their career journey, but also one that puts everyday technology, like iPads, in the hands of participants—and why our professionals at Perspectives, like Peer Navigator Deanne Gagne, is dedicated to showing individuals how to make the most of their new tools. PCSEPP, which is funded by the Rhode Island Department of Behavioral Health, Hospitals, and Developmental Disabilities, combines the supports of Perspectives, AccessPoint RI, and the J. Arthur Trudeau Memorial Center with the resources, tools, and networking of the Institute for Community Inclusion at UMASS Boston, Able Opportunities, Inc., and Skills for Rhode Island's Future. Together, we're working to transform individuals' dreams and talents into personalized careers in their community, and technology is a huge piece of that.

"Many [participants] never had an iPad before, so it's important that they have a chance to learn about them," says Career Developer Casey Getchell. "Deanne's class is great; it starts off with the basics and goes all the way into other apps and tools for individuals to use when they get a job, and it's been great to see everyone get the hang of it."

"People need to have [technology] in their hands," Deanne says. "They need to be able to see it and use it in functional ways, and that's what we're aiming to do now."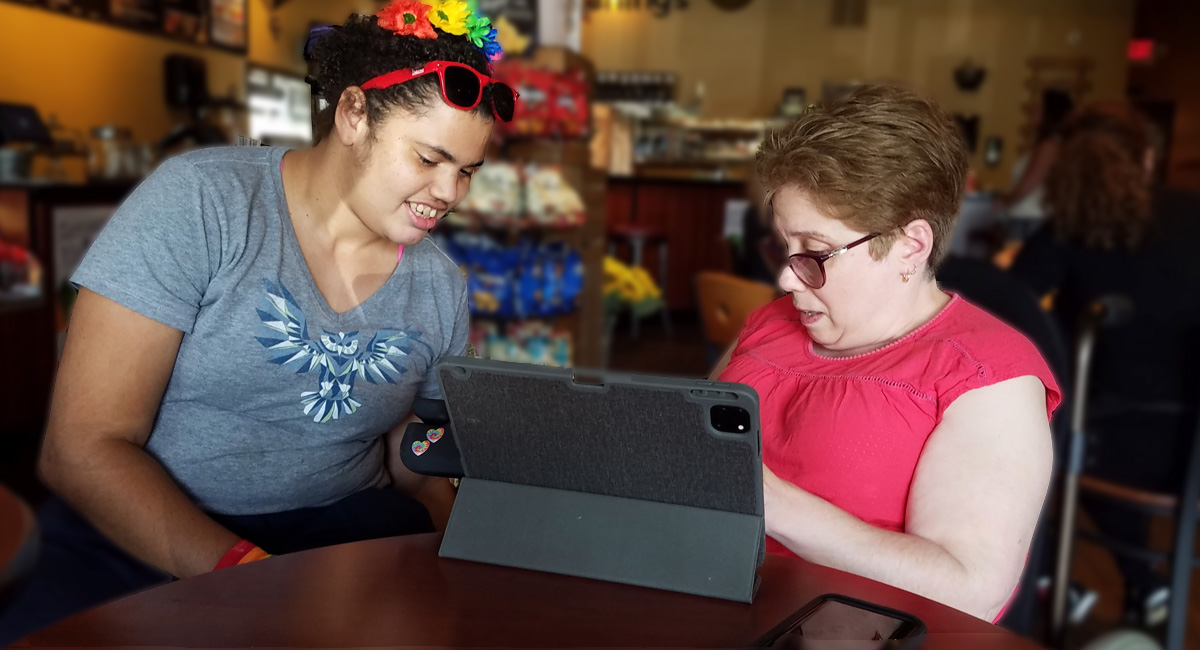 Through Able Opportunities, participants have been able to get their own iPads to use to navigate the web, create video resumes, and personalize their day to day duties with Work Autonomy—an app Able Opportunities developed to give individuals the power to design their workdays, track their productivity, and report their work to their supervisors with ease. AO believes in creating new apps and tools using technology already used in everyday life—like iPads and smart phones—to make integrating it into individuals' day that much more simple and useful, and that's why these iPads are the tech of choice for the PCSEPP program. And for one participant, Cece, attending the bi-weekly classes with Deanne and others to learn how to take photos, make iMovies, and more, have been a big step forward in preparing her for representing herself exactly how she wants to future employers.
"People need to have [technology] in their hands; they need to be able to see it and use it in functional ways, and that's what we're aiming to do now."
"I like my iPad," says Cece, who has enjoyed using her iPad to take photos and videos of her family members and her adventures in the community. "It's fun to take silly photos of my nephew!"

"She's really good at using the iPad—taking photos getting to the internet, and so on," says Direct Support Professional Charlene Howard. "Cece does a lot of this on her phone, too, so it's great to see her transfer her skills."

Along with learning about how to use the iPad for everyday things, participants are also learning about how to use them for self advocacy and learning about the importance of how they represent themselves to others, which, when applying for a job, is extremely important. With tools like this, individuals have full control over how they appear to their potential employers, choosing exactly what they want others to know about them and how they'd like to be treated. With the resources on self advocacy provided through the classes—and the engaging, easygoing way Deanne helps guide participants through the many ways they can use their iPad—individuals like Cece are picking up the steps quickly, giving them the confidence to succeed in their job hunts and in their future workplaces. We're wishing everyone the best of luck in their career journeys as they continue to learn awesome new skills!