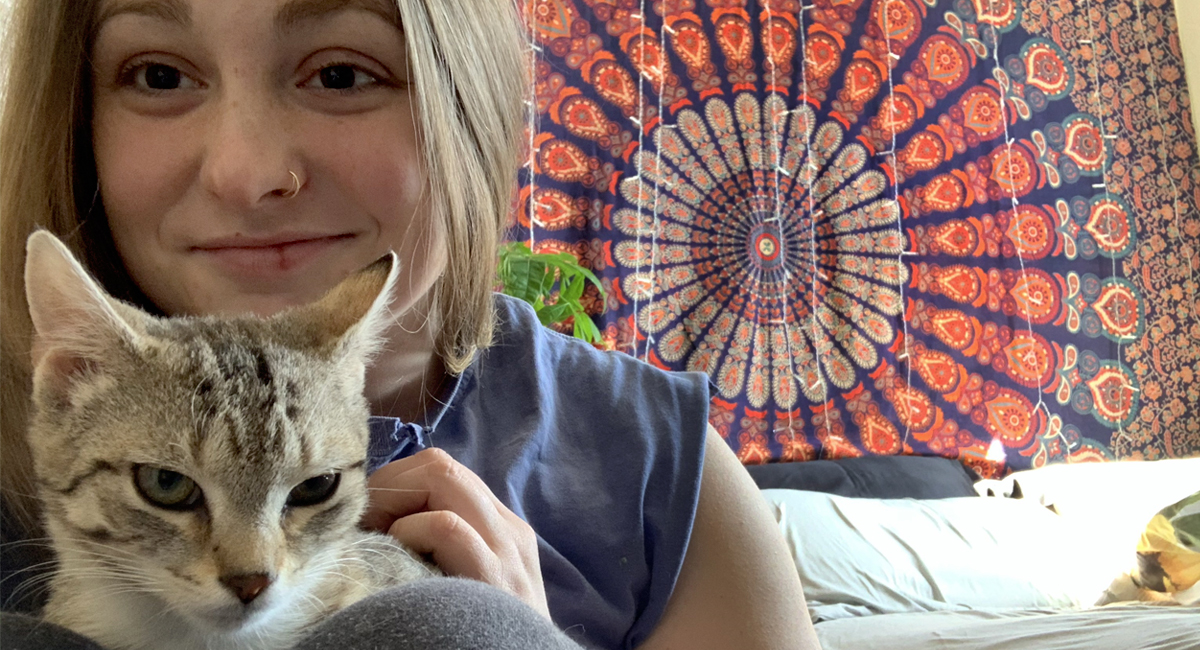 Perspectives Stands United During Front Line Worker's Recovery
By Sara Porcaro | May 26, 2020
With the flip of the COVID-19 switch, the use of gloves and face masks in stores is no longer something strange, but rather something understood and even expected; and for many essential employees, it's also now only part of their typical work-day uniform. Restaurant dining rooms radiate with a warm, cozy glow, but the insides remain empty of all but staff. Quiet streets are occasionally punctuated with blaring horns and cheers as people forego the traditional birthday and graduation parties for cheerful car parades. But all these changes to our everyday life aren't bullet-proof; they haven't left a single person invincible to contracting COVID-19.

That's why when Direct Support Professional Taylor Lagasse suddenly came down with COVID-19-like symptoms, despite her consistent use of personal protective equipment (PPE), limited community contact, and strict adherence to Perspectives' safety protocol to protect the individuals she supports, she was quick to act.

"It felt like I got hit by a bus," says Taylor, who recounts how her first symptoms suddenly appeared overnight. After immediately contacting RN Melissa Augaitis and scheduling a test--which came back positive--Taylor self-quarantined for two weeks. "Three days in, it was the worst," she continues. "I had a headache, sore throat, a runny nose, a low fever, chills, no smell or taste--the whole thing. But I feel so much better now."

Taylor, who has worked at Perspectives for the past eight months, started with the agency because she wanted to begin studying psychology. After getting recommendations for places where she could get experience while working towards her degree, Taylor found and was soon hired by Perspectives. She's enjoyed her work since, especially on the days she and individuals she supports spent out in nature--on hiking trails, at the beach, and other places in local Rhode Island scenery. However, due to the pandemic, all her focus has been on keeping individuals safe as she's continued living alone in her apartment. By following safety protocol, which includes wearing PPE on every shift, disinfecting surfaces regularly, and isolating from others as much as possible--Taylor was able to stop the spread, catch her symptoms early, and successfully remove herself from her program to quarantine.

"It's been tough alone--especially because I realize now how much I rely on people emotionally," Taylor notes, but I feel good knowing that I did everything I could to protect everyone in the meantime."

Her fellow team members quickly rallied around her to provide the support she needed during her quarantine period. These professionals have worked hard to create that web of support for each other, both to ease the stress that comes with being an essential employee and to support peers like Taylor, who need to stay home. With fellow supervisors and DSPs coordinating laundry services, grocery shopping, and even taking Taylor's kitten to the vet, as Program Manager Nicole Walker did, Taylor had the necessary care, support, and incredible camaraderie of her team, to recover as quickly and safely as possible.

"Our coworkers from many different departments have come together to help," says Nicole. "Our frontline workers are amazing, and I am humbled by their dedication and sacrifice. We have an amazing team that I am extremely proud of. They truly are heroes!"

"It's been a challenge," says Program Manager Matt Marco, who has been grocery shopping for multiple DSPs at Extended Stay America and for Taylor, "but we're really just trying to get as much off everyone's plate as possible, and we've got a great group, with lots of people volunteering to help. Everyone's been supporting each other as the pandemic develops."

For Taylor, those two weeks blurred together: she spent her time cleaning, watching T.V., taking care of her cat and two rabbits, and most importantly, resting, thanks to the support her peers have shown her in her day-to-day life. After close monitoring from her doctor, and after testing negative for the virus, Taylor has been cleared of quarantine, and she's excited to see her coworkers and individuals she supports again, though she does feel that it'll be strange, going out after being in quarantine for two weeks. Still, her recovery is a victory--not only for her, but for her friends, family, peers, and the individuals she works so hard to protect.

"I can't think of a job I've ever had where the employees were helped out as much as [Perspectives has] helped us," wrote Taylor to Senior Director Dale Smalley, who checked up on Taylor during her recovery. "I feel very appreciated by the company!"

In this unprecedented time, it's necessary that we be there to support one another--to do what's right, and what's needed, to keep everyone as healthy as possible. As Taylor returns to work, Perspectives is both thankful for her dedication to the individuals we support and their safety and celebrating her recovery. She and her fellow DSPs and supervisors likewise are forging into the future together as a stronger, tighter team than ever before--and it certainly shows in the incredible things they're experiencing, and accomplishing, together.
---
---