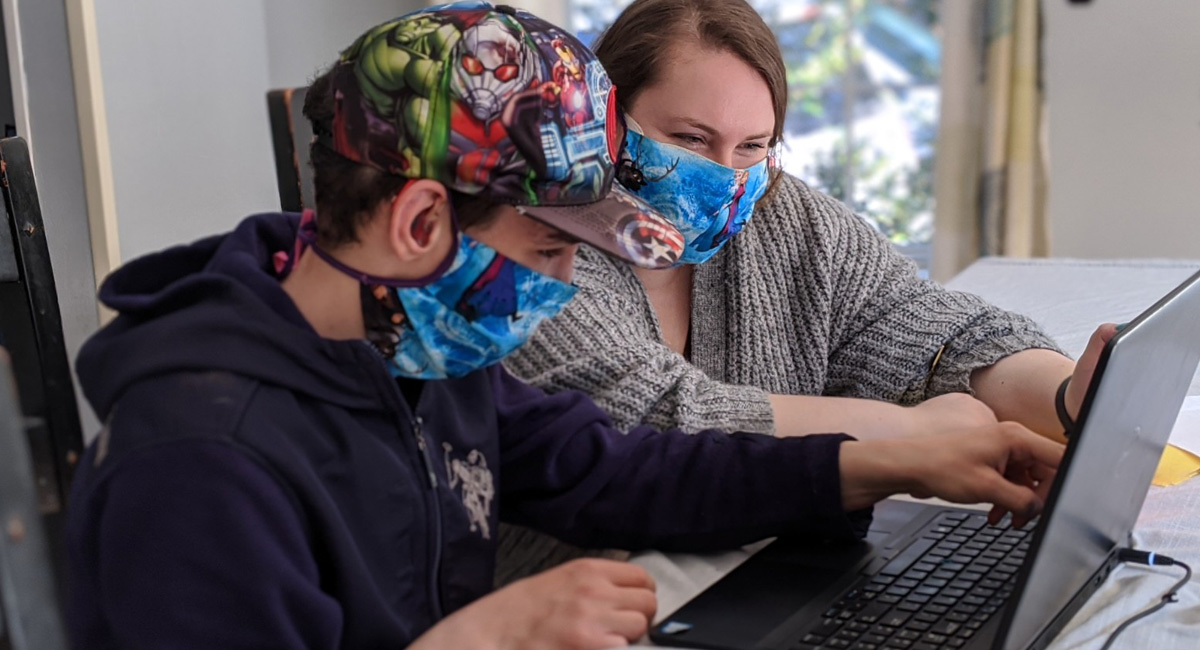 How Direct Support Professionals Changed Their Role Overnight (And Owned It)
By Dave Lizotte | May 5, 2020
Written by Program Manager Dave Lizotte
Edited by Social Media Coordinator Sara Porcaro

The role of a Direct Support Professional (DSP) is always evolving alongside the world we live in, especially as I/DD advocates continue to make their voices heard and push for inclusion and equality. A job that, decades ago, focused mainly on supporting individuals in the home and teaching daily living skills, eventually spread to every facet of an individual's life: supporting them in finding new interests, exciting jobs they love, and new friends within their communities. For individuals who had become so used to living alone, this transition opened a world of possibilities we continue to explore today. Of course, while nothing can be perfect, the DSP role grew--and continues to grow--in such a wonderful direction. It was what we professionals and advocates came to know and believe in with all our hearts.

Then we got hit with possibly one of the biggest setbacks that we could have imagined: the COVID-19 pandemic.

Suddenly, all of those long-opened doors were shut, and the community's embrace withdrew in the name of social distancing. Everything we worked so hard on--the community integration, exploration, and more--had to be reversed as local spaces and businesses closed. And the risks to our own health are scary for us healthcare workers as we leave our homes for essentials--but nothing is scarier than the idea that our presence could jeopardize the ones we put so much care in keeping safe. However, as we always do, we learned to adapt. We came up with ways to keep each other safe, and with these new methods, we continue to perform the work we believe in for the individuals we support.

For the Perspectives DSPs working with children, this role has evolved again, this time two-fold. Not only do DSPs need to find new ways to keep the adolescents in our residential program happy and healthy, providing some semblance of structure, they've also stepped up to the plate in the education of these individuals--all of whom were attending different schools and are in different grades, with completely different curriculum. This means the clinical professionals and the residential DSPs in Perspectives' Youth and Family Services suddenly became co-educators. Learning how to teach and guide the individuals in classroom tasks has now become that frequently coined "new-norm" as they've filled the space left by the closing of Rhode Island schools.

As someone who has been in the field for quite some time, the resilience of the individuals we support has always amazed me. But along with them, this time it has been the resilience of the ones dedicated to providing those supports, the DSPs, that has truly blown me away. The patience they have with these changes, the dedication to supporting and encouraging the individuals to adjust to home-learning and the technology it requires, and the overall grace and poise DSPs demonstrated making this adjustment, has been inspiring to see. Most of the DSPs working with these children have little experience in a classroom setting, yet each one of them has embraced this new role and has helped create a supportive, adaptive, and educational environment.

This incredible work isn't just being done at our children's residential program, either; adjustments like these are being made on a daily basis by every DSP at Perspectives, highlighting their resilience and drive to help those in need. Everyone is putting in the work to stay healthy and engaged through the pandemic. But while we wait for the day that schools open again and the individuals we support can see their friends and favorite teachers, it is so uplifting to see what challenges we can overcome when we work together with a common goal in mind.
---
---