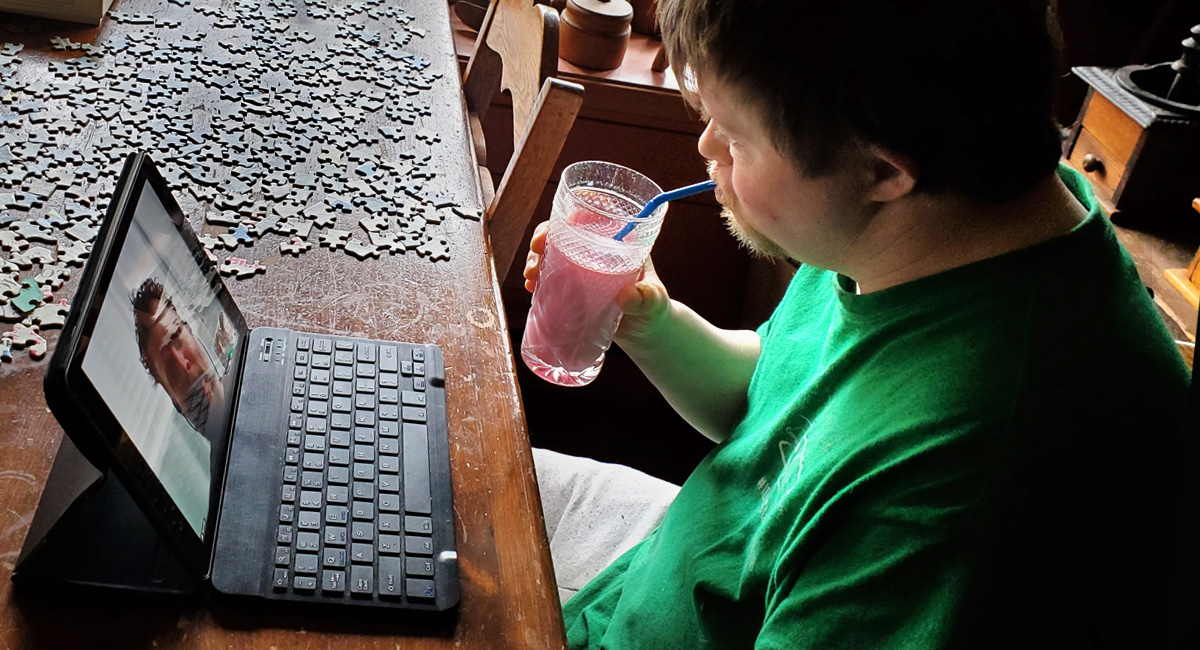 Connecting the Community, One Virtual Event at a Time
By Sara Porcaro | May 12, 2020
An ice pack. A pint of ice cream. An especially chilly orange.

For a group of scavenger hunters, like Jacob, Aislinn, Andy, Morgan, and Perspectives' Service Coordinator Britney Eley, the first challenge--finding something cold--was a breeze, and soon they had a collection of different items to contribute to the search. But as everyone went on smiling, talking, and getting to know one another on this cozy spring day, one thing made the event a bit different: this wasn't an in-person gathering, but rather one of the virtual experiences that some of Perspectives' team members are hosting over Zoom!

During the COVID-19 pandemic, a whirlwind of changes has come about for businesses and organizations everywhere, pushing professionals to reimagine how they offer their services. Perspectives is no exception: for individuals receiving Adult Day Services, our teams came together to brainstorm how to bring the social connections, exciting activities, and exploration of the community right to their homes during Rhode Island's shelter-in-place. What they had after their brainstorming was a full schedule of activities across a variety of topics.

"I think once we got over some technology hurdles, everyone was on board," says Britney about the virtual game day she hosted. "It was fun to see everyone's faces and share laughs and smiles, with everything that's going on."

The closings of our favorite community centers due to the pandemic, and the disruption of entire industries, such as tourism, have led to organizations putting a variety of different attractions online for the public to see for free--and that means there are plenty of creative opportunities for Perspectives employees to explore with the individuals we support. In fact, Service Coordinator Robert (Bob) Conklin and a group of virtual adventurers kicked one week off with a tour of the Monterey Bay Aquarium in California, where they had the opportunity to watch live videos of all the beautiful animals who call the aquarium home--like sharks, penguins, jellyfish, sea otters, and more.

"It's still a work in progress, but so far, it's been a positive experience," says Bob. "Everyone seems to enjoy spending time with each other."

Senior Director Casey Gartland, Service Coordinator Alexandria Heredia-Smith, and Program Managers Jeannine Berard and Matt Marco have also worked together with Britney and Bob to create a weekly schedule of events for everyone to enjoy; they run one event in the morning and one event in the afternoon that individuals can choose to join at any time. Besides the fun of touring museums from all over the world with online galleries, other examples of activities include morning Tai Chi, neighborhood photo walks, ukulele sing-alongs, and virtual happy hours. Whether individuals want to improve their fitness, learn new things, or simply meet new people and enjoy each other's company, there's something for everyone!

Despite the distance, and despite the pandemic, the individuals we support and our dedicated professionals continue to forge onward and make the most of every day. Their resourcefulness, adventurous spirit, and sunny cheer mean they have the power to stay positive no matter what--and seeing the steps taken to ensure everyone stays safe, happy, and engaged with their communities only continues to make that positivity grow!
---
---