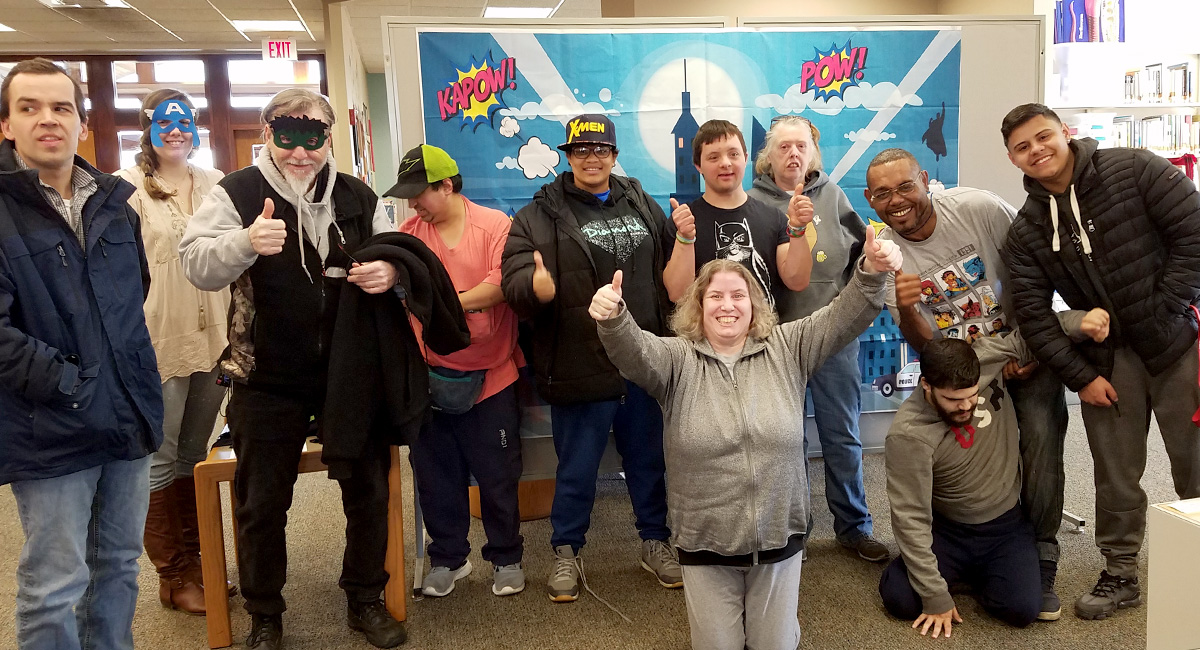 The Power of Community and Continuing Education at the Exeter Library
By Sara Porcaro | March 10, 2020
With the last winds of winter still stinging people's cheeks, and school still in session, this part of the year can sometimes feel like it stretches on forever. The promise of sunny days at the beach, afternoons spent riding bikes and exploring the town with no assignments to pass in or long hours of class, still seem like a long way off for students--especially younger ones, who love to get out for adventures through their neighborhoods. However, with last month's winter break, students had the opportunity to get out, play, and keep learning with the Exeter Public Library's week of free events--including their Superhero program, hosted together with Perspectives' Direct Support Professional Andy Ming and many others!

The Exeter Public Library has long been a place where members of the community can come together for great books, computer access, and free events for parents and children to attend. With weekly story time events for families and young children, including sensory friendly story time events, and various opportunities for older youths to come together for games like Dungeons and Dragons and teen art programs, the library is a hub for community experiences that everyone can enjoy. Aimee, the children's service librarian for the past five years, is always looking for inspiration for new programs to begin, as well as new ways to engage Exeter's youth in creative and educational activities--and with the spring Superhero program, the end of February vacation was the perfect note to send kids back to school on.

"Andy is great," says Aimee. "He has such great energy, always making everyone smile, and it's awesome that we can host an event where kids can meet individuals with disabilities in their community and get to know them."

In the library were a whole host of superhero-themed activities and prizes for kids attending: from obstacle courses between the bookshelves to design-your-own cape stations, games such as Connect Four tournaments, Superhero competitions, and Bingo to a costume station with a superhero backdrop for pictures, the library was booming with activity. More than that, there were prizes to win and snacks to enjoy, as well as whole a table full of comics, movies, toys, stickers, and more, donated by supportive community members and local businesses such as Hilbert Gibbs of Jazmin's Gifts, Fantasy Zone, and the Time Capsule. All the support, from the community and the Exeter Library, made the event a real success.

"The Exeter Library is amazing--always so supportive," says Andy, who now plans two events a year with the library where kids, their parents, and individuals supported by Perspectives can get to know each other. "And the donations we get from everyone really help out, too; it's fun for everyone, and everyone gets something to take home."

With so much to do, superhero fans of all ages quickly broke the ice and had a wonderful time together, enjoying all the excitement of the afternoon. Among attendees were Nico, BJ, Danielle, Luke, Corey, and many others, all laughing, chatting, and getting creative with fellow library patrons and event guests. One mother, Melissa, was especially happy to bring her daughter Jules to the event, as Jules loves superheroes--so much so, that she arrived dressed as Superwoman. They love attending the library's events and story times together, and they learned about Perspectives through a previous comic book event.

"It's exciting, having all these events, and the library is such a great place to bring kids," Melissa says. "We also love to meet new people; I think it's fantastic that we have the opportunity to get to know individuals in our community."

This winter break was packed full of awesome events for kids and their parents, and with all the fun of the Superheroes program, the community bonds between the Exeter Library, its patrons, and individuals supported by Perspectives has only grown! We appreciate all the library continues to do for its community, as well as the opportunity to bring fun and educational moments to children and families with the proactive, hard work of Andy, library director Amy, and all our community sponsors. Even with summer still in the distance, it's making bright memories like these that keep every part of the year sparkling!
---
---