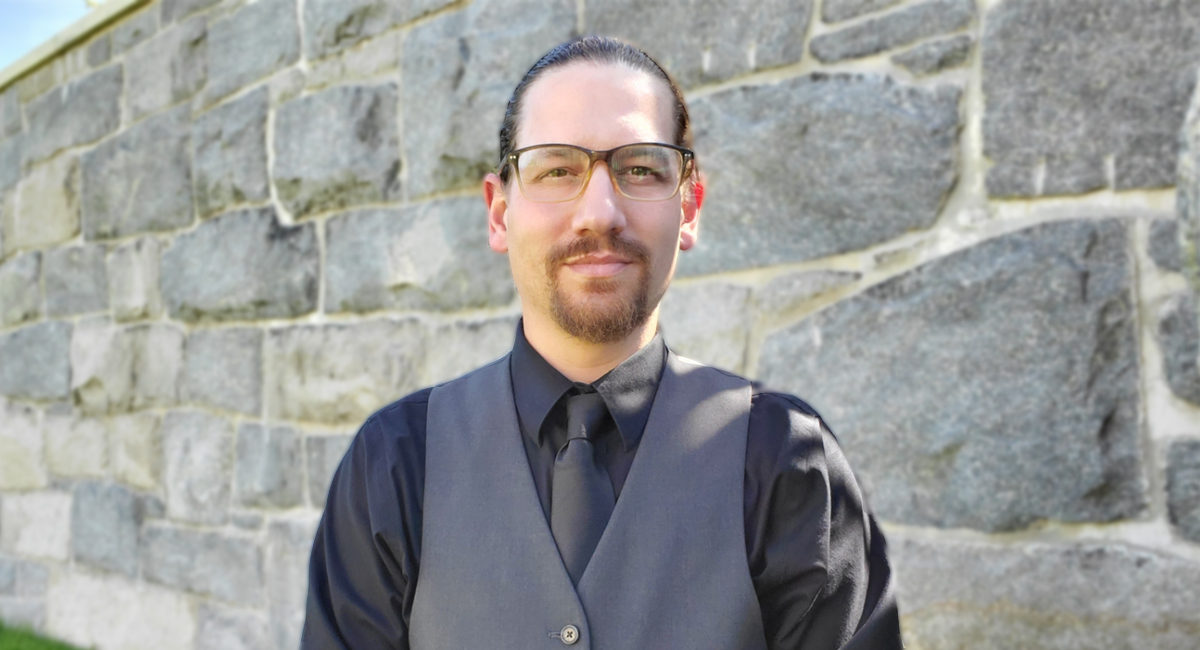 Signing Accessibility into Crucial Communications with Deaf Interpreter Charley Thorn
By Sara Porcaro | June 2, 2020
Information, especially that which is necessary to keep people safe and educated on important topics, is something that needs to be accessible to everyone--to every language, both spoken and signed. In a time of daily briefings from our local and national leaders due to the COVID-19 pandemic, that accessibility has been made more visible than ever, as every word spoken is translated into American Sign Language (ASL) in real time by dedicated, talented ASL interpreters. In Rhode Island, one of the professionals responsible for delivering Governor Gina Raimondo's daily briefings in ASL is Deaf Interpreter (DI) Charley Thorn--a tireless advocate for the Deaf and Hard of Hearing (DHOH) community, and a part-time DI with Perspectives alongside his freelance interpreting work.


CHARLEY'S CAREER IN INTERPRETING


Charley is a Rhode Island native and a member of the Deaf community, though he began on the path to his interpreting career in Massachusetts's Westborough State Hospital, where he worked as a mental health professional. Part of his work included supporting patients in day-to-day activities, as well as being a bridge of communication between Deaf patients and hearing hospital staff. He had a talent with understanding the patients' unique communication styles and clarifying them to his peers, helping everyone to better understand each other and work together. However, he considered this just part of the job there at Westborough; he was a long-time mental health professional, and his gift of communication was something that happened naturally on the job--not something he thought of as interpreting.

It was Communication Specialist Mike Krajnak and Unit Director Neil Glickman--who observed Charley's success with the patients he supported--who both encouraged Charley to pursue a career in interpreting. They explained what such a career meant, and the many opportunities available in it--and that was when Charley decided to become a DI through Road to Deaf Interpreting. By December of 2011, he'd passed the Massachusetts state screening for sign language interpreters; he was then qualified as a DI, and so began his path of freelance interpreting in Rhode Island and Massachusetts.

"I wasn't sure if I wanted to become an interpreter at first," signs Charley, "and I wasn't sure what it'd entail, but I was successful freelancing for various places, like state hospitals and places like Perspectives."

In fact, Charley has been working with Perspectives for the past four years. Originally starting as a freelancer in the ever-expanding DHOH department, he worked with individuals we support to interpret for Individualized Support Plans (ISPs) and other needs. During this time, ASL Interpreter Heather Anderson was also joining the team, and she, Director of Deaf and Hard of Hearing Heather Niedbala, and Charley quickly connected; they discussed his experience in Massachusetts and the opportunities available to interpreters in the area, and they supported him in coming aboard permanently as a part-time CDI.

"Perspectives is an agency that fits my visions and values," Charley notes. "I'm happy working here, and the agency has been really flexible with my schedule; I'm impressed with how they've helped me make my schedule available for separate work."


BROADENING COMMUNICATION ACCESS DURING COVID-19


That flexibility has been key as Charley's continued his freelancing work with Governor Raimondo's team. While Charley works four days a week at Perspectives, he also has the time necessary to join the governor and other officials at the State House Monday through Friday for the daily briefings. Due to social distancing measures, Charley now interprets in a separate room of the state house through a monitor while Gina speaks to ensure everyone stays safe amidst the pandemic; still, his interpreting work reaches all of Rhode Island through the 45-50 minute weekly briefings and the broadcasts on Facebook and local news outlets like WJAR.

The sudden need for daily communications has certainly made the need for ASL interpreting that much more immediate, bringing a much brighter spotlight on the issue of accessible communication for all. With this surge in ASL interpreting in the public eye, both in southern New England and on the national level, it's a crucial moment for interpreters--and especially DIs, who are native communicators in ASL; these interpreters hadn't had very many opportunities, especially in Rhode Island, before recently, and the demand for a higher pool of qualified DIs is steadily increasing. More than just providing captions, providing ASL interpretation of wide-reaching communications is a huge necessity for the Deaf community; ASL is an integral part of Deaf culture, and the field of interpreters only continues to grow alongside awareness for the language and its native signers.

For Charley, however, there is no thrill, no ego, in his work: "I'm just doing my job," he signs. "When I was growing up, there was no accessibility in communication, so I want to help change the system with my work; I want to provide the services and accessibility to communication people need in their communities."

As the COVID-19 pandemic continues, Charley--and his peers in the world of ASL interpreting around the globe--are standing more visible to their local communities than ever. The need for accessible communication is something that has always existed, and it's a need that these professionals work hard every day to provide--one that, with the visibility ASL as a language is currently experiencing, aims to only grow. The opportunities for those interested in making their communities more connected through communication is only growing, and it'll continue growing as we work through the pandemic together.
---
---
Copyright 2020 © Perspectives Corporation