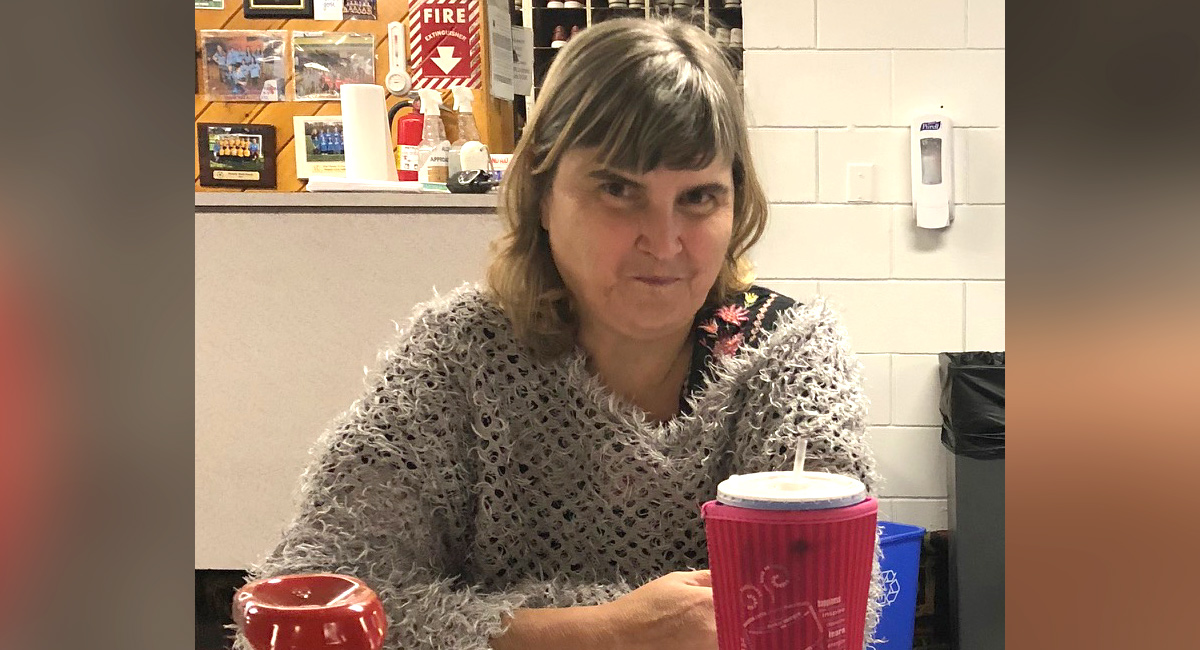 Making Plans in a Pandemic: Lisa's Journey into Shared Living Arrangements
By Sara Porcaro | June 30, 2020
Photo from Before the COVID-19 Pandemic

This year has been a year of surprises, for sure. However, it's also a year of change, a pause in the constant marathon of our lives that, for some, has been the perfect place to reflect and make bigger plans for the future--to take the plunge towards their goals. Whether a new career path, a new direction in one's schooling, or a new place to call home, this is a time that serves as a springboard for what comes next--and Lisa certainly isn't wasting that time at all, as she's begun her journey into with Perspectives' Shared Living Arrangements (SLA) services!

For some time, Lisa has received supports from Perspectives' Adult Residential Services, where she's made valuable connections with her roommates and worked hard towards many of her goals with her allies--including roommates, Perspectives professionals, family, and friends--behind her all the way. From becoming more involved in her church and joining the friends she's made there for Thanksgiving last year, to exploring what her community has to offer on all manners of adventures, Lisa has worked hard towards many of her goals. And now, in 2020 she's continuing to make headway with this next step in building a new home space for herself, with Home Provider Carol Rinaldi.

"I want to live in a place where I can make my own schedule," Lisa says, "and I'm looking forward to moving to a place where I have my own space."

Carol, who has been an SLA Home Provider since 2017 for an individual named Evelyn, has long been interested in doing what she can to support others in living full, happy lives. The two met in person earlier in 2020 and have been meeting over Zoom once a week ever since. With a background in social work informing her career, and her three years of experience as an SLA provider already, Carol was confident that she could help Lisa work towards the next step in creating the life she wanted for herself. She's taken the time to get to know Lisa, as well as introduce her to Evelyn and her two sons, who got along well, and even shown Lisa a bit of Carol's house and peaceful neighborhood over Zoom--all of which have only made Lisa more excited as she plans the next steps.

"Lisa seems like a very outgoing and vocal person," Carol notes. "We're a quiet family, but we have fun--we dance together, we get along--so I think Lisa will be comfortable here."

"Carol's a heck of a woman," Lisa says with a bright smile. "She's really nice and funny, and we both love the classic rock channel on the radio."

Since the development of the pandemic, naturally, the final steps--packing, moving, and settling into to a new home--have had to be put on hold for safety reasons. However, that hasn't stopped Lisa and Carol from continuing to get to know each other and solidify the plan in the meantime. Lisa's still been enjoying herself at her current home as she continues to make beautiful bead crafts for her friends and the people who support her, as well as watch her favorite soap operas and take advantage of the gorgeous weather with plenty outdoor adventures. She's also been enjoying video calls with her church members and helping out around the house. But Lisa's excitement for the future doesn't mean she'll forget where she's come from--and all the great memories and friends she's made along the way.

"I'm going to miss my housemates and the staff," Lisa says, "but I plan to visit them after I move, and to see them at Best Buddies events and reconnect. Overall, I'm really looking forward to starting a new chapter, and I think anyone else that wants to do the same should--go and advocate for yourself, make your voice heard!"

As the July heat comes rolling in, Lisa's continuing the steps towards her goals every day. Her perseverance and commitment to doing what's right for her are driving her forward on the road to a new home, and with a Home Provider like Carol helping make it possible, we know that the rest of the year will shine just as bright as the summer. Best wishes, Lisa, on your journey forward with SLA!
---
---