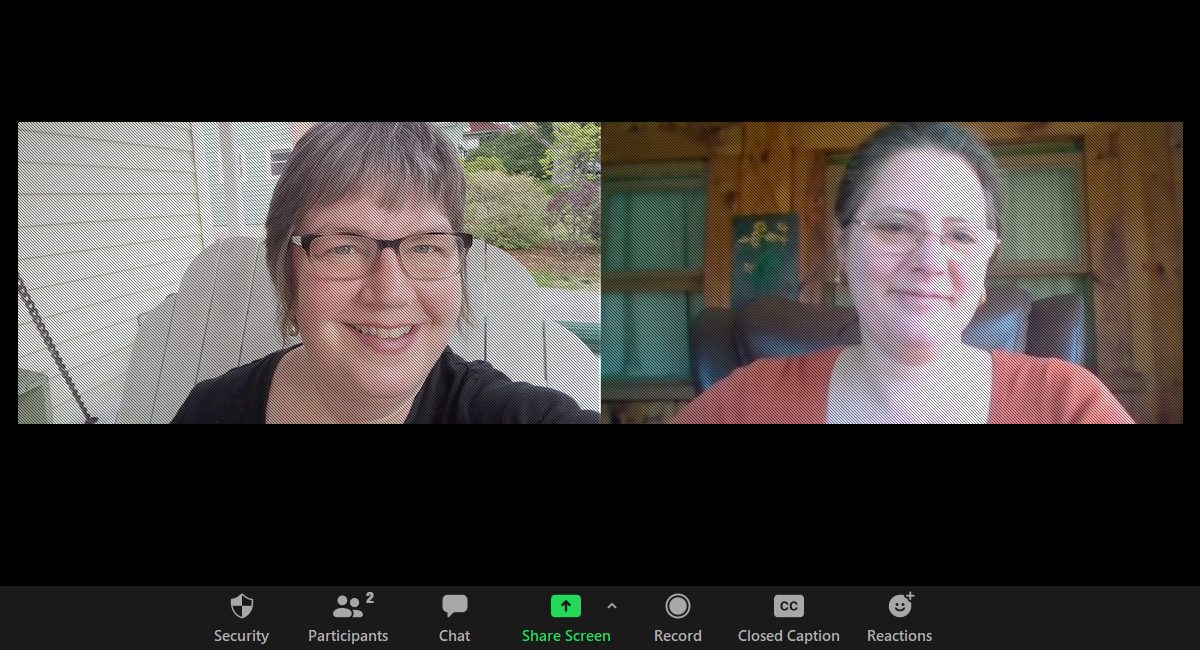 How Telehealth Changed the Lesson Plan for Perspectives Professionals
By Sara Porcaro | June 9, 2020
Every month, the story of the COVID-19 pandemic develops further, and June is no different for Rhode Island residents. Now begins Phase 2 of our reopening of Rhode Island businesses, and with it, the beginning of the summer season--a time of outdoor fun, a cautious return to the activities we love.

That's why at Perspectives, our community based services--including our Home Based Therapeutic Services (HBTS) and other Youth and Family based supports--are being reintroduced to direct care. However, Perspectives fully understands that not everyone is ready yet for this transition, and so we're continuing telehealth supports under the leadership of Perspectives' Clinical Supervisors like Karen Nault and Melissa French.

Melissa, a clinician experienced in all of our HBTS programs, has been in the field for seventeen years; she's worked in school, parent training, and crisis intervention programs, and for the past five years, she's worked in Perspectives Youth and Family Services (YFS) Division. Likewise, Karen's career has spanned thirty-five incredible years: from adult residential programs in the Chicago area to school, residential, and home-based programs in Massachusetts, Karen's experience brought her to Perspectives' YFS team four years ago, where she's delivered that expertise to Rhode Island families since.

Since the shelter-in-place order, both Karen and Melissa, along with fellow Clinical Supervisors, Treatment Coordinators, Behavior Specialists, and other team members, have all been working even harder to keep providing that expertise, education, and support virtually. Where these specialists and clinicians once came in person to support youth at home through custom lesson plans, they suddenly moved exclusively to online services, predominantly delivered via Zoom. Depending on an individual's age, parents are sometimes there to facilitate meetings, which has made flexibility crucial for everyone, especially as many continue to juggle new challenges like working from home and homeschooling.

"It was a mind-boggling transition to go from sitting at the table with a child to trying to teach remotely," says Melissa. "Especially because we can't be beside them to encourage them in their work, so we have to make sure our lessons are even more fun and engaging than usual."

But while the transition itself was full of exploration and experimentation as everyone worked to bring the best of virtual lessons to individuals we support, it was that quest for new virtual-friendly lesson material that opened up an entirely new world for these online adventurers. What everyone found was that, while some common lessons were no longer possible--for instance, practicing the social skills necessary to order food at a restaurant or going out into the community for trips together--other lesson opportunities arrived in their place, as well as an easier way to connect individuals from all over the state for social groups and events.


Replacing Former Lesson Plans with Telehealth Opportunities


In fact, many of their peers on the teams have been exceptional in doing what's necessary to bring families what they need. Perspectives' Behavior Specialists Jessica Field, Tami Croft, and Amanda Smith have all made excellent use of remote learning and stayed very flexible with families; Tami, for example, has arrived to early morning virtual sessions with a hairbrush in hand to continue teaching an individual how to maintain his morning routine. And through it all, Clinical Director Shannon Ciccone has provided solid leadership during the COVID-19 transition.

"Before, it was a bit difficult to coordinate group sessions because of people's availability and where they were coming from throughout the state," Karen says about online lessons. "Now, we can pair similar individuals together more easily, and many of them look forward to our social groups, especially since going out in the community wasn't possible for a while."

Zoom's screen-sharing function allows for professionals to explore the internet alongside individuals, and the wide-open world of the web means that not only can individuals connect together from anywhere: they can also go anywhere. Virtual museums, natural parks, and zoos, videos on topics everyone enjoys, as well as tasks that can be completed over a video chat, such as writing prompts, money counting, and other skills, have all been a key part of online lessons, bringing individuals to sights around the world that they can discuss together. Not only that, but browsing the web together provides a rare opportunity to explore internet safety and research skills as individuals learn how to identify unsafe links and learn what makes a quality source.

"There are so many unplanned opportunities for lessons and meetings we never had before," says Karen, "and I hope we get to continue using telehealth along with in-person supports in the future; there are a lot of benefits to it."


Telehealth and Direct Care Side-By-Side


However, while many youths experienced a pleasant surprise in the educational fun and excitement they experienced together via telehealth curricula, not everyone was able to take advantage of the virtual options. That's why our teams have developed plans to help families restart their in-home services--all at their own pace, and while honoring their comfort. Clinicians like Melissa and Karen, ever in contact with concerned parents, also assure parents that their child will retain their place in Perspectives YFS services. From limiting contact to no more than two or three employees per family and no more than two families per employee, to requiring masks to be worn, keeping everyone at a safe distance, and having clinical supervisors oversee lessons remotely, there's no precaution left untaken.

"It's a difficult decision for parents who want to protect their families but can't do remote learning," Melissa acknowledges. "That's why we're doing everything we can to make sure that everyone stays healthy and safe when we return."

While we're excited to continue on the path towards recovery for our Rhode Island community--and as we're all looking forward to getting back out into the sunshine with each other--we're also proud to recognize the incredible work that everyone, families and professionals alike, have done to persevere through the shelter-in-place. The resilience, ingenuity, and sense of community everyone has shared virtually is no less than that which they share in person, and the amazing experiences they've had together only confirm that. Perspectives continues into Phase 2 encouraged, hopeful, and of course, grateful for everyone's incredible work.
---
---