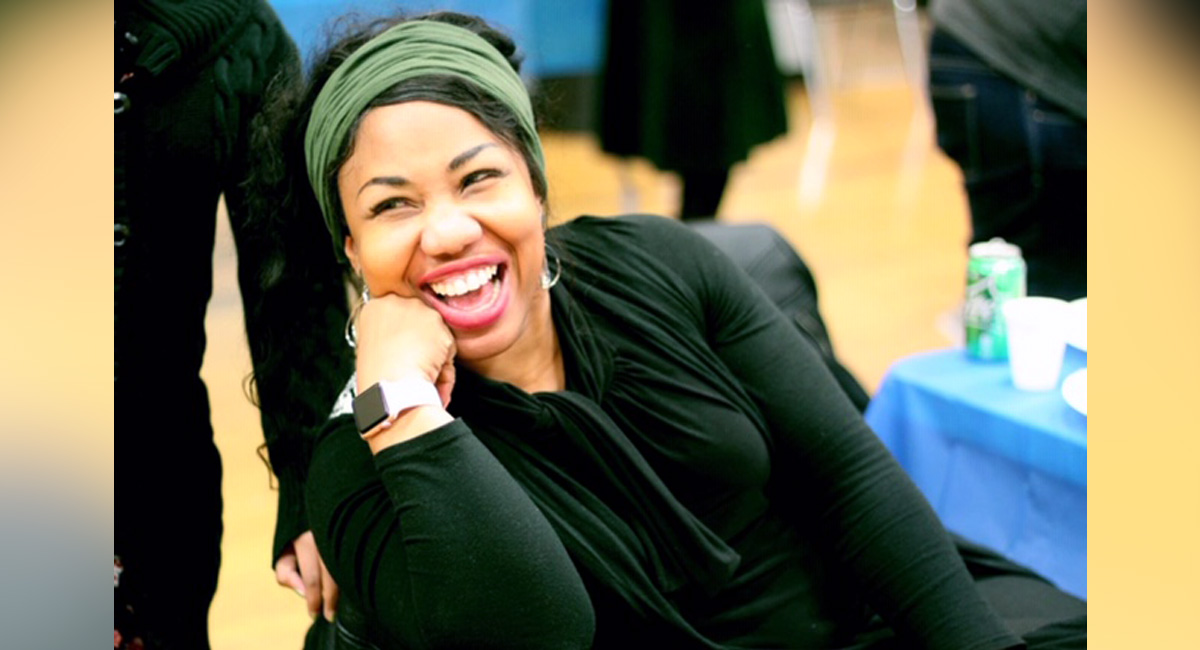 The Many Meanings of Diversity: Expressive Art with Behavior Health Clinician April Smith
By Sara Porcaro | July 14, 2020
Photo Credits: Site Supervisor Billie Jo Gray

In our society, the cornerstone of our individuality--our freedom of expression, our collaboration with talented friends and colleagues, and the very foundation of our identities--is diversity. We're stronger together when we bring our unique perspectives, skills, and dreams to the table, and at Perspectives, where so many different people connect through their interests and life experiences, their diversiy, it's a part of what makes every day so fantastic.

It's important that we don't lose sight of the things that make us special, unique. That's why the recent expressive art project led by Behavior Health Clinician April Smith, asking Deaf and Hard of Hearing individuals what the word "diversity" means to them, has opened a discussion all too crucial: one centered on respect, acceptance, and inclusion for all people. As a graduate from Gallaudet University in Washington D.C., April's career has been centered around diversity and inclusion from the start. Her employment with Gallaudet's Diversity Department paved the way for her to combine professional and educational experience into something that was the perfect fit for her current role with Perspectives, which she started in July of 2018.

Since then, April has been working in Perspectives' Deaf and Hard of Hearing department as a Behavior Health Clinician, exclusively supporting Deaf individuals in working through behavioral health goals. Alongside her main duties, she also assists in facilitating UKERU trainings, creates treatment plans, and facilitates monthly expressive art classes, where individuals are given a topic and a variety of mediums to express their thoughts and feelings on the subject, such as painting, drawing, and creating videos together.

"Sometimes language isn't enough for Deaf individuals to reveal their inner feelings," April says, "and expressive arts is a way to put everything they're going through into a picture or a video. It's beautiful; it helps us understand each other better."


Understanding Each Other Through Art


During the pandemic, naturally, the opportunity to come together for a monthly art session was put on hold. However, the many different things happening across the nation, like protests, the pandemic itself, and more, were still on everyone's minds from watching the news and keeping up to date. That's why April decided that a virtual art session in the form of a video collaboration was the perfect way for everyone to express their thoughts--and with only the topic of diversity and a few words to help everyone get started on their expression, the crew quickly dove headfirst into a beautiful visual project demonstrating just what diversity means to everyone. From bright bursts of color on canvas to voicing and signing their thoughts directly, everyone had something to say.

"It was powerful," April says. "Some individuals said things no one expected; some cried when they saw the video after. We're all struggling in this day and age, with everything that's on the news every day, and being able to express that through art is really important."

Among participants in the video were Jennifer, John, Jessica, Elaina, Site Supervisor Adebukola Abisola, Service Coordinators Kelsey Allen and Julie Cordeiro, DSPs Bryan Hatton, Emily Catalfamo, and Ellis Garcia, and April herself, all coming together to explain their thoughts between shots of individuals painting their diversity-inspired art together and graphics explaining bias and what diversity means. Afterwards, April edited the video together after collecting everyone's contributions, and ASL Interpreter Hayley Baccaire worked to caption the video for all audiences. It was a true group project, with everyone coming together to not only express themselves, but find a way to deliver that expression to their community. It was an emotional project for many as a result, as all were able to see just how much current events are affecting individuals and what's on their mind on a deeper level.

"Diversity is everything," April says, "especially in this field. Everyone is different and unique, and I think it's so important that everyone takes the time to learn about and understand each other's backgrounds. We need more leaders in this world--we need more respect for culture, more understanding, and just more love."

With the many differences in ourselves and the people we share our community with, the most important thing we can remember is that difference is what makes us stronger. All of our different interests, skills, ideas--the cultural inspirations and the generational experiences, the diversity in our abilities and life journeys--they create a patchwork of bright, vibrant individuality that has room for everyone. Diversity is, for Perspectives and the individuals we support, a cornerstone of identity, an incredibly important part of what makes everyone special. That's why at Perspectives, our professionals are proud to help lift up the voices of individuals we support as they share their stories and their thoughts!

---
---