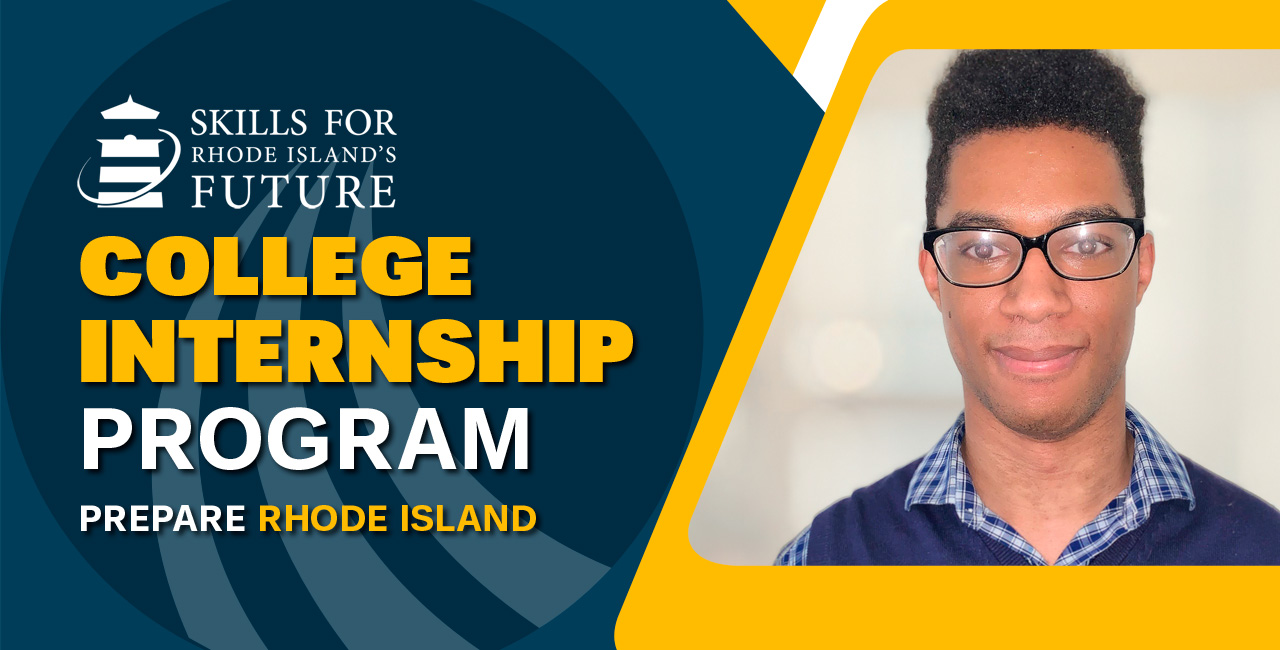 Preparing for Rhode Island's Future: SkillsRI Intern Tavell at Perspectives
By Sara Porcaro | July 21, 2020
If there's any certain fact, it's that time keeps moving forward no matter what--and that, with every day that passes, we have the opportunity to get even closer to our goals. That's why Skills for Rhode Island's Future (SkillsRI)--a non-profit organization dedicated to breaking down barriers to economic opportunity by connecting Rhode Island's talented job seekers with socially responsible employers--is continuing their internship programs in 2020. SkillsRI has supported college and high school students across the state in making the most of their summer months, helping them find internships related to their fields of interest.

This year, Perspectives has taken on ten students in SkillsRI's PrepareRI College Internship Program--a paid summer internship program geared specifically towards first-generation college students who are looking to build their connections, strengthen their resume, and gain experience relevant to their college major. One such student, graduating this summer from Rhode Island College with a Bachelor's of Science in Technology Education, is Tavell Johnson; he's working with Perspectives in the Quality Assurance department, where he's had the opportunity to guide individuals in becoming more comfortable using technology to stay connected with the world around them.


BUILDING SKILLS AND RELATIONSHIPS IN RI'S YOUTH


"I really enjoy the realm of education, and getting to teach these classes to individuals who are always so thankful for the opportunity to learn," Tavell says. "My dream job would definitely be at a place that makes me feel valued and supported, and I feel that here with my supervisors and the individuals I support."

The PrepareRI program started with a course on developing soft skills like punctuality and inclusivity, in which participants learned the qualities necessary to succeed in professional environments and work alongside coworkers of various disciplines within their future organizations. For Tavell, who has been in the workforce for five years and completed his student teaching at RIC, the course was a helpful refresher for the skills he'd come to curate. Now, in his position with Perspectives, he helps others build the skills necessary to navigate the virtual world through the online classes he teaches and the in-person support he provides to individuals in their homes when necessary.

"This is a great program," Tavell says. "It's helping me learn how to tailor my lessons to be effective for many different individuals. On top of that, this department has been great to work in because it's a place where I feel confident that I can succeed, but is still so new; it challenges me and teaches me so many new things about my role as an educator."

His supervisor, Director of Quality Assurance George Card, is happy to have Tavell on the team. Tavell is a professional that is always willing to take feedback and use it to improve his work, as well as report on the results of the changes he makes to his practice. Beyond his teaching, he also helps individuals stay active online, keeping everyone engaged and together virtually in a time of social distancing. In this internship program, he's had the chance not only to demonstrate the skills he's developed in his former employment and his education, but also continue to take them further with the Quality Assurance department.

George notes, "Tavell is all about inclusion and personal growth on his path to helping people. I have nothing but praise for what he's been able to do, and I wish [the program] could have been for longer than just the summer."

Given the nature of the pandemic, staying connected on the internet is more crucial now than ever, and Tavell has shined with his skills and experience in teaching others, providing critical learning opportunities to individuals we support. He's working from home rather than in the Perspectives main office, and he's always sure to have a mask on and practice social distancing distance when visiting homes to provide technical support for students. Otherwise, however, the development of COVID-19 hasn't put a damper on Tavell's ambition, or the foundation he's laying for his career as a new graduate. The work is going smoothly, as he expected to work remotely as the year developed, and he appreciates the support he receives from his department, as well as the connections he's making and the experience he's earning.


FORGING AHEAD AS A FIRST GENERATION STUDENT


As a first-generation college student, Tavell reflects on his journey through secondary education, and he notes that the connections and experience remain a large portion of the importance of an internship program like PrepareRI. Growing up, his family was one that valued education--one that encouraged him to do his best, always supported him with positive feedback when he did well in school, and gave him the confidence to continue on. However, the research on where to go to college, and what for--as well as time management skills and balance between work, life, and school--was something he had to discover and develop himself. Tavell also recognizes the difficulty in building a professional network in one's field when one's family doesn't have work or school connections in similar industries, making internships and volunteer experience that much more valuable.

For other first-generation students, Tavell's advice is to "not be afraid to put oneself out there"; in his experience, he tells peers, "You may feel intimidated by what's out there, but don't sell yourself short! Apply for that college, job, or internship; you'll be surprised at what you can find by taking that chance."

As the summer continues, the interns within the PrepareRI program, and other interns and volunteers across the state, are continuing to work hard and reach for their goals amidst the many challenges we've seen this year, and we admire their determination and ambition. Success in the future lies in the work done today, and these talented students are ever ready to rise to the occasion, in their studies and their professional pursuits. We're extremely excited to have these talented young professionals join us at Perspectives, and we wish them the best as they continue their work with us!
---
---
Copyright 2020 © Perspectives Corporation