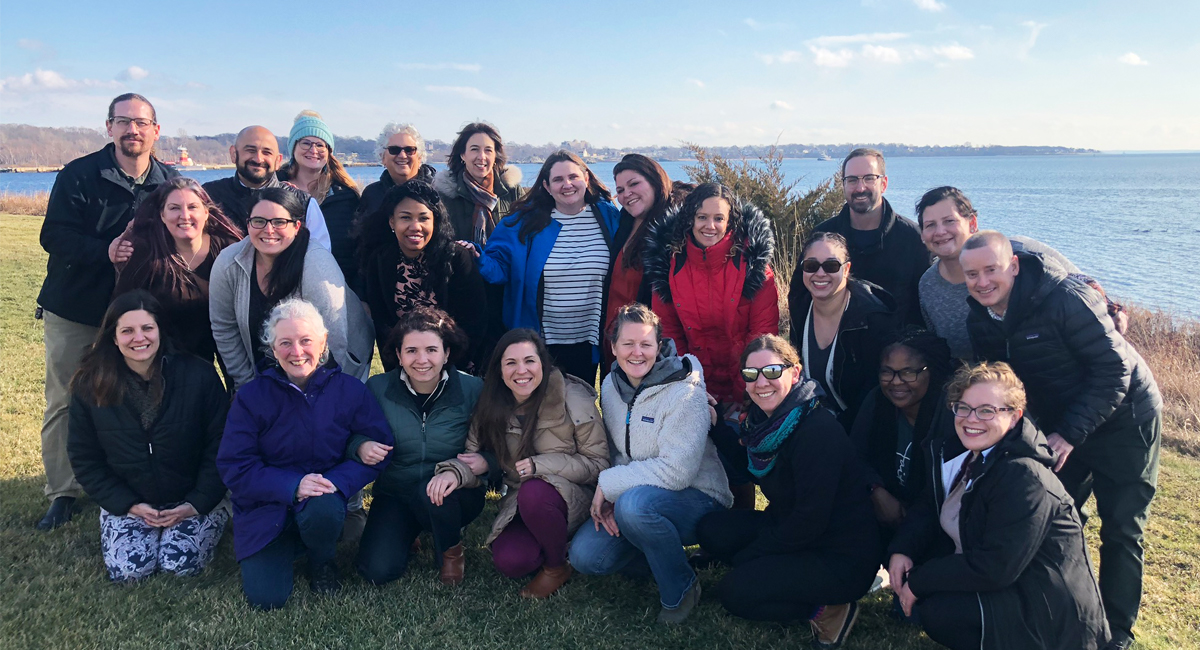 Yesterday's Dreams, Today's Reality: Deaf and Hard of Hearing Department Strategic Planning
By Sara Porcaro | January 28, 2020
Already, the first month of 2020 has passed us by--and after the first twenty-eight days, much has already been accomplished! All over the country, people have laid the groundwork for a successful start to the year and are marching forward to achieve the resolutions they set on New Year's Eve, including the professionals at Perspectives, who are always working towards new milestones.
For the Deaf and Hard of Hearing (DHOH) department at Perspectives, that groundwork meant a day-long retreat with Innivee Strategies as they looked at where they've come as a department--and where they're headed for the rest of 2020! Innivee Strategies is a Deaf-owned non-profit organization, led by CEO Shane Feldman, who has over fifteen years of experience in helping other agencies and organizations rethink how their business models and leadership strategies operate. Innivee's methods allow for not just one training or workshop, but an entire process of identifying ways to improve and discovering the pathways towards those positive changes. As Perspectives' DHOH department grows, they continue to look for like-minded professionals from within Rhode Island's borders and beyond to share their expertise.
"We want to continue being a leader in Deaf and Hard of Hearing services in Rhode Island and beyond," says Perspectives Senior Director Jim Simon. "That's why we're looking to continue building a team of linguistically competent and culturally sensitive professionals, and why Shane's help is so important."
At this month's retreat, twenty-five professionals representing a full range of services--including professionals working in community and residential based Adult Services (ARS/ADS), Behavioral Health, Early Intervention (EI), Interpreting, and Employment--to reflect on the steady growth of quality services since the department's conception in 2003. With the guidance of Innivee Strategies CEO Shan, the group revisited last year's goals--namely, the goals to hire more Deaf and Hard of Hearing professionals, ongoing ASL and Deaf Culture instruction for new Direct Support Professionals, and a shared vision of DHOH services from birth to late adulthood. With seven new professionals hired, more ASL-trained staff, the condensing of all DHOH services into one department, and more, it's been a productive eight months!
"[The DHOH department] is a true gem within the Deaf community in Rhode Island," ASL Interpreter Hayley Baccaire says with pride, "and the retreat was a great opportunity to connect with our fellow professionals at a deeper level; I'm in awe, and incredibly grateful, for their vision, commitment, and enduring hope for the individuals we support!"
"The April retreat was a little overwhelming, in that we realized just how much work we still had to do," says Jim. "However, the latest retreat was inspiring, because we've come a long way. There was a lot of excitement in the air this time, and we all left with a confident, positive feeling--but there's still a lot to do."
With Shane's presentation guiding the retreat along, Perspectives' DHOH department made great progress as they identified their resources within the agency, the service areas they could continue to build, and their strengths--like the fact that they are the only behavioral health resource in Rhode Island specifically for Deaf individuals. Afterwards, the team committed to creating small work groups to conquer their new goals in 2020. The short and long term goals--of strengthening their internal operations, expanding current service programs and launching new ones, and communicating these changes to individuals and families--have drawn a clear map forward, and the team is not only ready, but eager to continue on the path to their goals.
"This event was a real partnership in developing goals and a strategic plan for the department," notes Danielle Loughlin, Director of Intake and Admissions, "and I'm looking forward to seeing where we are going to go next. I'm excited both for the individuals we support and the professionals who work here as we continue to grow."
And growth is certainly on the horizon for 2020! Perspectives is always looking for Deaf and Hard of Hearing professionals to bring their expertise and cultural knowledge to the team, as well as professionals who are excited to jump into the world of ASL and learn the language. With all levels of our ASL classes free to employees, and the tight-knit, passionate community of professionals at Perspectives, it's a fantastic place to bring one's talents--and to make a positive impact on your community. Check out our open DHOH positions
here
!
---
---