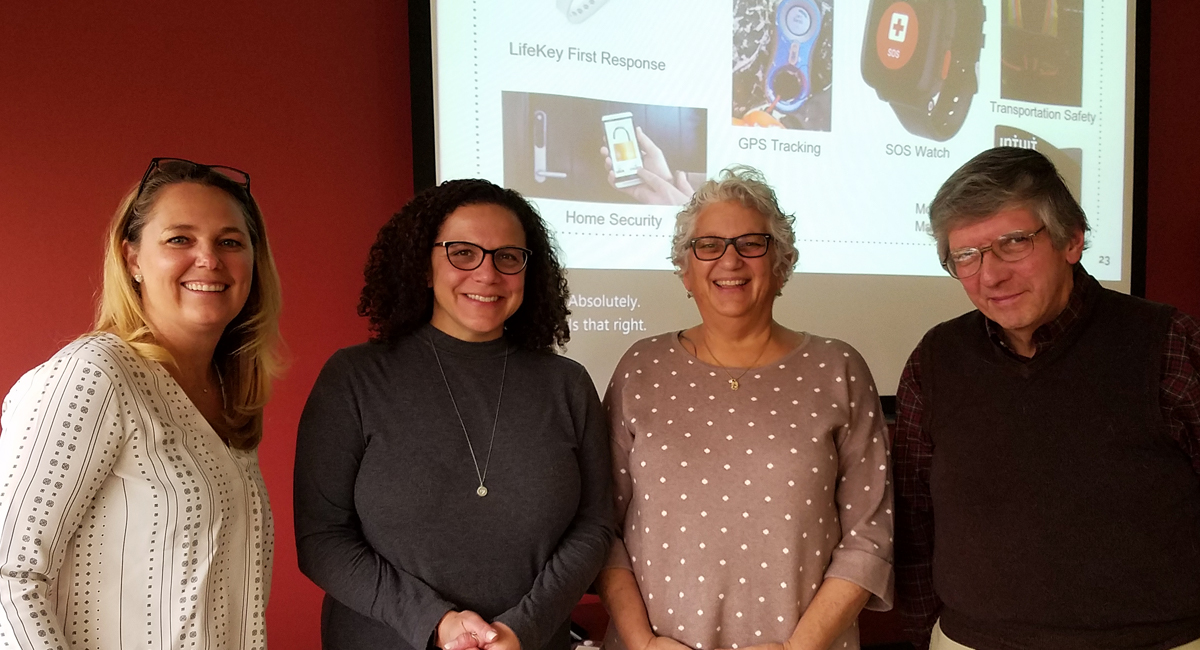 Reaching the Stars, One Tool at a Time: Applied Technology Conference
By Sara Porcaro | January 7, 2020
From the complex technology we rely on, like the phones we carry that hold a world full of information, to even the most mundane things like toasters and dishwashers, our world is brimming with tools that make our lives that much easier to navigate. As technology advances, so too do the opportunities to live full and independent lives: motorized wheelchairs, grocery delivery services, and speech-to-text software being only a few examples. For this reason, it's worth asking how technology can be used to further improve the lives of individuals all over the country--and with Perspectives' half-day conference, hosted at the Community Provider Network of Rhode Island (CPNRI) offices, that's exactly what members of the agency came to learn about!

In December, as attendees--Perspectives professionals, including Senior Directors, Service Coordinators, Directors of various departments, and more--settled in with coffee and pastries for the early morning event, they prepared paper and pens for an informative session to take with them into the new year. The conference, centered around the topic of Applied Technology, featured a presentation by the Co-Director of the Coleman Institute for Cognitive Disabilities, Dr. Shea Tanis--and attendees were interested to know how they could better integrate technology into the lives of individuals we support.

"For 2020, we're looking at how technology can play a role in individuals' independence and autonomy," says Chief Executive Director Judy Niedbala, "and this conference is to share new ideas on how we can use what's available to accomplish that."

Dr. Tanis, who went to Brown University to study psychology and who once worked as a trainer for Perspectives staff before returning to her home state of Colorado, has extensive experience presenting at national conferences about technology and accessibility. Her role with the Coleman Institute is to discover accessible technology that can help promote independence and improved quality of life for individuals with disabilities--a crucial topic in the ever-advancing technological age we live in, which makes her expertise invaluable.

"Technology is so prevalent in our everyday lives, but it's not always accessible," Dr. Tanis remarks. "However, we can't deny individuals access to technology, or else we're denying them full community inclusion, and that's why it's so important to take steps to improve individuals' usage and understanding of technology."

Throughout the presentation, Dr. Tanis touched on various topics, including statistics on technology usage among individuals with disabilities and without, showing the staggering divide between populations, and the tendency for individuals with disabilities to not be as active on social media or other digital platforms. A reason for this divide to be so pressing is that, with social media and online presences becoming ever more important, it affects hiring practices: per Dr. Tanis's presentation, 60% of hiring managers are less likely to hire someone with no online profiles, which puts anyone with no online presence at a hefty disadvantage in the professional world.

"This is a new form of digital institutions," Dr. Tanis said during her presentation. "This costs individuals community inclusion, when they're barred from accessing technology."

Another topic that addressed just what greater access to technology can provide was what different technologies available, such as home monitoring services that allow individuals to live in their own home and maintain their privacy while also having access to emergency or other services when necessary. As technology continues to advance, and so many options become available (such Google Home and Alexa, the various apps that connect to smart appliances), the benefits of not only supporting individuals in how to use it, but also making accessibility options easier to navigate within the menus of a laptop or phone, are crucial.

The half-day conference brought many valuable ideas to take into the new year, and with the expertise of Dr. Tanis to guide the professionals in the audience towards the information necessary to make change, it was certainly an eye-opening event! We appreciate Dr. Tanis coming to share her information with us, and we appreciate all the dedicated professionals who attended to learn more about the importance of technology in the lives of individuals we support. With 2020 here, the future looks bright--and so begins a brand new decade of development in the field of human services!
---
---