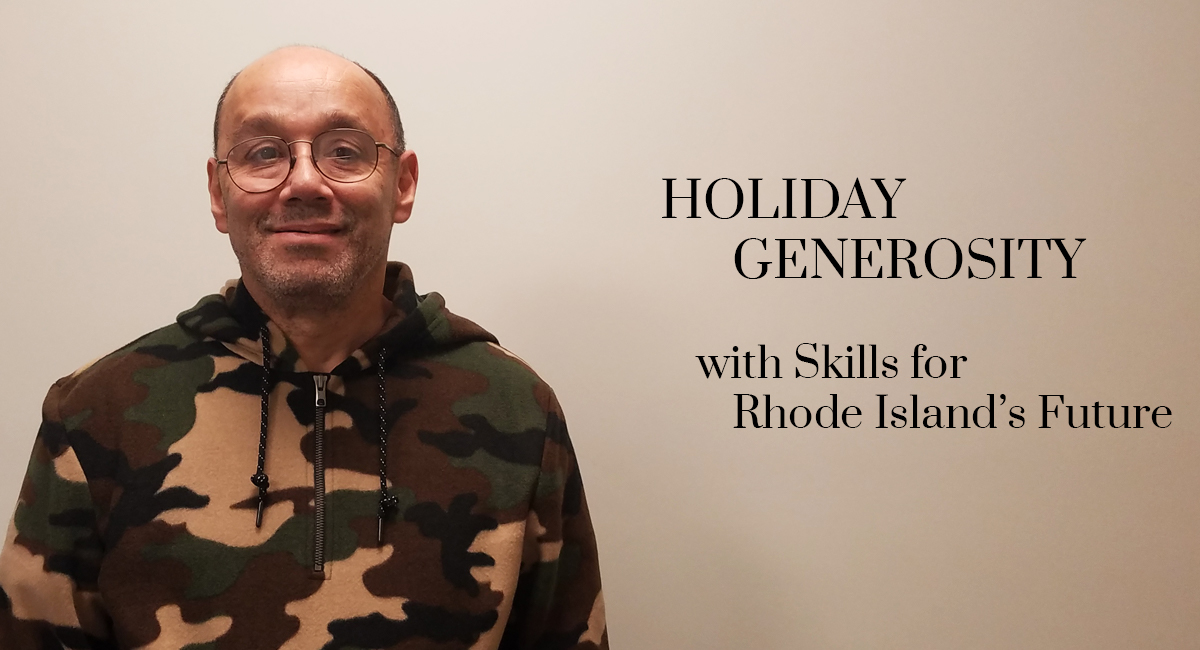 Holiday Generosity with Skills for Rhode Island's Future
By Sara Porcaro | January 14, 2020
The Christmas season is behind us now. As the gleaming ornaments return to their boxes, as stockings and nativity sets are tucked away for another year, people are looking forward to the year ahead--and sporting thoughtful gifts from their loved ones. But aside from the last of the holiday cheer shared between family and friends, there are also the gifts of countless organizations, initiatives, and other projects across the country that help make this time of the year just a little bit brighter. In 2019, one of those organizations was Skills for Rhode Island's Future, who reached out with a promise to bring gifts to 50 families and individuals in need that are currently served by human services agencies across the state!
Skills is a non-profit organization that seeks to help local Rhode Island businesses find the talent they need in unemployed and underemployed individuals across the state. In October, the organization reached out to the Community Provider Network of Rhode Island with the good news that they had the ability to provide gifts for 50 families, which CPNRI and its member agencies all deeply appreciated. Of those 50, 14 were individuals and families supported by Perspectives, and so began the search throughout Youth and Adult Services to find the gift recipients. Direct Support Professionals and Behavior Specialists came together to nominate individuals and families for gifts, and soon after, final decisions were made.
Recipients had no prior knowledge of the gifts before they came, and that made the sudden mystery gifts that much more of a surprise--one that recipients were extremely grateful for. Families within our Home Based Therapeutic Services (HBTS) and Personal Assistance Services and Supports (PASS) services were chosen, and PASS Coordinator Adrianna Orellana, after discovering that one family her team supported was chosen, provided Skills with the information necessary for the gifts, such as the young individual's clothing size and interests. As a basketball fan and Star Wars lover, the new basketball he received and the Star Wars Lego set were quite the sweet surprise on Christmas morning, and the whole family greatly appreciated the thoughtful gifts from Skills.
"I was very excited that someone we support at Perspectives was chosen," says Adrianna. "For people to take the time to pick things out that he loves shows great kindness and generosity, not only to him but other families in need in our small state."
Other recipients included Barner, Jennifer, Bonnie, Paula, and several others, who were met with a sweet surprise on Christmas morning when they received their gifts. From cozy new blankets and slippers to outerwear for the colder months, everyone wore bright smiles as they unwrapped their gifts, and they spent the rest of the day enjoying them. After Jennifer opened her gift, for instance--a beautiful, plush blanket in her favorite red color--she wrapped herself in it for the rest of her cozy holiday at home.
"I had no idea that I'd be getting something from SRIF," signs Jennifer, "but I was so happy when I opened my gift! It's such a nice blanket; it feels almost like fur. I'm super thankful to Skills for getting me something so nice for Christmas!"
Barner was similarly delighted to receive his gift, a camo-print sweater, during his holiday of homecooked Christmas dinner and gift-giving cheer. Among the gifts he exchanged with friends, this one was something he wasn't expecting at all, and his only regret as he opened it was that he couldn't thank anyone for it right then.
"I really like this sweater," he signs, "and now that I know it's from Skills, I want to thank them for this gift! I was thrilled to get it. Overall, I had a really nice Christmas."
It's the generosity, kindness, and cheer of those around us that truly make the holiday spirit shine! We're incredibly grateful to Skills for finding the perfect gifts for so many individuals this Christmas. Such a great surprise certainly put an extra sparkle on the end of the year, and those smiles carried on straight into 2020. We wish Skills another successful year as they continue to strive towards their incredible mission and give back to the community!
---
---