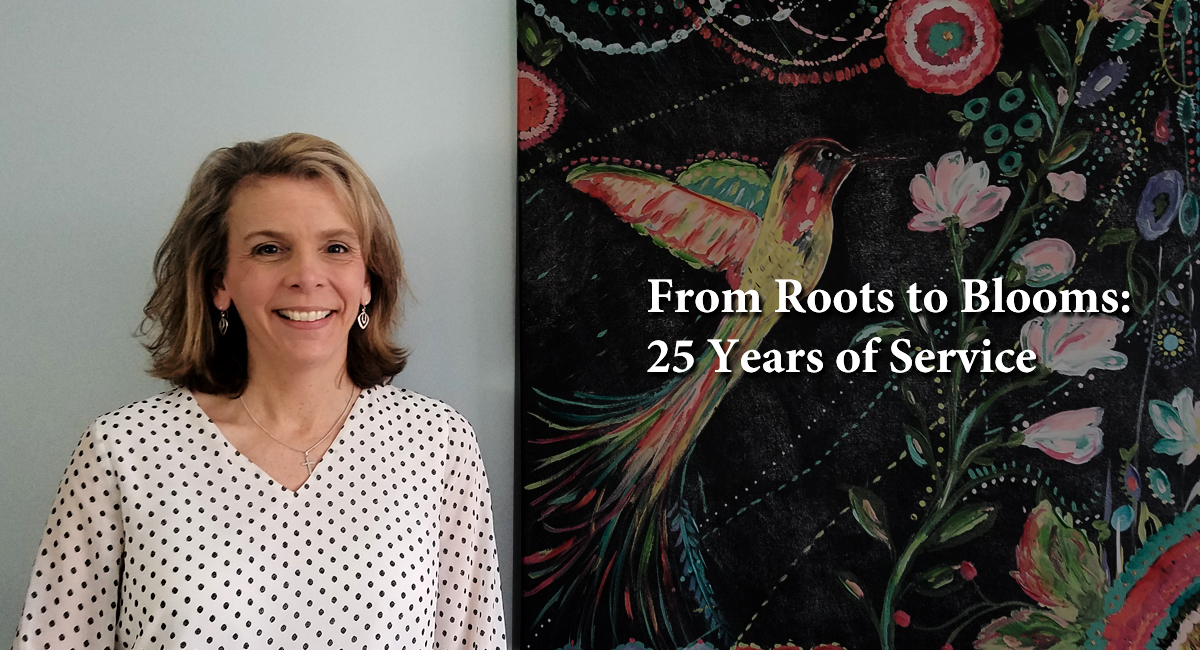 From Roots to Blooms: 25 Years of Service with Senior Director Brenda Verdi
By Sara Porcaro | February 25, 2020
When one begins their career, the potential paths their work can take aren't always easy to visualize. Young professionals seek jobs and opportunities that allow them not only to grow their expertise, but to look for work that they can feel good about--and with so many options, mapping one's future career growth is difficult, to say the least. But difficult doesn't mean impossible, so long as one stays true to their goals and passions, and has the courage to seize opportunity as it comes--just like Senior Director Brenda Verdi, who started at Perspectives as a Direct Support Professional in December of 1994 and never stopped looking for ways to contribute to the growing agency!
A CAREER ON THE HORIZON
As an undergraduate student studying psychology at the University of Rhode Island, Brenda couldn't have foreseen all she would do, and the incredible impact she'd have, at Perspectives over the next 25 years. In that time, she was volunteering at Sympatico, a Rhode Island crisis and suicide hotline. In December of 1994, she found part-time work in Perspectives' Adult Residential Services program and after achieving her bachelor's degree, she began working full-time.
"I knew as an undergraduate student that I wanted to go to graduate school, and that I'd need more experience to get in," Brenda says. "I started looking for work, and I found it here at Perspectives. It really helped solidify what I was learning in school at the time."
In 1996, Brenda began her master's degree in social work at Rhode Island College, and when a position opened up for a psychology assistant--equivalent now to Perspectives' Service and Treatment Coordinator positions--she didn't hesitate to apply. It was an opportunity not only to grow, but to dive deeper into the work she studied in as her responsibilities and assignments increased. Then, with the master's degree she earned in 1998 and her previous experience, she was officially set with the knowledge and skills to provide quality clinical care to individuals--and to begin a whole new sector of services at Perspectives with Chief Executive Officer Judy Niedbala and former Clinical Director Robert (Bob) Kidd: the Youth and Family Services (YFS) division.
"It was very exciting to start a new program and broaden the scope of the agency," Brenda recalls. "The work was completely different from what we were used to, and we had to develop best practices and treatment plans as we set it up."
GROWING WITH THE CAUSE
Brenda was promoted from Psychological Assistant to Clinical Social Worker, and from there, the division bloomed. More clinicians and direct support professionals joined the team, and more service branches opened, all while Brenda stepped away from working directly with caseloads and further into a leadership role as an Administrator--now known as a Senior Director. At that point, Perspectives provided services to individuals from as young as two, via Early Intensive Behavioral Intervention (EIBI) programs, to the end of life via Adult Services, and it continued expanding to include Deaf and Hard of Hearing (DHOH) services. Transitional School Services (TSS), which had been a part of Perspectives' offerings since 1997, also came under the umbrella as Brenda began working alongside current Senior Director Sean Cornell.
"It was a healthy rate of growth for the division because we were careful to grow with the state's needs," notes Brenda. "I never felt overwhelmed during this time; I learned as we grew, and I had the support to succeed as we wrote applications to become credentialed in more services."
CONTINUING OPPORTUNITIES AT PERSPECTIVES
With so much growth since YFS's beginnings--from home-based programs to Applied Behavior Analysis (ABA) and DHOH specializations and more--the established division certainly has a strong track record of quality services behind it. However, it isn't done growing yet; Perspectives is always looking to expand services and bring more professionals aboard, with a variety of options for career growth across several disciplines. The agency's flexible hours and paid internship programs make it a perfect place for students to begin their journey in the field, and positions are always open for the next steps in one's career path after one's degree is conferred.
"My advice to young professionals is to get as many experiences as they can to find what they're passionate about," Brenda says. "Perspectives is dedicated to providing those experiences, too; it's a fantastic place to work, always striving to be cutting edge, and it's extremely employee-centered."
Brenda's journey is just one example of the success professionals can achieve throughout their careers. Through passion for one's work and the courage to put themselves out there, the trust in their skills to know they're ready to take on a larger role, professionals are always proving themselves capable of accomplishing great things--and at Perspectives, that talent is sought, supported, and encouraged. Here's to Brenda for 25 years of growth, success, and fantastic leadership at Perspectives--and many more to come as she leads the current and future professionals of Perspectives' clinical teams in the YFS division!
If you or someone you know is interested in career and internship opportunities with Perspectives, our
Careers
page is a great place to learn more!
---
---