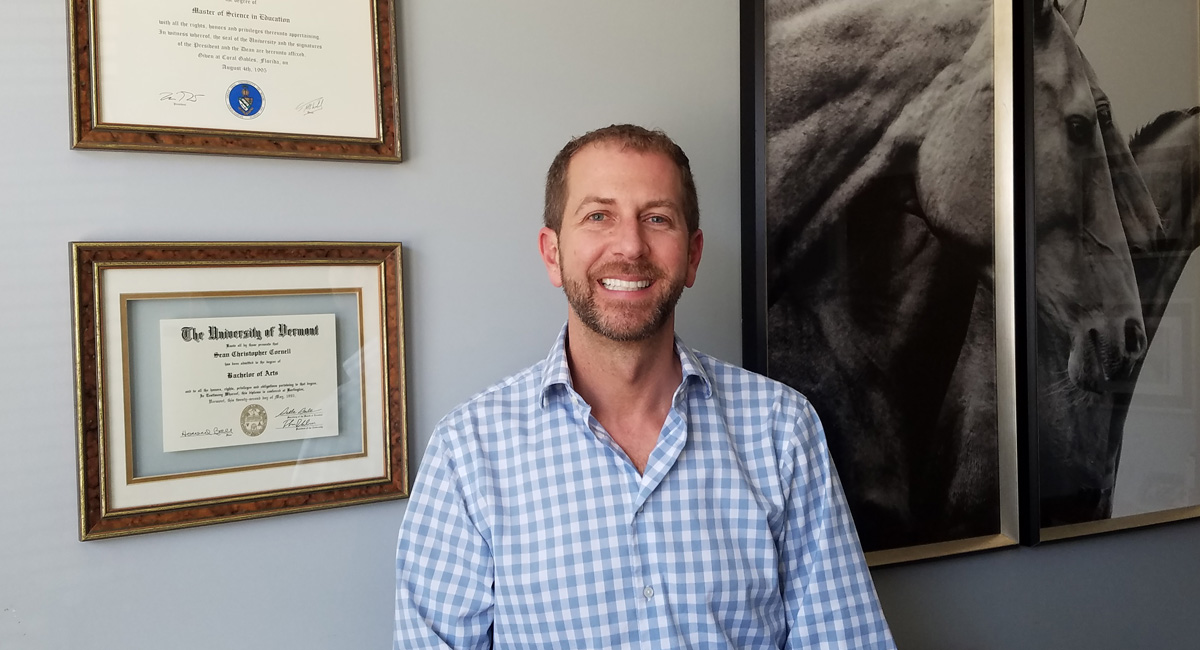 The Many Paths to Achievement: 20 Years with Senior Director Sean Cornell
By Sara Porcaro | April 13, 2020
Sometimes, one's career path can take them to unexpected places. The story of a student beginning their college career with a professional goal in mind, only to switch tracks as they discover where their true passions lie, is a common story--but one less discussed is the path of a professional who discovers new channels of career growth long after their initial journey has begun. At Perspectives, we value passionate, driven professionals who join our team with the goal of making an impact on the lives of our community members, and that's why this month, we're celebrating the 20th anniversary of one such dedicated professional: Senior Director Sean Cornell!

As an undergraduate student at the University of Vermont, Sean knew two things: he loved science, and he wanted to have a career where he could help people. He decided that the pre-medical program would be the best fit for his interests and future career, allowing him to pursue those passions while achieving his goals--until he took a course in psychology, which he quickly fell in love with. Sean then shifted from medical school to a bachelor's program in psychology, and on top of his studies, he also had a job at Champlain Industries as a Job Coach. Six months into the job, he was promoted to Job Developer, and all the while, he supported individuals in achieving and retaining employment in their communities.

"I loved working for Champlain," Sean says. "It taught me so much alongside my studies; I knew that this was the field I wanted to work in, so I switched my major to psychology and dove in."

With his bachelor's in hand, Sean then went on to the University of Miami to get his master's degree in mental health counseling, and so began his career exploration in clinical health as he undertook a variety of internships to find his best fit within the industry. Sean eventually returned to Rhode Island and officially launched his career with Community Care Services in Fall River, where he worked as a full-time clinician for individuals of all ages, as well as a coordinator for group services. It wasn't until April 2000 that Sean came to Perspectives, based on the recommendation of his best friend's sister-in-law, for a clinical supervisor position in Home-Based Therapeutic Services. From there, his professional experience only grew: in 2003, he stepped up to the challenge to become an administrator alongside Senior Director Brenda Verdi while Youth and Family Services continued to expand.

"I discovered that I could be a strong administrative leader," says Sean. "The duties I took on weren't things I went to college for, but I found they were things I enjoyed, and I always had support and training along the way to thrive in this role. Now I have a perfect blend of administrative and clinical work."

The wealth of experience Sean has gathered--both in youth and employment across a variety of positions, as well as through administrative duties--means he has not only the spirit to pursue his original goal, but years of knowledge and expertise to drive incredible change. That's why Sean believes in hard work and taking on challenges to grow and improve one's skill set at all points of their career: because the success that comes not only with working in one's field of choice, but exceeding their own expectations and achieving what they hadn't imagined before, is an incredible feeling.

"[Chief Executive] Judy and Brenda believed in me, and that meant so much," he says. "I'm proud to be a part of the Perspectives family, and I think any professional should always be growing and seeking out new challenges."

For Sean, that new challenge was coming to Perspectives 20 years ago to begin a new milestone in his career--and now, as Senior Director of Youth and Family Services with Brenda and Senior Director of Employment, he's rising to the occasion once again with incredible leadership. It's been a fantastic journey at Perspectives, and we're happy to celebrate twenty great years with him on the team!
---
---