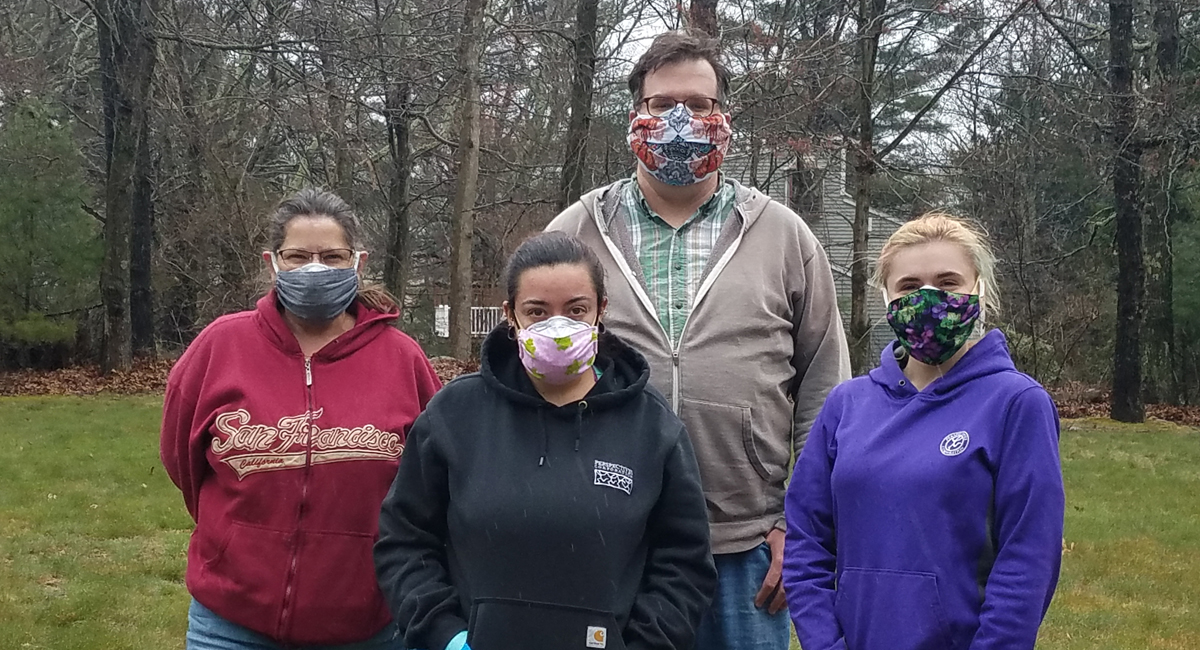 How Perspectives' Essential Workers are Bringing the Fight to COVID-19
By Sara Porcaro | April 28, 2020
From left to right: Shani Kitchin, Jocelyn Johnson, Ian Armitstead, and Casey McCoy, four DSPs working in the same residential program and ready for the day.
In a time of crisis like we're all living through now, it takes a community to make it through--to not only care for those who fall sick, but also to prevent spreading the illness as much as possible.
At Perspectives, our professionals spare no measure to ensure the health and safety of the individuals we support. Through communication between Program Managers, our Nursing Department, Direct Support Professionals (DSPs), and our senior leadership--as well as the partnerships from local businesses--our hard-working teams are always well-prepared and ready for action!
Since the beginning of the COVID-19 statewide shelter-in-place, the response from our teams was immediate. Those who work in our residential programs wasted no time in implementing early COVID-19 safety measures, such as disinfecting surfaces, observing social distancing guidelines, and minimizing outdoor contact. As the situation continued to develop, and the resources became available, DSPs have also worn masks to every shift to further protect against possible community transmission. The constant, tight communication between DSPs, Site Supervisors, Program Managers and Directors, the Nursing Department, and senior leadership also means for seamless delivery of supplies, like personal protective equipment (PPE), and quick action on any pressing issues.
"We've been doing these things all along and already had tight teamwork here," says Site Supervisor Shaun Kook. "But now, we're being that much more hypervigilant about staying safe. And our managers have been super supportive. If we need something, we ask for it, we get it."
A TRUE COMMUNITY EFFORT
The efforts to get past RI's pandemic peak are also increasing thanks to the incredible support of our community partners. For example, Governor Gina Raimondo's statewide tool,
RI Havens
, has made it possible for hotels and inns to discount their rooms to our essential and front-line workforce who wish to self-isolate to lessen the risk of community spread. Thanks to this program, Perspectives has collaborated with one RI Havens participant, Extended Stay America, for accommodations for frontline workers who need to stay separated from their families. However, while they stay in hotels that are dedicated to their comfort and paid for by Perspectives, our professionals living in these accommodations are focused on the task at hand.
"It's not a vacation," says Site Supervisor Charles Roy, who is staying at Extended Stay America. "A lot of us haven't seen our family in a while. But [Perspectives] is really taking care of us, and it's good to have this [hotel] option to lower chances of spread from the community."
Along with living accommodations, Roch's Market is another fantastic community partner dedicated to helping our essential workforce and individuals we support access critical resources. Everyone, both individuals we support and professionals in isolation, has access to grocery delivery paid by Perspectives so that they can get what they need to stay healthy and strong as they practice social distancing. All they have to do is submit a grocery list, and the rest is taken care of. Those in isolation can also have take-out delivered to their hotel rooms.
"It's lonely and weird, being away from our families," says DSP Mentor Gabrielle Rossi, who has also moved into Extended Stay America. "But it's awesome to have this option to help prevent the spread. Everyone is doing an amazing job to get us what we need."
STAYING STRONG TOGETHER THROUGH SUPPORT
Despite the difficulties in these strange times, our DSPs are working through the pandemic together in every sense--both as coworkers and as friends, supporting each other emotionally as they stay separated from their friends and family. The tight-knit staff are in constant communication, giving each other a voice for their struggles, lending their ear, and helping each other manage the stress that comes with the COVID-19 world, as well as supporting individuals in adjusting to these increasing changes in their daily lives through home projects and other activities.
"It's difficult for everyone in their own way, for individuals we support and DSPs, but we can handle the heat," says Shaun. "I feel so supported by everyone; I really couldn't ask for anything more."
Perspectives has also provided our workforce with extra tools, including gift cards for food, supplemental wages, increased time off, and employee appreciation gifts for their incredible work during this crisis. Perspectives as a whole--and every level of leadership that constitutes the agency--have banded together to do what's needed to support, communicate with, and provide for individuals and DSPs alike, and they're continuing to pour their heart into their work.
"We are extremely thankful for everyone's continued efforts to prevent the spread and encourage everyone to keep up the fight," wrote Chief Operating Officer Kim Einloth to Perspectives professionals after announcing the new supplemental resources. "You play a critical role. You are the backbone; you are essential."
Perspectives remains incredibly grateful to everyone who is a part of the fight to keep individuals we support, our workers on the front line, and our larger community safe, secure, and healthy! Success takes all of us coming together in times like these, and every day, everyone's spirit and support continues to shine. Thanks to our partners in the community who deliver food and other essential services, as well as the work of the nurses, the managers, the senior leadership, and the direct care professionals at Perspectives, we continue to ensure everyone's safety as we do our part to help stop the spread of COVID-19.
---
---