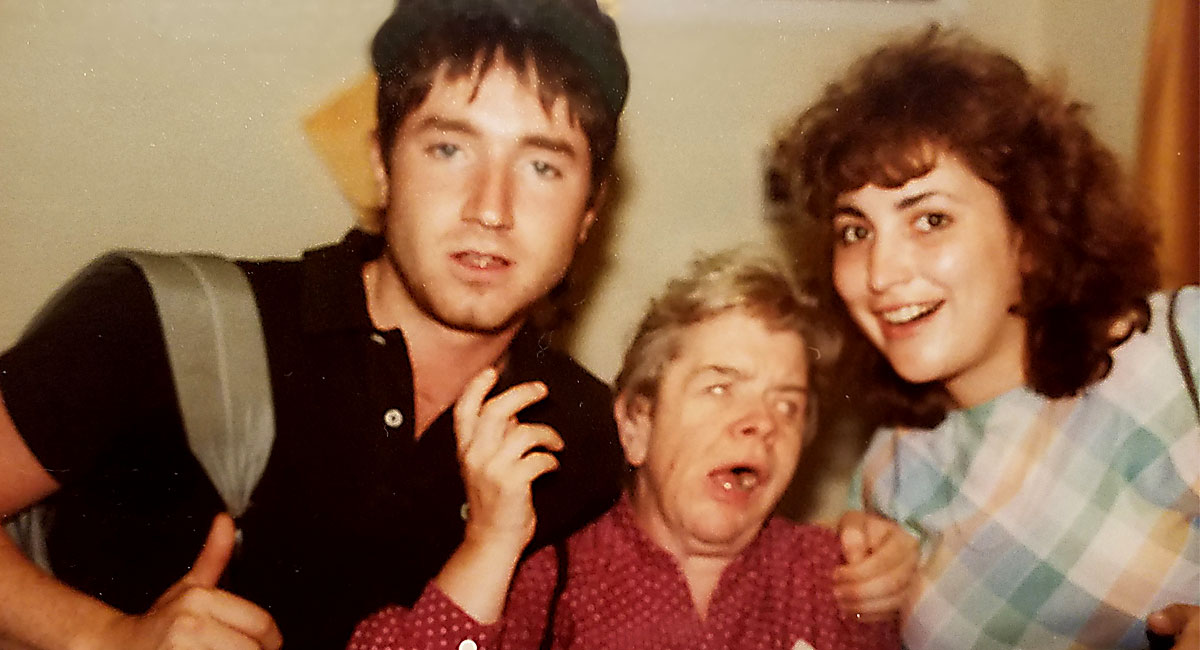 Photos of Her Formation: 2019 Foote Award Recipient Christine Hathaway
By Sara Porcaro | September 24, 2019
"These were my formative years. These people--they're why I do what I do."

Senior Director Christine Hathaway casts a nostalgic gaze on a photo album, one brimming with pictures of individuals she worked for as Direct Support staff at the Walter E. Fernald Developmental Center. She's in several photos, smiling with the men and women who made some of her first experiences in human services so memorable--and propelled her forward to where she is now. Christine reflects on her beginnings, grateful for the experience--and grateful again for the honor she's to receive from the Community Provider Network of Rhode Island: the Foote Excellence in Service Award!

In the many years of her career, Christine's continuing certifications within the industry have garnered her the knowledge and skill to become a positive force in the area of behavioral health. After graduating with her bachelor's in psychology from the University of Rhode Island, Christine's start in the industry with the Fernald School in 1982 opened her eyes to the ways in which she could better support them through their behaviors. Her observant eye and dedication to those she supported helped her grow strong, trusting bonds--and begin to imagine new approaches to behavioral healthcare.

"Here is where I first learned about trauma and its impact on behavior," Christine says between stories about individuals in the album. She smiles at the photos. "Sometimes I want to go back to this work. This is where the direct relationships happen, where you really get to know people."

Christine's experience in the industry is vast. As she went on to get her M.Ed in Education with a focus on counseling, as well as complete coursework towards a master's in Applied Behavioral Analysis (ABA), she found herself in a myriad of opportunities. Places she's worked and positions she's occupied include, but are not limited to: the Wrentham State School as a psychologist, Child and Family Services of Newport County as the Foster Parent Support Program Coordinator, the RI Foster Parents Association as the Executive Director, and at Positive Reinforcement ABA as a Board Certified Behavior Analyst (BCBA). In 2000, she joined Perspectives as a Master Level Psychology Clinician--and as of 2006 she's overseen them as the Senior Director of the Behavioral Health department in Adult Services.

The Foote Award, named after late speech and language pathologist Susan K. Foote, is one that recognizes the incredible contributions of professionals within the human services industry for their dedication to individuals with disabilities. Throughout Christine's career, her dedication is evident, whether in the programs she's adapted and created for professionals, the curriculum on mental health disorders like Borderline Personality Disorder (BPD), the relationships built between human services agencies, hospitals, and the police force, and of course, her tireless advocacy for trauma-informed behavioral healthcare. After being told about her winning the award, Christine was honored--especially after knowing Foote personally and knowing her complete dedication to individuals with disabilities.

"It's such an honor to receive this," Christine says, "though I definitely wouldn't be where I am without the support of my fellow professionals and my family. Everyone at Perspectives works so hard--and, you know, when your life's work is for someone else, it's hard to step back and take credit for what you do."

Christine will be receiving the award alongside several other professionals at the CPRNI Awards Breakfast this Thursday, with the support of her peers cheering her on. As she closes the photo album, however, her thoughts aren't on herself; they never were. They're still on the individuals, on the memories of the past, the duties of the present, and the possibilities of the future. The Foote Award comes to a deserving recipient, indeed--and we're celebrating Christine's dedication and achievement with her! Congratulations, Christine!
---
---