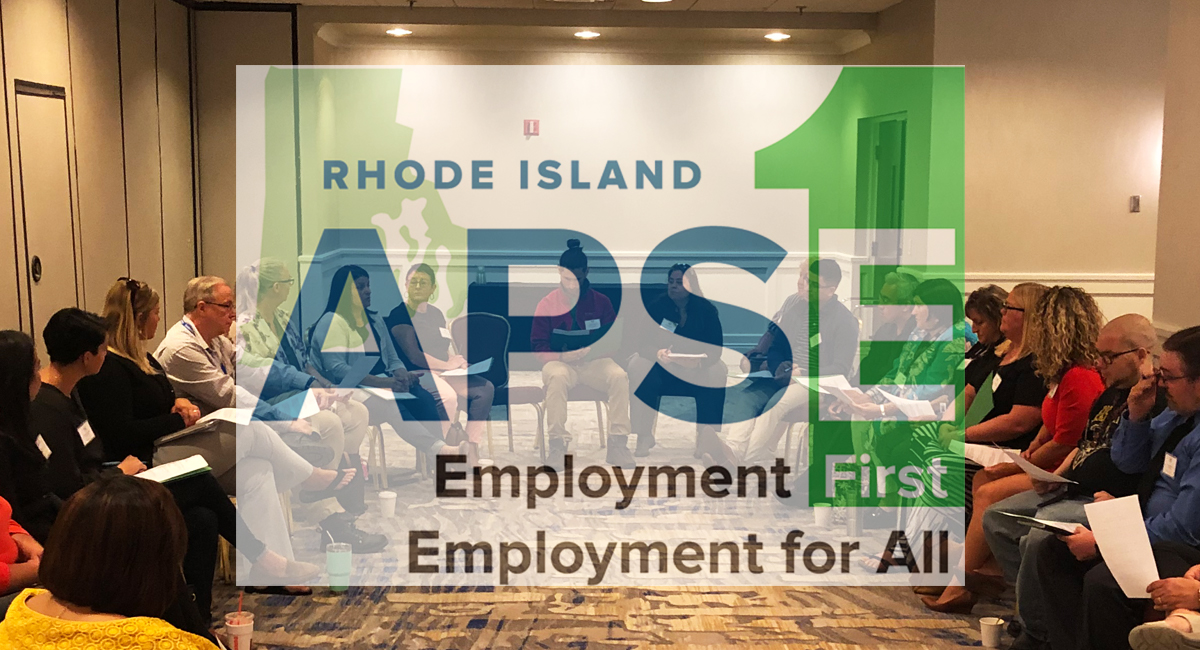 The Smallest State, the Biggest Dreams: Rhode Island's First Half-Day APSE Conference
By Sara Porcaro | October 15, 2019
The smell of coffee and fresh breakfast pastries fills the halls of the Radisson Hotel as guests arrive. Along with early morning refreshments, however, are tables and booths of various organizations and agencies throughout Rhode Island, including the Sherlock Center, the Office of Rehabilitation Services, and more. These guests--APSE members and other professionals alike--are here with a goal to learn more about inclusion and opportunity for individuals with disabilities in the workforce. With the first annual Rhode Island Association of People Supporting Employment 1st (APSE) half-day conference, and attendees are excited to come together for the Employment First cause!

Every year, members from all over the country gather to be a part of the APSE national conference, ready to discuss new methods and ideas for advancing inclusive employment opportunities for individuals with disabilities. With APSE chapters in 39 states, the national conference allows for professionals to learn from each other and see how their peers across state boarders are working towards the Employment First cause. However, while the conference is once a year, the initiatives that bring these people together are ongoing--hence the recent hosting of RI's state-wide half-day conference, a long-time dream of Perspectives COO and APSE Co-President Kim Einloth.

"Kim wanted something more accessible to people who couldn't get to the national conference," APSE Secretary and Perspectives Career Developer Ashley Ponton notes. "This was a way to share what's going on in Rhode Island regarding the Employment First initiative."

Since 2013, Rhode Island's APSE chapter has included a diverse group of members, including government officials from the Dept of Behavioral Healthcare, Developmental Disabilities and Hospitals (BHDDH) and the ORS, as well as representatives from several agencies, such as Looking Upwards, Spurwink, Fogarty, and Perspectives. As secretary, Ashley connects these professionals, alerting them of upcoming membership expirations, national APSE news, webinar opportunities and other resources. She also takes notes at monthly member meetings, oversees the election process, and this year, she assisted in ensuring that the APSE half-day conference ran smoothly.

"The conference atmosphere was fantastic," Ashley says with pride. "it seemed like everyone was in good spirits, and our keynote speakers did an amazing job opening the event."

At the conference were keynote speakers David Hoff of UMASS Boston's Institute for Community Inclusion and Nora Crowley, Executive Director of the RI Governor's Workforce Board. They set the tone for the day, discussing ways in which inclusion benefits not just individuals with disabilities, but society as a whole--and how new opportunities continue to arise to create accessible spaces where people of all talents and abilities can come together and make a difference in their communities. Through partnerships and collaborations between state organizations, agencies, employers, and more, the resources for individuals to succeed in the workforce only increase--and everyone benefits.

Along with these keynote addresses, three rotating break-out sessions covered topics such as work opportunity tax credits, apprenticeships and work immersion, and the Community Provider Network of RI's Pathways Partnerships trainings, allowing everyone to hear all three presentations. With Kim and fellow APSE Co-President Kie O'Donnell giving one last speech before the day's end, the event was overall a great success--and the event-goers agreed in their feedback. Rather than a full day conference in a different state, this event ran until mid-afternoon, allowing professionals the ability to return to their work afterwards, and naturally, saving them quite the time on travel.

Ashley says, "We had a good balance of everything. Overall, the conference was a success, and we're extremely grateful to everyone who came."

Want to check out APSE for yourself? On Thursday, October 16th at 4:30 P.M., the RI APSE chapter will be hosting an after-hours event at the Tavolo Wine Bar and Tuscan Grill, where members and non-members alike will be able to get together for conversations about the Employment First mission in a casual, friendly setting. With the success of the first annual half-day conference, this follow-up event is just the thing to keep the energy going, so definitely don't miss out! A big round of applause to the RI APSE chapter for bringing RI's professionals, officials, and community members together for a great cause!

---
---