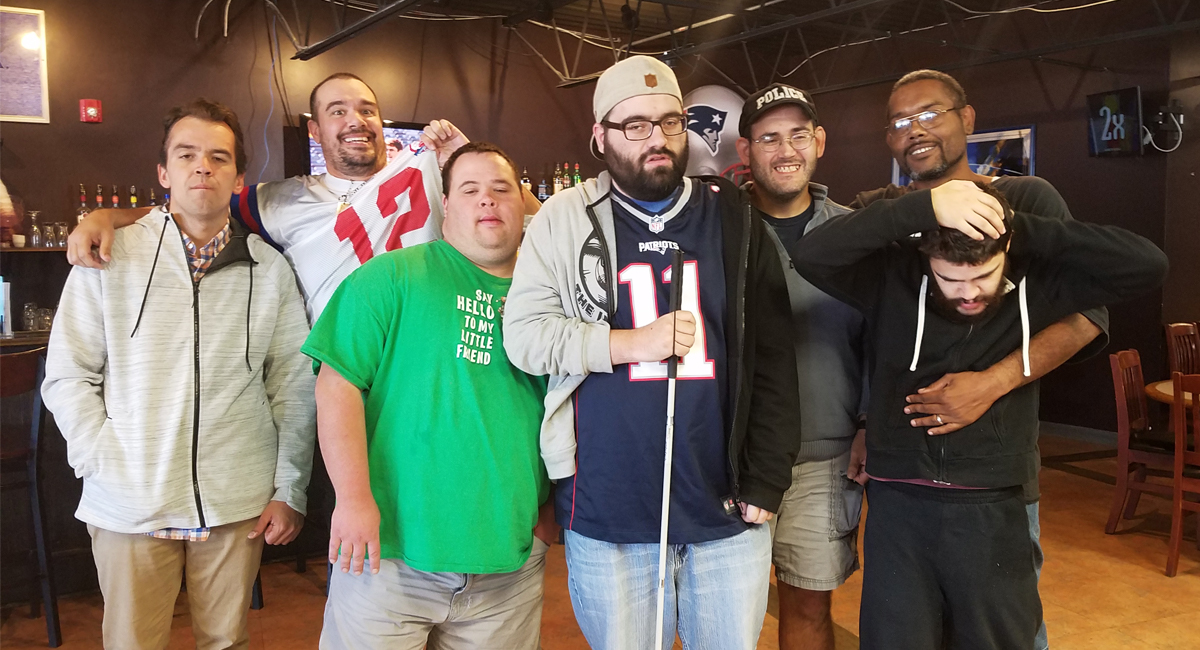 Football on the Screen and at the Diner: Fantasy Teams Compete
By Sara Porcaro | October 1, 2019
With football season going strong, sports fans across the country gather around in the living room on Sundays, sporting the jerseys of their favorite teams as they cheer with friends and family. But the game on the TV isn't the only bit of football magic happening around town. On a fine afternoon, in the sports bar area of the Old Theatre Diner, a group of friends get together, following the results of each week's game and calculating the points they earned for their fantasy football teams--and their lively conversation, bright smiles, and laughter light up the room!

For nearly three years, Chris, BJ, Luke, John, and others have come together at the Old Theatre Diner for all manners of fantasy sports, including basketball and baseball on top of football--though they've long since been playing together at various community spaces before then. Once, they even created a whole new game for fantasy wrestling--a project that brought their wrestling-loving friends into the fold as well. In the open space of the bar area, they order food, talk about the recent official football games, and banter with each other in a spirit of friendly competition.

"We would always be talking about sports when we were all together," says Direct Support Professional Andy Ming, "and we thought, 'why not do fantasy sports?' We started with beginner and advanced classes to teach everyone the game, and it's been going on since."

The fantasy sports crowd has had several adventures together, as well. The crew would come together to brainstorm fundraising events to host for the fantasy sports seasons, raising money through cook offs and pot lucks to go on field trips to places like the Patriots training camp, where they had their footballs signed by their favorite professional players. Other funds went towards buying sports gear for the fantasy crew to support their favorite teams with, such as jerseys. Now, on draft days especially, the party kicks into full gear: great food, a large gathering of friends, and a whole host of fun as everyone crafts and names their teams out of the draft of players.

"I love hanging out with my friends here and talking about sports together," John says. "I'm a big sports fan at home, and putting my teams together for fantasy sports is a lot of fun."

John, who has been playing fantasy football for five years with the crew, is a Patriots, Yankees, and Lakers fan, and he participates in multiple fantasy sports. He's won fantasy championships in multiple sports, too--and outings to Gillette Stadium and the Patriots training camp, as well as a Celtics games, are memories he treasures (along with his autographed football). Chris, who loves cheering on the Bruins, Celtics, Red Sox, and Patriots, also has a great time with everyone as they go against his teams. The competition is high, and Chris and John are often locked in as rivals for the fantasy sports championships--enjoying the game, the sports seasons, and each other's company.

"The atmosphere is really nice," Chris says, "and everyone makes good teams. It's fun here with everyone."

Outside of the draft day, however, no meetings are mandatory, as everyone wants to keep the fantasy feel relaxed and fun for all. Whether beginners or veteran players, anyone is welcome to join the fantasy sports fun, and to enjoy it at whatever pace is comfortable for them. And with the football season still going strong, the crew remains filling the Old Theatre Diner's sports area with laughter, friendship, and fun! The rest of the season's looking bright, especially for these sports-loving competitors!

---
---
Copyright 2020 © Perspectives Corporation