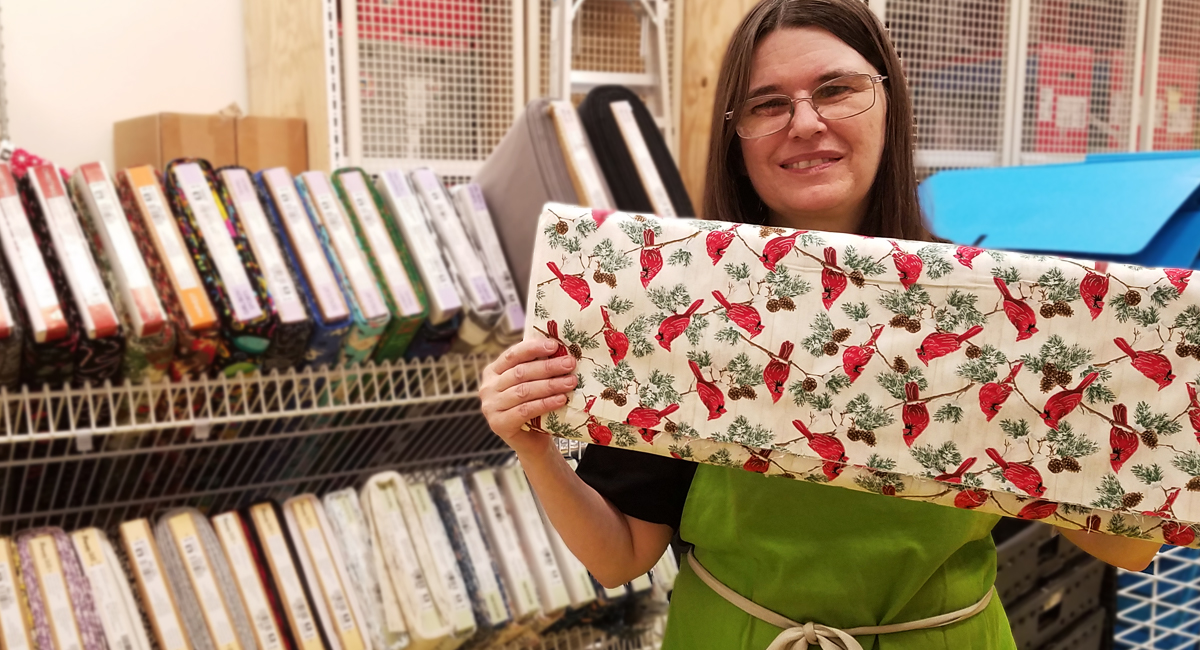 An Artist Surrounded by her Tools: Cathy at Joann Fabrics
By Sara Porcaro | October 29, 2019
Inside Joann Fabrics on an early morning is a peaceful quiet--one perfect for contemplating the stock of Halloween d้cor for last minute party decorations, or perhaps the yellows and oranges of flowers, the twigs of berry garlands, for Thanksgiving. Autumn stretches across the ninth, tenth, and eleventh month of the year, as it does throughout the store--and the twelfth month isn't far behind, its snowy, silver-tinted baubles and fake fir materials already poking from back displays. Working soundly among it all are the Joann employees, who prepare for another busy day on Bald Hill--one of them being craft-loving Cathy!

For anyone that knows Cathy, it's no secret that she loves to create new things and express herself through her art. Her love of crafts takes root at her apartment complex, where she has a knitting group and painting group with her neighbors and friends. As a long-time customer at Joann Fabrics, she already had a love for the place--and when a position opened up, and Career Developer Ashley Ponton let her know about the opportunity, Cathy was right on it. She's been working here since, and this October, she celebrated her one year anniversary at the store!

"I love everything about working here," Cathy says, smiling wide. "There's nothing I don't enjoy, and my coworkers and managers are all awesome."

With the Christmas rush well on the way, Cathy's been working four days a week instead of her usual three to help with all the new supplies coming in; she's happy to support her team. No matter what work she's doing during her shifts--be it helping customers find what they're looking for, keeping the space neat and organized, or getting new stock ready in the back rooms--she enjoys it all. Over the course of her year at Joann Fabrics, she's also achieved a real knack for the job, which she says is large in part to how kind and helpful her coworkers are. Cathy now works fully independently and takes the RIPTA bus to and from each shift.

Cathy's supervisor, Kerry, says, "Cathy's very polite and friendly; she's always happy to do whatever needs to be done and ask for help when she needs it." On her work, Kerry notes, "She's a prayer for us, especially with Christmas coming up--a real pleasure to have. I think she's grown more confident, too, and she's improved a lot over the year."

When she's not at work, Cathy stays right on top of her craft groups, as well as other fun community events in her apartment complex: Bingo nights, coffee hours, and more bring the residents together for casual conversation and friendly competition. She also enjoys nature walks on local hiking trails, as well as spending time with her brother; they have lunch, see films at the cinema, and catch up on all the things happening in their daily lives. At the end of the day, she comes home satisfied with a job well done, a fun adventure out, and a place to call her own.

"I'm proud to be independent--to pay my own bills, do my own shopping, and save money for things I enjoy," Cathy says. "With my sister moving to New Hampshire, I'm thinking of saving up to visit her there."

In the meantime, Cathy remains working hard at Joann Fabrics--a friendly place full of fantastic people that she's happy to call her coworkers. Cathy goes about her day with a big smile, no doubt getting ideas for her future crafts with all the new materials coming into the store, and her coworkers are happy to ask about her day in the break room or lend a hand when she needs it. As always, she's giving her work her full effort, and it doesn't go unnoticed. Awesome job, Cathy--keep up the great work!

---
---