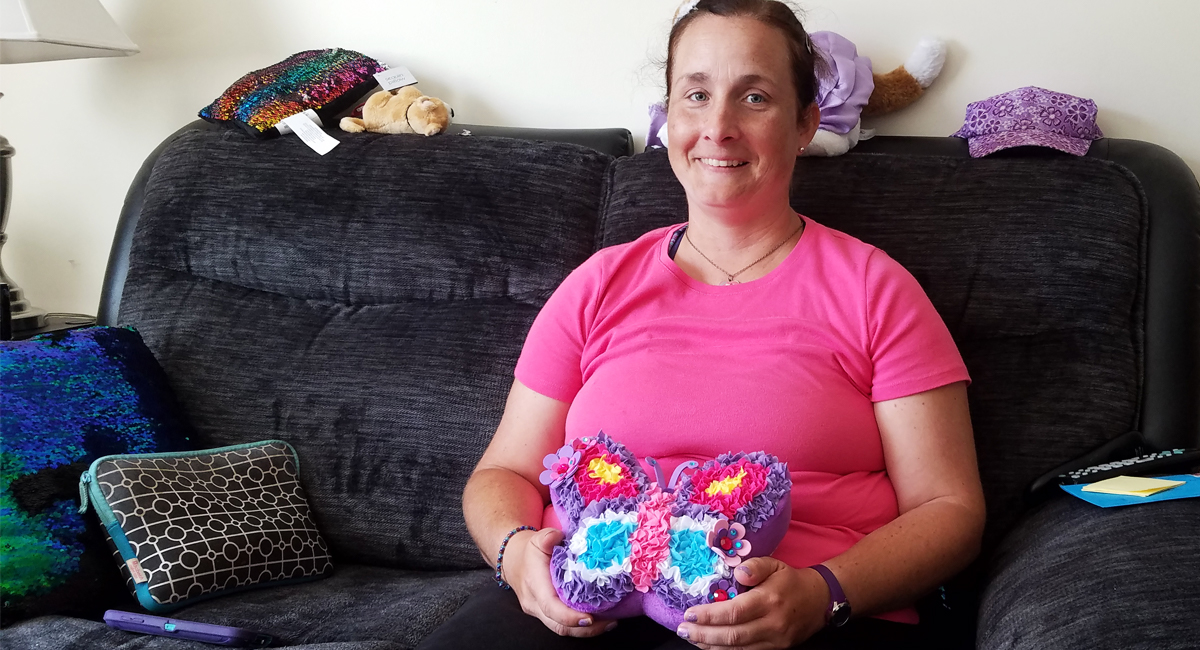 A Life of Adventures, One Day at a Time: Meet Anne
By Sara Porcaro | October 8, 2019
On a quiet Wednesday afternoon, the sun gleams off green grass. Leaves are just beginning to shift from green to yellow, orange, and red--a lovely sight alongside the flowers of the apartment complex's gardens. With the air still warm, the skies blue, it's the perfect moment to slow down, relax, and soak up the sun. There on a lawn chair, with grass tickling at her ankles and a smile on her face, none other than Anne!

For Anne, the quiet moments just relaxing on the lawn are a rarity. Her apartment, where she's lived independently for ten years, is decorated with pictures, purple pillows, and balloons--both symbols of her style and souvenirs of fun nights out with friends. In fact, there's rarely a day where Anne isn't out of the house: be it competing with her basketball and softball teams, singing in the North Kingstown Community Choir, or going to the gym for swimming and Zumba classes, she's always out and about, getting the most out of every day.

"I do a lot," Anne says with a big smile, "and I love all the things I do--though sometimes it is nice to take a break and just relax at home with my tablet. I do puzzles on it, and I want to start reading more books."

But the days aren't only packed with adventure; they're filled with hard work, too. Anne has worked as a dietary aid at South County Health for nineteen years, where she keeps the kitchens clean, prepares snacks, and serves patients at appropriate intervals. Within the last three years, she's also picked up a seasonal position at Home Depot in their garden center, where she waters the plants and helps customers find the items they're looking for. Home Depot brings her aboard from April to December, where the best blooms of the spring and autumn seasons wait for her care.

"I love flowers and gardening, and the Home Depot position is a great way to get involved with that," she notes. "It means I'm really even busier during this time, but it's a lot of fun."

Even with all the work she does and all the activities she participates in, Anne always makes sure to save time for her friends and boyfriend, Brendan. Every Friday and Saturday, Brendan comes over for a date night at home, where Anne prepares a homemade meal and they hunker down to watch movies, play games on the Wii like Just Dance, and talk. They've been dating for quite some time, having been to three high school proms together since their relationship started. Along with their weekly date nights, they've also gone on a few adventures together--going to Florida with Brendan's parents during the winter, and celebrating his sister's wedding together.

When she's not with Brendan, however, Anne can also be found with her friend Bailey, who lives in the same apartment complex; she loves watching movies with Bailey and hanging out with Bailey's cat. They've gone to several fun events together, like Stars on Ice, and Anne's aiming to see other events in the future, like concerts and Disney on Ice. But with a life as busy and packed with excitement as Anne's, sometimes her schedule conflicts--where she has to skip a party with friends to celebrate a wedding with loved ones. Nonetheless, it's all fine to her, because she knows that there's always another opportunity to get together with those she loves.

On living alone, Anne notes, "It's really nice to have my own space and choose what to do with my day. Meeting new people, doing new things, it's all a lot of fun."

As we come into October, Anne's staying busy as ever, caring for patients, watering the mums in Home Depot's seasonal stock, and finding new sights to explore with friends. In her cozy apartment, surrounded by things she loves and that remind her of good times, she's ready to get back out and take advantage of the sunshine while it's still here. Her phone rings, and so another adventure begins--one we know she'll experience to the fullest!
---
---