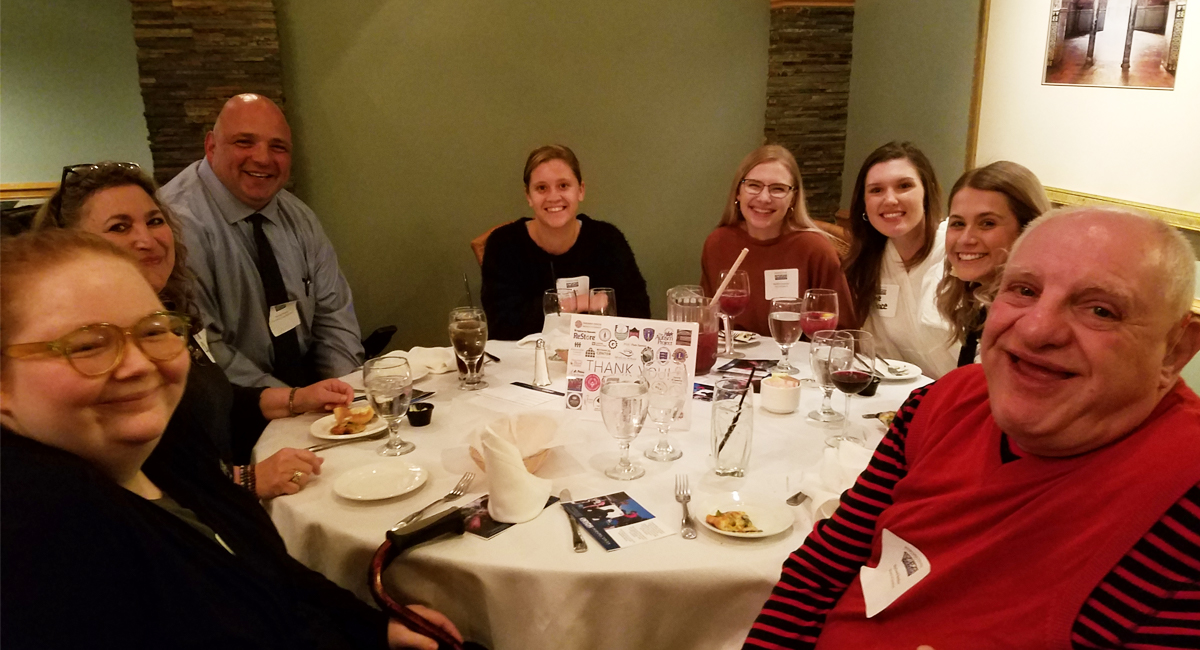 A Bigger Crowd, a Bigger Party, for Volunteer Partners at Spain of Narragansett
By Sara Porcaro | November 5, 2019
In Narragansett, the sun sets on the Atlantic, which stretches on for miles. Not too far from the coast is the Spain of Narragansett restaurant, where inside, the low lights and waterfall wall create a peaceful, cozy atmosphere--one that people are enjoying together over glasses of house sangria and friendly conversation. These guests are members and volunteers of several non-profit and professional organizations across Rhode Island, and they're together to celebrate the year's work and be recognized by Perspectives at this year's Volunteer Recognition Night!
For over five years, Perspectives has gathered community partners and volunteers together for their Volunteer Recognition Night--the first of which was held at North Kingstown Community Center. However, as the years went on and more organizations came to partner with Perspectives--including the Habitat for Humanity ReStore, RICAN, the Charlestown Land Trust, the Exeter Public Library, Animal Rescue Rhode Island, and many more--the number of guests increased. The party went to bigger and bigger places, such as Meritage, and later to Spain of Narragansett, where the party has stayed for the past four years.
"It's a thanks for everyone who's a part of our community," says Community Liaison Alexus Larney. "We're also always looking for new community partners, so we're encouraging everyone to spread the word to other organizations who might need volunteers."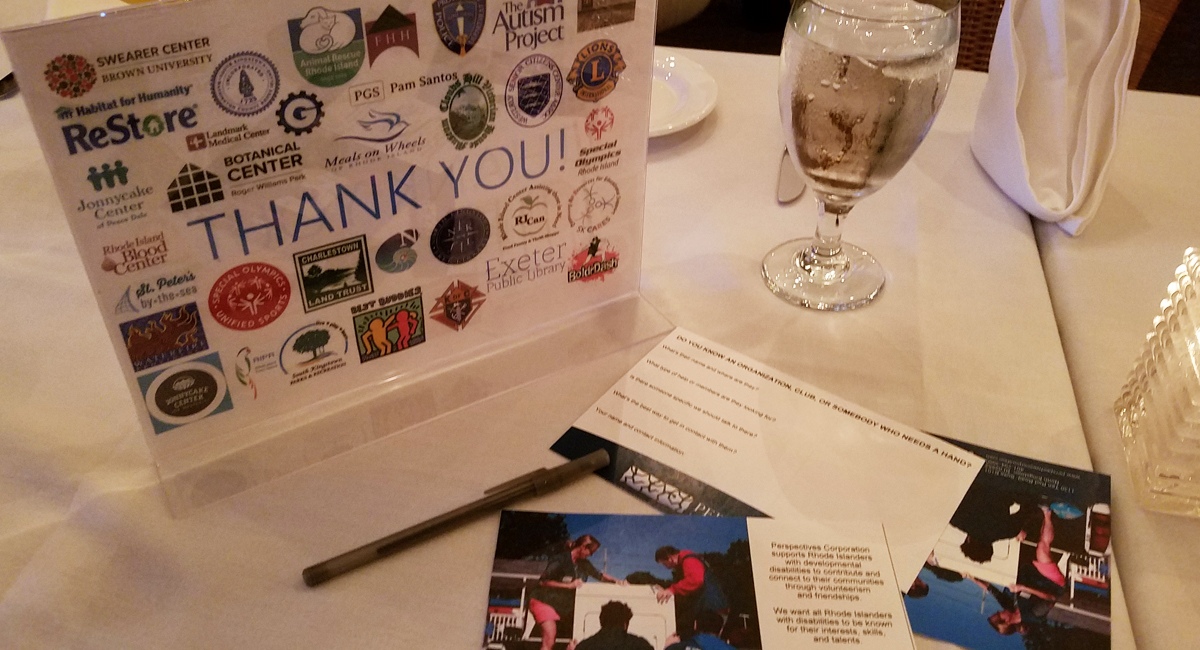 Last year's eighty attendees increased to nearly one hundred and ten this year; as a result, the restaurant's downstairs dining room served as the gathering spot. Amidst a buffet of classic seafood favorites, new guests and regular attendees mingled together to discuss their work, their missions, and the impact of their volunteers. One new attendee, Officer Michael (Mike) Matriarca, has worked with volunteers like Anthony at the Providence Police Station, as well as with Perspectives Senior Director Christine Hathaway to develop conferences and programs on trauma informed care. On this night, he made several new connections with members of southern Rhode Island communities--and enjoyed a night's conversation with like-minded people.
"Being here made me realize how many people are really involved," says Mike about Perspectives' community connections. "I think community, and communication with each other, is so important, and it's great to see everyone get together for a common cause."
Over the years, these partnerships with Perspectives has helped many individuals find community involvement they love--some of which have even turned into paid employment, such as Denise's work at The Autism Project. For others who choose to stay volunteers, however, the organizations they work for are just as appreciative; RICAN is a non-profit organization, for instance, that has a large and crucial volunteering team, 40% of which includes individuals with disabilities. As Perspectives recognizes and celebrates the community relationships made with these fantastic partners, they too are all too happy to recognize their volunteers, especially volunteers supported by Perspectives.
RICAN President Catherine Fox, who has attended all Volunteer Recognition Night dinners, looks forward to the celebration each year. She has nothing but praise for her team, and on individuals she's met through Perspectives, she notes, "They're always out happiest, most pleasant volunteers, and they're our best cheerleaders. All of our volunteers make our work at RICAN possible; we couldn't do what we do without them."
The night went on with a room full of smiles as pictures from the year's volunteering events played on a projector. Alicia Johnson from Habitats for Humanity ReStore and several others gave speeches to commemorate the night, and a real sense of camaraderie filled the room--and there on the tables for guests to fill out were postcards, ones that gave them the opportunity to suggest other organizations throughout Rhode Island seeking volunteers. With the cheerful atmosphere of Spain of Narragansett, and the ocean waves crashing some ways off in the horizon, it was yet another successful dinner event, and we're grateful to everyone who came to celebrate with us!
Know any places in Rhode Island that could use a hand? Reach out to Community Liaison Alexus Larney or Activities Supervisor Joni Lonczak at alarney@perspectivescorporation.com and @jlonczak@perspectivescorporation.com!
---
---