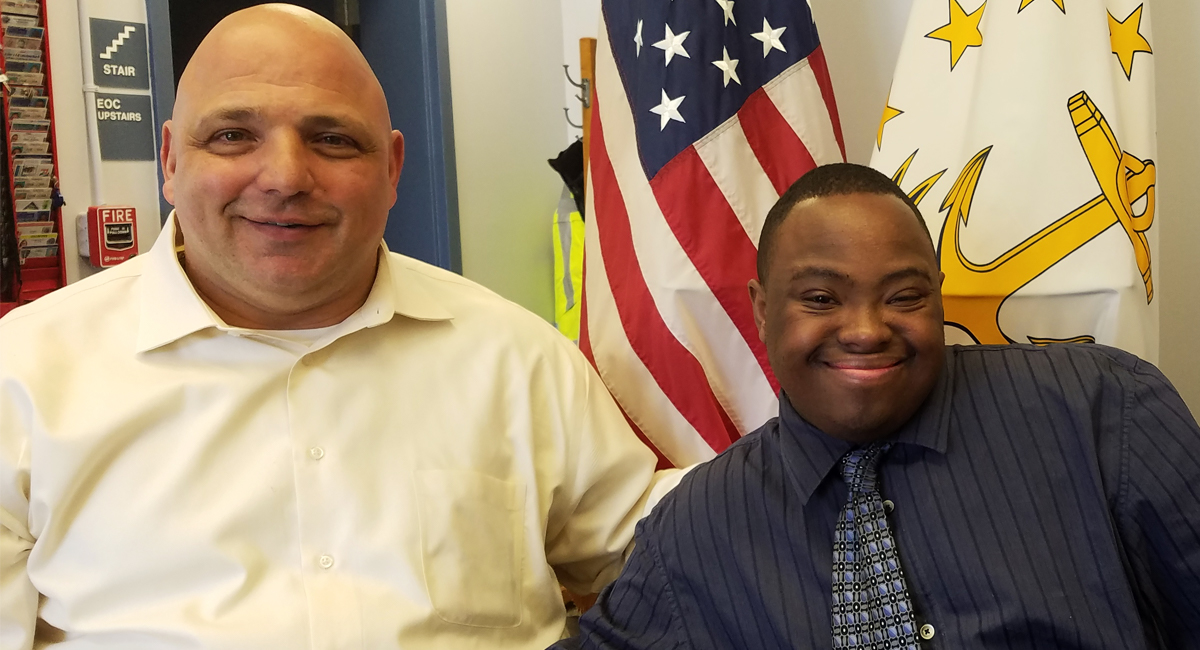 Passion for the People: Anthony and the Providence Police Department
By Sara Porcaro | May 7, 2019
Each day,the work people do with their chosen organizations is essential to keeping our communities thriving. Places like pet shelters and food banks rely on employees and volunteers alike to run smoothly as they promote community health, safety, learning, and more. Along with these organizations, another place where volunteers make a difference is the Providence Police Station--and one of those volunteers is Anthony, who has been lending his time to the department since 2014!

Once a week, Anthony takes the RIDE bus to the police station, where he works with Officer Michael (Mike) Matracia on a number of projects, including watching red light camera footage, issuing tickets for violations, organizing tickets, assisting with police station tours, and delivering mail to the department. While a student at Mount Pleasant High School, Anthony met Officer Mike, who did school tours as a part of the FedCap Rehabilitation program to help students explore their options for careers after graduation--and after Anthony's graduation in 2016, he decided to continue his work with the police station.

"He's got a lot of heart and a great work ethic," says Officer Mike, "and since he's been here, his confidence gone up tenfold. Everyone at the station knows him; we love having him here."

Anthony and Officer Mike have been close since their meeting at Mt. Pleasant, and their friendship is another part of what makes the job so rewarding; Officer Mike has attended Anthony's high school graduation and also gifted him a guitar as Anthony continued to explore his interests in music. On the average day, Anthony and his peers grab lunch together--fresh pizza from Uno's, or their favorite sandwiches--and enjoy each other's company in the station's break room. Officer Mike also helps Anthony with personal projects on their break, like writing letters to Anthony's parents.

Along with the regular routine, Anthony also accompanies Officer Mike to special events and trainings, like the recent practice emergency routine hosted at the Providence Emergency Management Agency and Office of Homeland Security (PEMA), whose mission is ensuring their community stays protected against all manners of disasters. On that day, firefighters, police officers, and other first responders practiced emergency response procedures. Anthony and Officer Mike set up the training courses on the computers, and they participated as respondents from the Providence Police Department.

"It's really cool," Anthony says with a smile when asked about his work.

Outside the station, Anthony's out making memories on plenty of other adventures, too. He has a blast at the movies, the local bowling alleys, and training to compete in his chosen Special Olympics sports, and spending time with his mom and girlfriend is always a treat, too. Also, as he's currently seeking paid employment, Anthony mentions that he'd love to be able to save for a trip to the Bahamas with his family. In the meantime, he's enjoying time with friends, family, and with his peers at the station.

"It's been a really positive experience, having Anthony here," Officer Mike says with pride. "His work's made a great impact on the station, both in helping us run smoother and impacting how we see the needs and talents of our community. "

The Providence Police Station has a fantastic set of hands on deck with Anthony! His cheery smile and enthusiasm for the job make him a boost of morale for the rest of his peers--and his friendship with his fellow officers, who all appreciate his contributions to the team, makes each shift even better. With his passion at the station, we know he'll stay shining! Keep up the great work, Anthony!
---
---