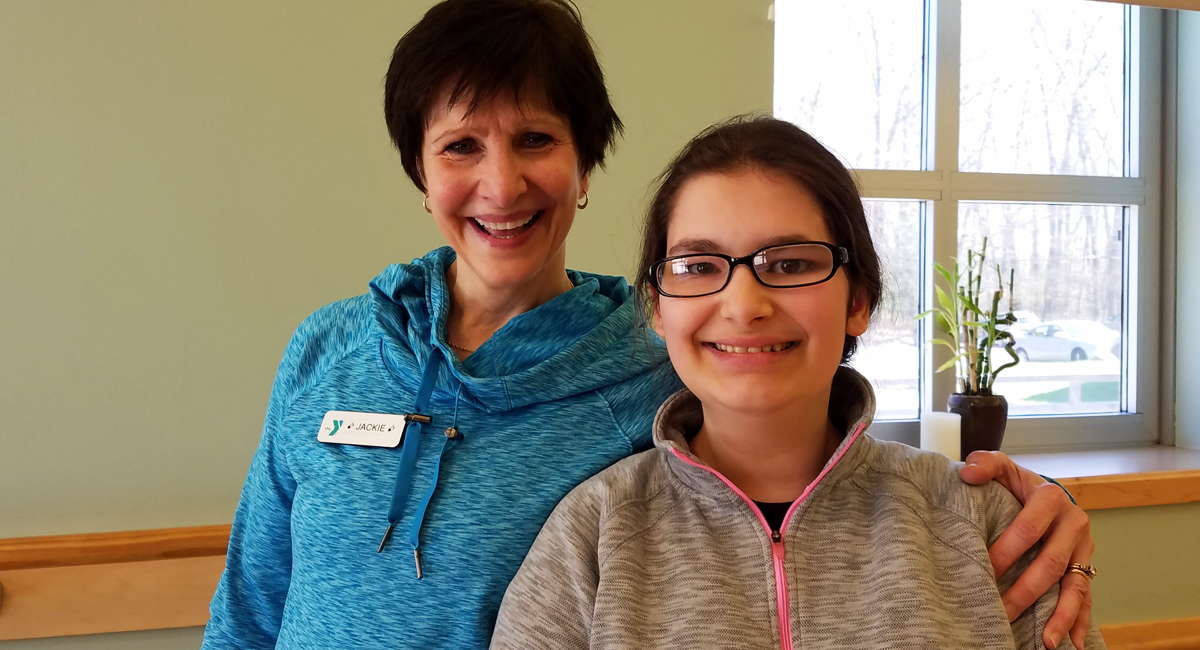 Finding Community in All-Abilities Fitness at the YMCA
By Sara Porcaro | May 21, 2019
No matter the time of year, and no matter the weather, people everywhere love to get their sneakers on and get active--especially with their friends! Finding new fitness communities is a fantastic way to meet new people and stay motivated in one's health journey, and places like the Kent County YMCA are a hot spot for all kinds of groups and classes. One such class is Zumba--and one participant, Amanda, loves every minute of it!

Amanda, who is Deaf, has always enjoyed dancing and feeling the music, whether alone or with her friends. But she'd wanted to branch out in her community--to find new ways to feel healthy and meet new people who share her love of fitness. Three months ago, she became aware of the Zumba group at the YMCA, and she decided to give the group a shot. The early morning classes run once a week; in them, Amanda and her fellow classmates follow her instructor, Jackie, for an hour of upbeat and expressive dance.

Amanda signs, "I love the class. Jackie is really nice and supportive of all of us."

And the rest of the class loves having Amanda with them. Jackie, who teaches Zumba to people of all abilities, notices how the room lights up whenever Amanda comes in for another session. From warm greetings to start the class off, to the big smile on her face as she enjoys the friendly atmosphere, the YMCA becomes a bit sunnier when Amanda walks in the door--and her enthusiasm and comfort expressing herself raise the energy level for other members of the class.

"It's great to have her here; everyone has really embraced her," says Jacki. "They all encourage her to do her best, and she's gotten a lot more confident in her dancing in the time she's been here. We have a lot of fun together."

Since beginning her Zumba classes and becoming a member at the YMCA, Amanda has also taken to exploring other areas of fitness with all the equipment and other classes available. Along with swimming at the YMCA's pool, playing basketball, and using the exercise bikes, she's also joined a chair yoga class, which has been helping her get relaxed and focused for the rest of her day. With her enthusiasm for staying active and healthy, all the opportunities to try out new things is exciting.

"Being active makes me feel good," Amanda signs. "I feel healthy and have more fun doing other things as a result."

Things like going to the mall and window shopping with her friends, going for walks, and watching the planes take off at T.F. Green are the fun outings Amanda enjoys the most. Whether in the YMCA or out on town, she's always up and about, making memories with people and exploring all her community has to offer. And thanks to her fitness journey, she feels great when she's out and active.

When not relaxing at home or out on the town, Amanda adores her time with Jackie and her Zumba friends. She believes everyone should give Zumba a try, with how it makes an environment that encourages everyone to come together and have fun through dance. When it comes to health and fitness, it's better done together--and Amanda loves her fitness community!
---
---