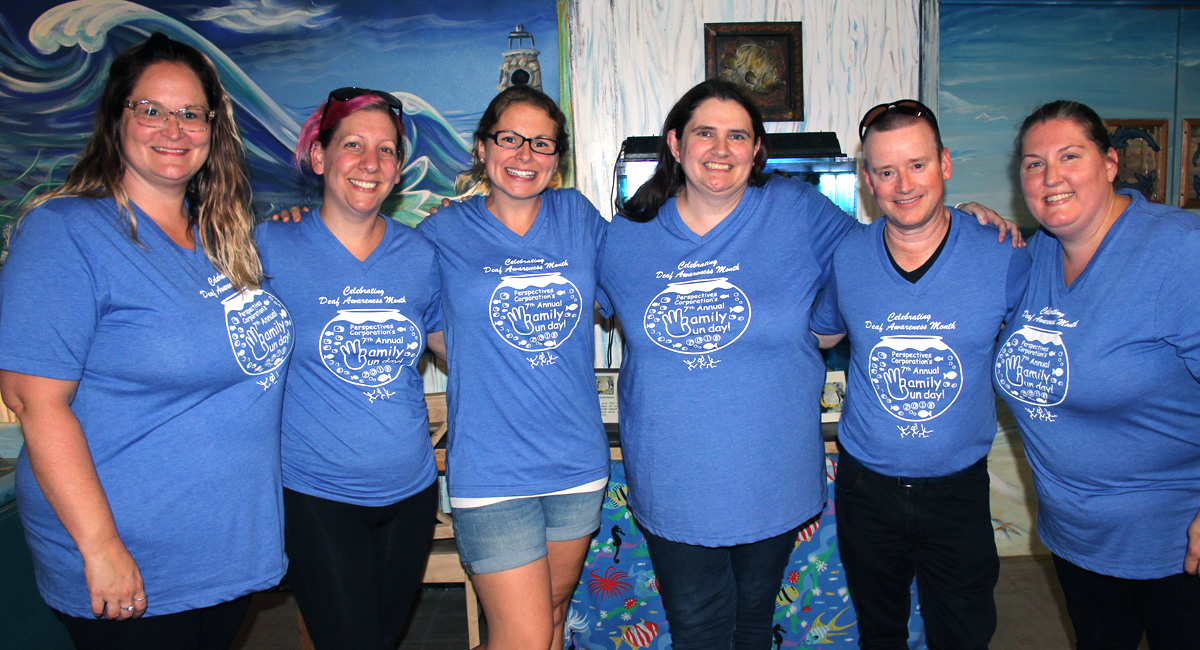 Celebrating 15 Years of Deaf and Hard of Hearing Services at Perspectives
By Sara Porcaro | May 28, 2019
Any service, any tool, is only useful when put in a language that can be fully accessible and understood. For many Deaf and Hard of Hearing (DHOH) individuals, that language is American Sign Language (ASL)--and with it comes not only a way of communicating, but an entire culture. ASL is a language that can and should be integrated into individuals' services, and that's why for Hearing Loss Awareness Month, Perspectives is celebrating fifteen years of incredible work with the Deaf and Hard of Hearing branch of our Youth and Family Services program (YFS)!


NEW SERVICES, NEW RESOURCES


In 2004, current Senior Director James (Jim) Simon came aboard at Perspectives as a Clinical Director for the brand-new home-based therapeutic team, specifically designed for children who are Deaf or hard of hearing. With Jim's experience from Chicago's Center on Deafness, a strong team soon came together, equipped with a new Program Manager, Treatment Coordinator, and other clinicians and staff--many who were part of the DHOH community themselves. Ten families signed up with Perspectives as the agency partnered with the Rhode Island School of the Deaf (RISD) and other school programs to identify students in need of more support, and the team launched its full array of services and resources.

"We are very supportive of families not only learning ASL, but getting immersed in Deaf culture, too," Jim says. "That's why we search for Deaf professionals to work in our program; we're always looking for professionals fluent in ASL."

Perspectives has also long supported staff in learning ASL for individuals they support, as well as others interested. For ten years, Perspectives ASL classes have been open to the community, with tuition waved for families receiving services at Perspectives. With Deaf instructors teaching the classes, students learn not only the language, but also about Deaf culture.

For the greater community, this program--now expanded into a full department spanning youth and adult services--has also served as a beacon of DHOH awareness in Rhode Island. Fifteen years ago, the DHOH program was many families' first experience working with Deaf professionals, and their first introduction to ASL and Deaf culture--especially since services for DHOH individuals were previously lacking throughout the state. Once those services were provided with accessibility, that was the key to helping otherwise underserved children flourish.

DHOH Director Heather Niedbala states, "There's no instruction booklet for Deaf home-based services, or extensive research in that area. As a result, our lessons and treatments are unique to each child, and it works really well for them."


THE FIRST FAMILIES


Of the ten original families to join the program, one mother, Nicole Martin, praises it for how it's supported her Deaf son, Kirk, who now also receives adult day services. With the previous lack of DHOH supports in Rhode Island, Kirk had been a part of a mainstream special education classroom that couldn't effectively communicate with or teach Deaf children. After joining Perspectives' new DHOH program, six months into HBTS services, Kirk went from knowing no ASL to learning sixty signs and understanding simple instructions--more growth than he'd seen in his years at the mainstream school. With Perspectives and Perkins School for the Blind's deaf-blind program at Kirk's side, Kirk was then able to transfer to RISD.

"Perspectives was the first one that told me there was hope," Nicole says. "Jim Simon, with his guidance and his incredible staff, they're my heroes. Kirk's grown so much, doing things he never would've been able to before, thanks to them."

Now, Kirk spends his days volunteering at RICAN and Meals on Wheels, getting his morning coffee with friends from our DHOH residential program, like Shannon, Jennifer, and John, and is able to attend all manners of exciting outings, such as WWE wrestling matches and trips to Mystic Aquarium. And at home, communication thrives, with Nicole and her family having learned ASL through Perspectives.

"It changed our whole life," she says. "I can't imagine where we'd be without Perspectives."


THE TALENT OF THE DHOH PROGRAM


Along with Heather, other incredible talent within the DHOH program includes Clinical Supervisor Danielle Loughlin, and Lead Therapist Sherry Zarembka, and Program Manager Amanda Stillwagon. Danielle, who learned about Perspectives' DHOH YFS team in 2012 through an ASL interpreter, came here from Massachusetts to work with children--and she's loved it ever since, citing a close-knit, DHOH-friendly workplace that, no matter how much the department grows, continues to have a great sense of camaraderie--as well as a community focus, with various events like Family Fun Day and last year's holiday party.

"I love getting to work here and see the progress the individuals we support are making," Danielle notes. "Everyday is exciting, and it feels like we're one big family here."

Heather, who first joined Perspectives in 2007 as a behavior specialist for both HBTS 2 and the Therapeutic Class for the Deaf, became the Program Manager of HBTS 2 in 2009 before moving to her current position last fall. During her time here, she's taught and continues to coordinate various levels of Perspectives ASL classes, as well as oversee the continued growth of Perspectives' ASL Interpreting Team, which is crucial with providing accessibility for Deaf professionals--especially within the rapidly growing DHOH programs that relies so heavily on communication, expression, and individualized supports.

"I've seen the DHOH program grow so much," Heather signs, "and I've seen the ripple effect it's had, with more DHOH staff, increased visibility for DHOH people in the community, more resources that simply weren't available before--it's so fantastic to be such an integral part of that."

Fifteen years of DHOH services at Perspectives has seen its first individuals grow from children to adults--and in that time, these individuals and their families have made incredible strides. They're graduating from high school, volunteering within their community, making new friends, and most importantly, communicating and living in the language and culture by and for Deaf individuals. With a decade and a half of dedicated professionals delivering quality supports and cultural connection, this year's anniversary is certainly something to celebrate!

---
---