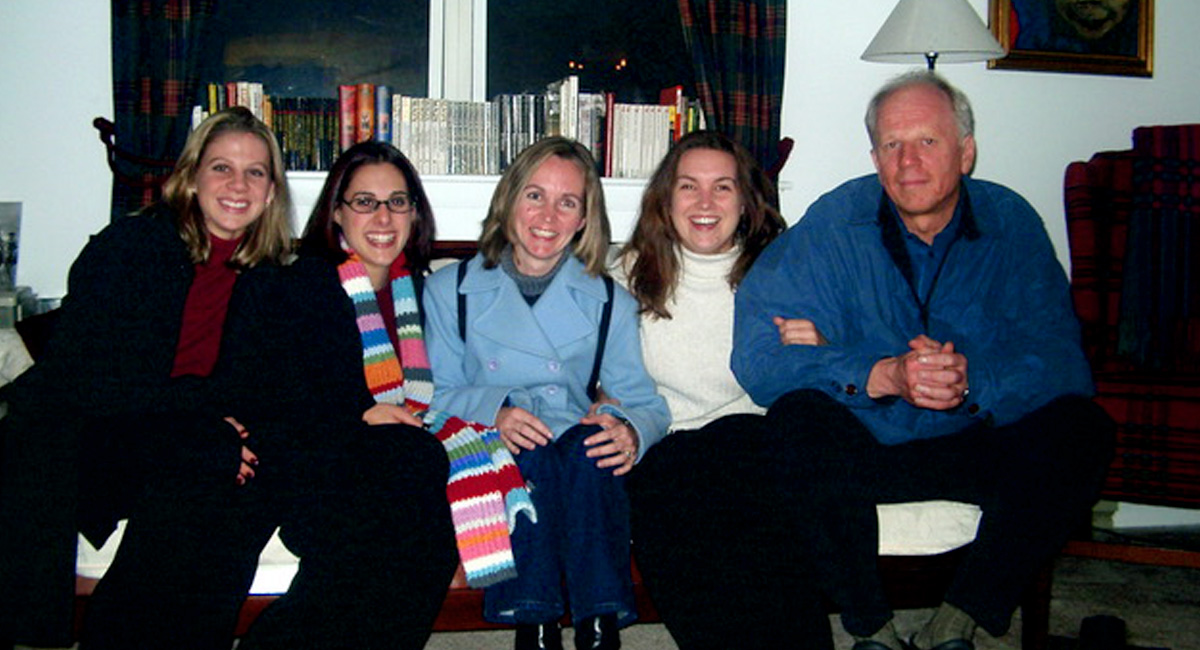 A Career in Review: Clinical Director Robert Kidd's Decades of Autism Expertise
By Sara Porcaro | May 14, 2019
Often, the career of a lifetime can start with an experience: a moment that illuminates, or further stokes, a passion for one's chosen field.At Perspectives, we celebrate our professionals as they start and build their careers with us--and as they bring their careers to a conclusion. For that reason, we're celebrating the incredible work of Early Intensive Behavioral Intervention (EIBI) Clinical Director Robert (Bob) Kidd, retiring this month after 22 amazing years here at Perspectives!

Originally from Philadelphia, Bob began his career in human services after graduating from Penn State University with a bachelor's in psychology in 1972. After graduating, Bob sought employment in his field, and soon found it when he was hired as a Behavior Technician at the Behavior Research Institute (BRI) in Providence, which,under the direction of Dr. Matthew Israel, used the pioneeringresearch of American experimental psychologist B.F. Skinner.Before taking on the position, Bob had never worked with children on the autism spectrum--but coincidentally, the BRI was one of the first schools in the country to use Applied Behavior Analysis (ABA) as the foundation for the treatment of children with Autism Spectrum Disorder.

"When I started as a Behavior Technician, what really fascinated me was watching the videos clinicians took of children, from the start of their treatment to several weeks in," Bob notes. "To see the impact treatment had on improving children's behavior and independence, the difference it made, it was inspiring. I was hooked!"

So inspiring, that Bob left the Institute to continue his education two years later, at Drake University in Iowa, one of the early graduate level programs to confer master'sdegrees in ABA.He returned to New England afterwards to work in human service organizations in Massachusetts and Rhode Island, including the Blackstone Valley ARC--where his reputation for hard work and rich experience with behavioral health continued to grow. In 1996, Bob was recruited at Perspectives as a behavioral health consultant, and by 1998, he was back at his roots of working with children on the autism spectrum:working as the first clinician of Perspectives' new Youth and Family Services (YFS) programunder the administrative direction of Senior Director Brenda Verdi, LICSW.


A BROAD IMPACT WITH THE TEAM


From there, the EIBI Program--a home-based program specializing in language acquisition and social development for children on the autism spectrum--took off. It grew so quickly that it soon became necessary to hire more clinical professionals to continue meeting the rising demand for home-based services. One of those professionals was Clinical Supervisor Kristy Hallam Lund from Bancroft Neurohealth in New Jersey, who, with the knowledge on autism treatment she'd gathered from internationally renowned Bancroft Clinical Director, Stein Lund, revamped the approach of Perspectives' EIBI program in 2001.

Bob holds Kristy in high regard as he looks back at his career, saying: "Kristy's incredible touch with the children, ability to train other staff, and her knowledge of Stein's unique approach to autism treatment has made a critical difference in the effectiveness of the entire program."

Bob's ABA expertise has made him invaluable to Perspectives' EIBIProgram.His strong behavioral foundation has served him well throughout his career, allowing him to effect significant change in the lives of children and adults with autism or related disorders. Whether in large institutions, group homes, schools, and most recently in the homes of children who, without significant behavioral intervention, are at risk for institutional placement, Bob has met every challenge with confidence and seen amazing results.

"Some families have actually credited our work as the intervention that saved their children's lives." It's an incredible thing to hear from families, and it leads Bob to say with fondness, "There are few professions were you can see such a direct and profound impact of your work--an impact that will likely last a lifetime."

Along with his work at Perspectives, he also presented case studies at local and national conferences, and has participated as a Board Member for several local organizations, such as the Autism Coalition of Rhode Island--which succeeded in swaying lawmakers to pass a bill in 2012 that allowed ABA treatment(s) to be covered under health insurance plans. Bob was also instrumental in establishing legal precedent in Rhode Island that has allowed parents to have their children leave school at a time of day when they can most benefit from ABA therapy - through testimony that illustrated how ABA is considered medically necessary treatment for children with autism.

Reflecting on his career, Bob says, "Perspectives doesn't micromanage its clinical professionals; they give people the freedom and support to do what they know how to do. That was refreshing, and it was so important to me and my work."


A PILLAR OF MENTORSHIP AND SUPPORT


As Bob has worked alongside several talented professionals at Perspectives throughout the years, they have stayed a close-knit team the whole way, building the Perspectives EIBI program into what it is today. Along with holding clinical responsibility for dozens of children, meeting with families and other behavioral health professionals to ensure each child's success and growth, Bob also provided countless hours of mentorship, training, and side-by-side support to Behavior Specialists and clinical team members as they developed their careers in the field of ABA therapy.

"Bob is fantastic; he's a truly brilliant clinician who has dedicated his whole career to helping people, especially children on the autism spectrum," Brenda says without hesitation. "We're going to miss his steady presence here, definitely--and all his clinical expertise and guidance."

To date, many para-professionalsthat started with Perspectives have been inspired to become Board Certified Behavior Analysts (BCBAs) and can be found as clinicians in leadership roles throughout Connecticut, Massachusetts, and Rhode Island.Some current clinical team members at Perspectives were trained by Bob in language-based ABA when they were 18 to 22 years old and just joining the team as Behavior Specialists--and since then, they've been inspired like he once was, achieving higher education, clinical certifications, and greater responsibilities within their program.

"I've watched [these para-professionals] grow into amazingly effective clinicians," Bob remarks with fondness. "This team is my second family; I'm really going to miss them, as well as all the kids and families, too."

But Bob knows he's leaving the program in good hands. With a full team of clinicians, coordinators, and specialists, all of whom pour their heart into their work for the children Perspectives supports, the team will carry on diligently--and certainly won't forget the many lessons he's taught them. Everyone will miss him, for sure; we're thankful for all his work with us here at Perspectives, and we're wishing him the best in his retirement!
---
---
Copyright 2020 © Perspectives Corporation