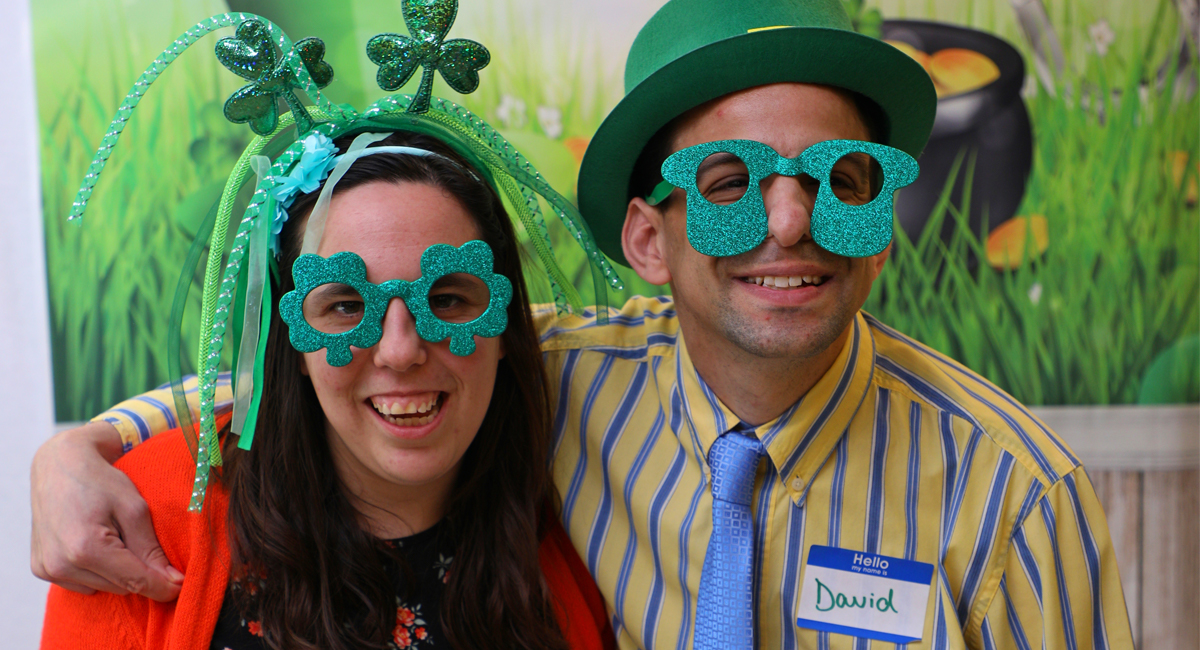 From Idea to Action: Dave's Second Annual Spring Fling
By Sara Porcaro | March 19, 2019
Photo Credits: Cliff Tyler and Bryan Pringles
When the doors to the Narragansett Community Center opened last week for David's Annual Spring Fling, the hall was already abuzz with greetings, conversation, and laughter. Balloons floated above packed tables full of snacks and little red cards: invitations to connect with David and start new friendships. And in between it all, members of the Narragansett Knights of Columbus checked guests in, served platters of hot pasta, bread, and salad, and made sure the dance floor was ready for a second year of dancing fun!
Last year, David and the Knights of Columbus connected for their first Spring Fling event when David was looking for a place to hold a larger dance party. As David loves meeting new people and hitting the dancefloor, this was a perfect way to accomplish both. The Knights, who already host their annual fishing and bowling tournaments and their annual Cards and Bingo night at O'Brian's Pub, were just the crew for the job.
"We knew when we did this last year that we'd love to make this a yearly event," said Grand Knight Richard Bourbonnais, "so we're happy David wants to keep doing it."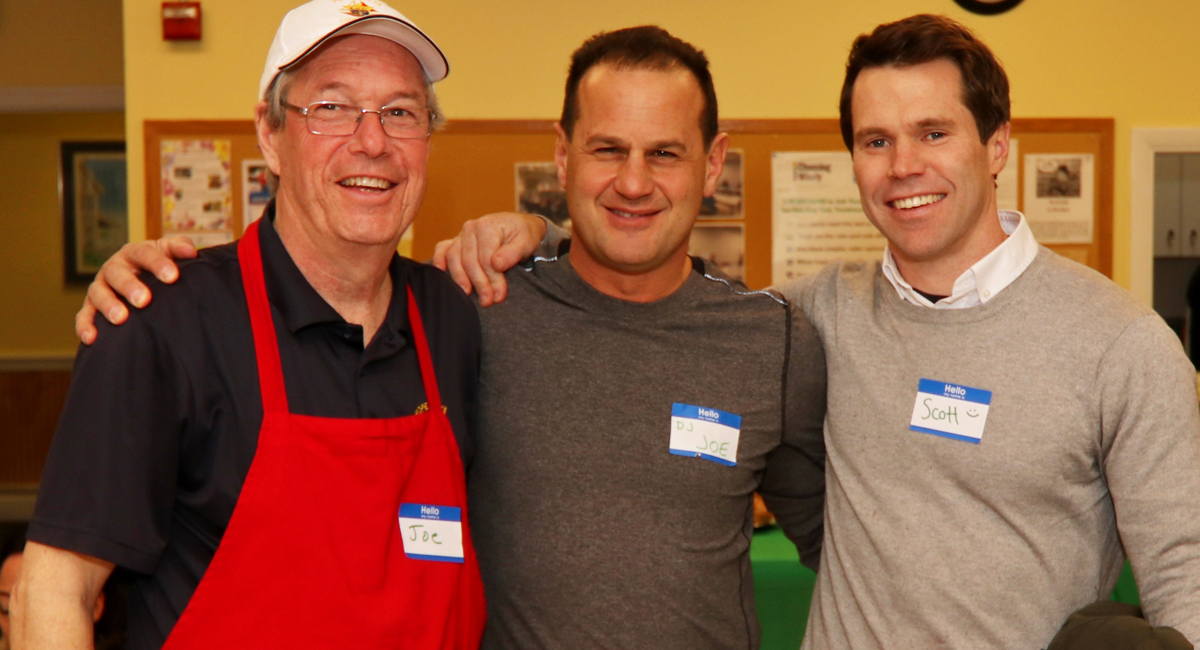 When asked for help for a second night of fun, the Knights jumped into action to set up a fantastic party; members brought food from Tase-Rite in Peacedale to cook, as well as set up the decorations, and the Town of Narragansett offered the community center space for free. Of the many members assisting with the event, Joseph Vingi of Pleasure Sounds offered his DJ services, John Mulholland was head chef in the kitchens, Cliff Tyler captured excellent shots of the night, and Bryan Pringles took pictures at the photobooth while children of the Knights assembled them into fun St. Patrick's themed souvenirs.
On the event, David said, "We're having a lot of fun. They're playing my favorite music: Vanilla Ice, Michael Jackson, and Whitney Houston! It's great!"
David was ecstatic to see the community center's tables full of friends when the party started that night--eighty-five in total who had RSVP'd. Along with his girlfriend Nadia and his housemates Joe, Charles, Brian, and Milton, other familiar faces from all over town also came to take part in a night of socializing, fun, and good food. Milton also displayed a new collection of his artwork for partygoers to admire and purchase, and he was happy to have his picture taken with all his lovely art beside him.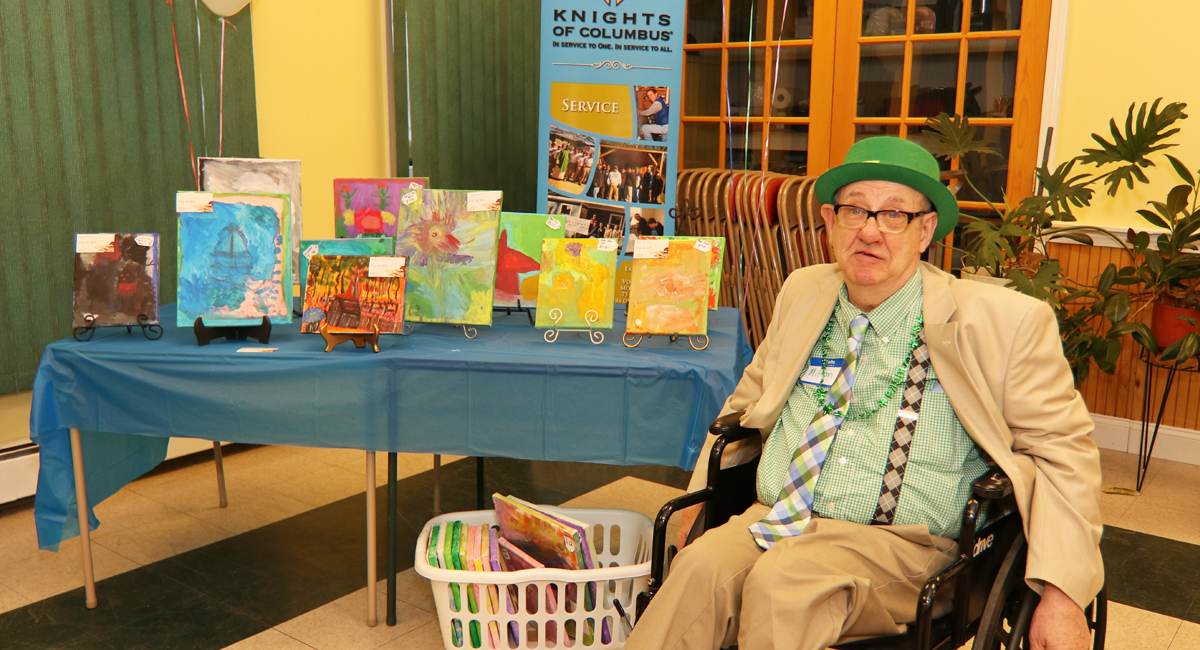 "Just about everything was free since it was all donated or provided by our members," Former Grand Knight Joe Robenhymer noted. "The only things [the Knights] had to buy were the food and the photobooth props. It's really wonderful, seeing the community come together to make this event a success."
With yet another successful Spring Fling, we're giving many thanks to the Knights of Columbus for all their work in making this event possible! After dinner, David encouraged his friends to join him as he sang along to classic tunes and brought his enthusiasm to the dance floor--and everyone, guests and Knights alike, had an incredible time dancing together. From a pasta dinner and sweets to eat, to the great tunes and festive decorations, there was something for everyone to enjoy: certainly a night to remember! Here's to David's next Spring Fling!
---
---