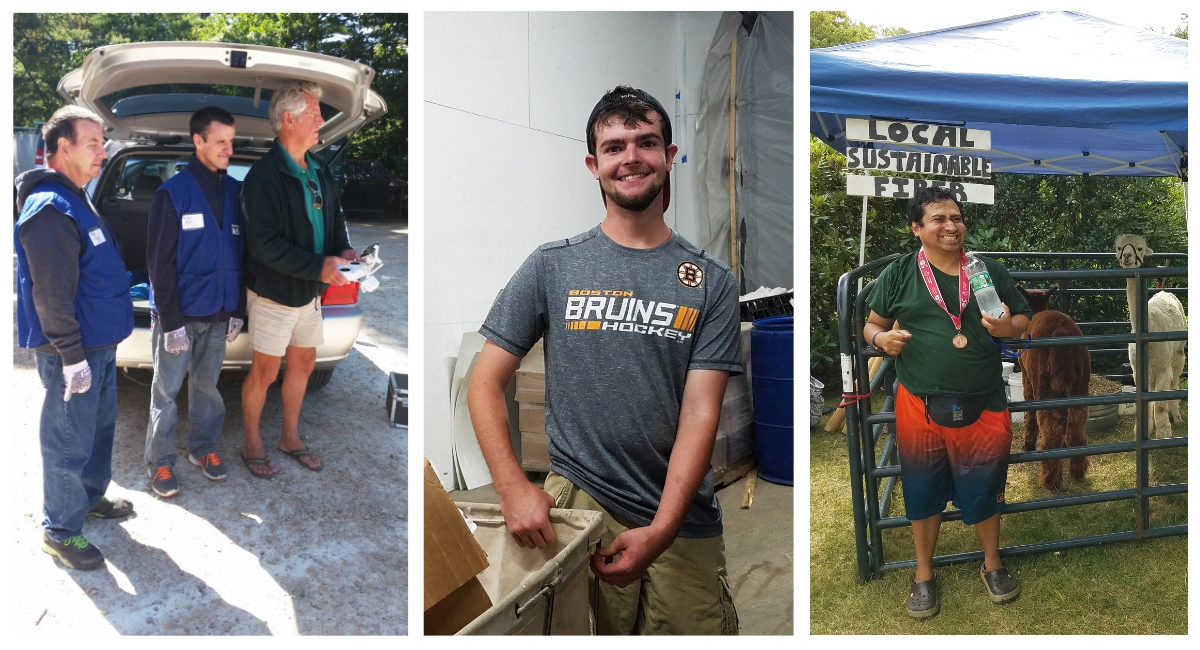 Bringing Communities Together: Benefits of Inclusive Volunteering
By Sara Porcaro | March 5, 2019
Whether someone is passionate about something, or is looking to explore a potential passion, volunteerism is a fantastic tool: a commitment to a cause that brings people together. For individuals with disabilities, it also provides spaces for inclusion and integration with their communities: it's a way to give back to the people and places they love. In Rhode Island alone, there are dozens of volunteer opportunities, in a range of interests from animal care to sports to civics--and among these hardworking teams, individuals with disabilities are shining bright doing what they love every day!

An example of a dedicated duo making waves (and new relationships) in their community is brothers Mike and Ken, lending their assistance at the Charlestown Habitat for Humanity ReStore. The brothers work to get furniture in and out of the store, keep it clean, and help guests with their purchases--and they love working there and seeing their fellow volunteers each day. Their hard work doesn't go unnoticed; at last November's Volunteer Appreciation Night, where our community partners and volunteers celebrated everyone's accomplishments together, their peers had plenty great things to say!

One of their fellow volunteers submitted a written note stating: "Mike and Ken bring enthusiasm and positivity to the ReStore every Friday!" Similarly, their supervisors have nothing but kind words for their contributions: that they're helpful, fun, and a great addition to the crew.

The new volunteer team at the Charlestown Land Trust Farmer's Market have also made an incredible impression on their peers last year, working hard to help set up the market stalls and assist patrons in parking their cars. The CLT's blog commended the volunteers, which included Corey, Jon, Pat, Melissa, and Rachel, for their awesome work and friendly disposition. Their contributions to this awesome community event had everyone--patrons, peers, and vendors--appreciated the work they did and said so at the Volunteer Appreciation Dinner.

"We were lucky to have a group of Perspectives folks... volunteer at our farmer's market this summer," one member of the CLT market wrote at the November dinner. "Their positive attitude each week helped enhance the mood of the market. We can't wait to have them back next year!"

While volunteering is a fantastic way for individuals to discover new interests and make new relationships with their fellow community members, it also helps develop new skills--and gain new connections--that aid them in finding meaningful employment. It takes a strong work ethic, dedication to the task at hand, and more to excel as a volunteer--and for individuals like Clayton, who started as a volunteer at Rhode Island Mushroom Company, those skills are recognized and rewarded; Clayton had been promoted to a regular paid employee in the summer of 2018, with a team of coworkers who love to have him on deck.

All across Rhode Island are big-hearted individuals looking to make a difference in their communities! The work our volunteers do is essential, impacting dozens of lives, and we're proud to see these individuals get out and make a change. And there are more looking to get started! If you know of any volunteer opportunities in your area, reach out to Community Liasion Alexus Larney at alarney@perspectivescorporation.com.
---
---