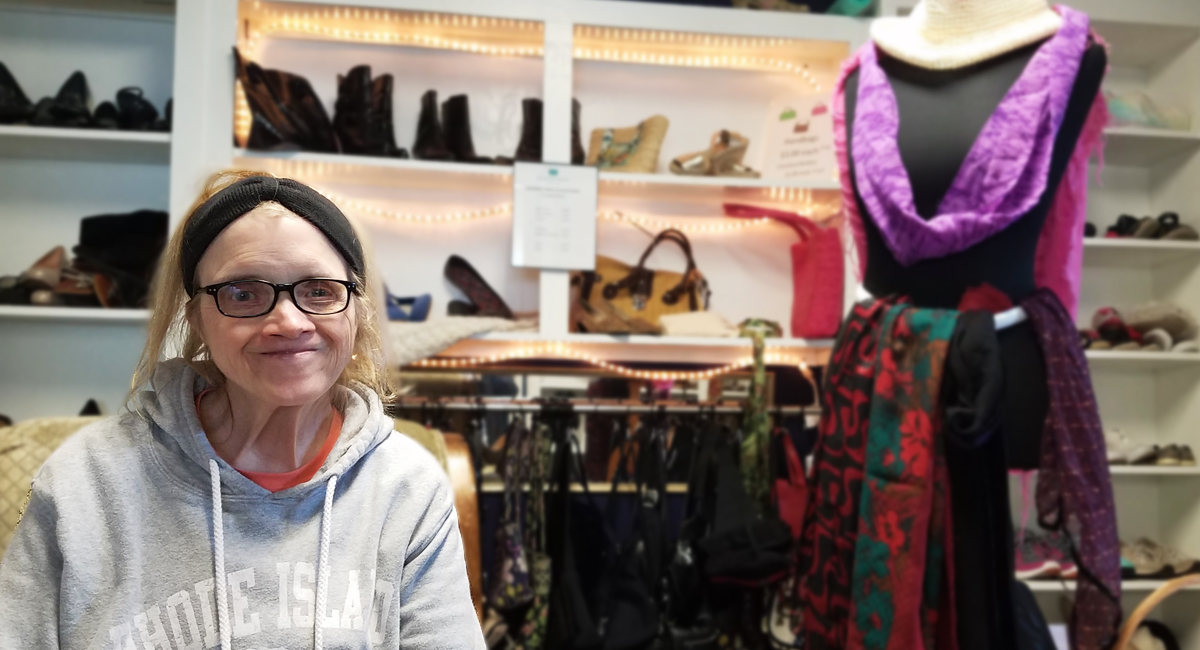 A Star at the JonnyCake Center: Volunteer Paula
By Sara Porcaro | March 26, 2019
A cool breeze--one of early spring--comes rolling through the streets of Peacedale. That breeze drifts past local shops and cafes, the latter echoing the clink of cups and the chatter of locals out to the street. It's a sunny day in southern Rhode Island, and on this street stands Peacedale's Jonnycake Center, where volunteers, employees, and patrons alike move between rows and shelves of beautiful donated items--one volunteer being Paula, working with a smile!

For over two years, Paula has been volunteering at the Jonnycake Center (JCC), a local Peacedale thrift shop that uses the earnings from their donated wares to fund the local food pantry and other community services. She spends her time each Wednesday morning organizing clothing, leftover hangers, shoes, and other items to keep the storefront neat and orderly. When it's time for the Jonnycake Center to send notices about events and donation requests, Paula is also there preparing envelopes and assembling flyers. With her past experience working in retail, it's a wonderful way to lend her organizational skills for a good cause.

"I wanted to help out in my community, so I decided to volunteer here when I heard about it" Paula says. "It's wonderful; the volunteers and patrons are all really nice, and I like this kind of work. It makes me feel good to do it."

Other employees and volunteers share Paula's sentiments and look forward to her weekly shift with them. Volunteer Jill, for instance, loves giving her time back to a good cause, and the flexible hours she works makes it easy to volunteer on times that work best for her. One employee, Julie, who started as a volunteer after being a frequent patron of the shop, also loves the comfortable, friendly atmosphere of the store and the generosity of the local Peacedale community. She insists that along with the staff, the volunteers are a crucial part of the thrift shop's success, and when it comes to Paula, Julie beams.

"We love Paula. She's made such great strides," Julie notes with enthusiasm. "She's confident, experienced, and a real burst of morale for staff and customers alike."

Another employee, Emmy, notes, "Paula is great: very independent and always happy to help. She really seems to like it here, and we're happy to have her with us!"

Outside of the JCC, Paula and her peers are also celebrated with a yearly luncheon at George's of Galilee, where the staff and volunteers gather for good food, raffles, and each other's company. Paula has gone to each luncheon since she's been at the JCC, and she loves getting to be with her peers over hearty Rhode Island seafood. Apart from the JCC, Paula also loves to go bowling with her friends and husband Scott and go to the movies.

Overall, Paula is happy to lend her time to the JCC--so happy, that when she was offered a paid position, she decided she'd rather stay donating her time as a volunteer! And with sunny faces like Paula's in the store, Peacedale's JCC remains a bright, happy place on a peaceful street. Paula is grateful for the opportunity to be a part of such a wonderful and generous community, and with all the hard work and cheer she brings to the shop, everyone loves to have her there! Awesome job, Paula--keep on shining!

---
---