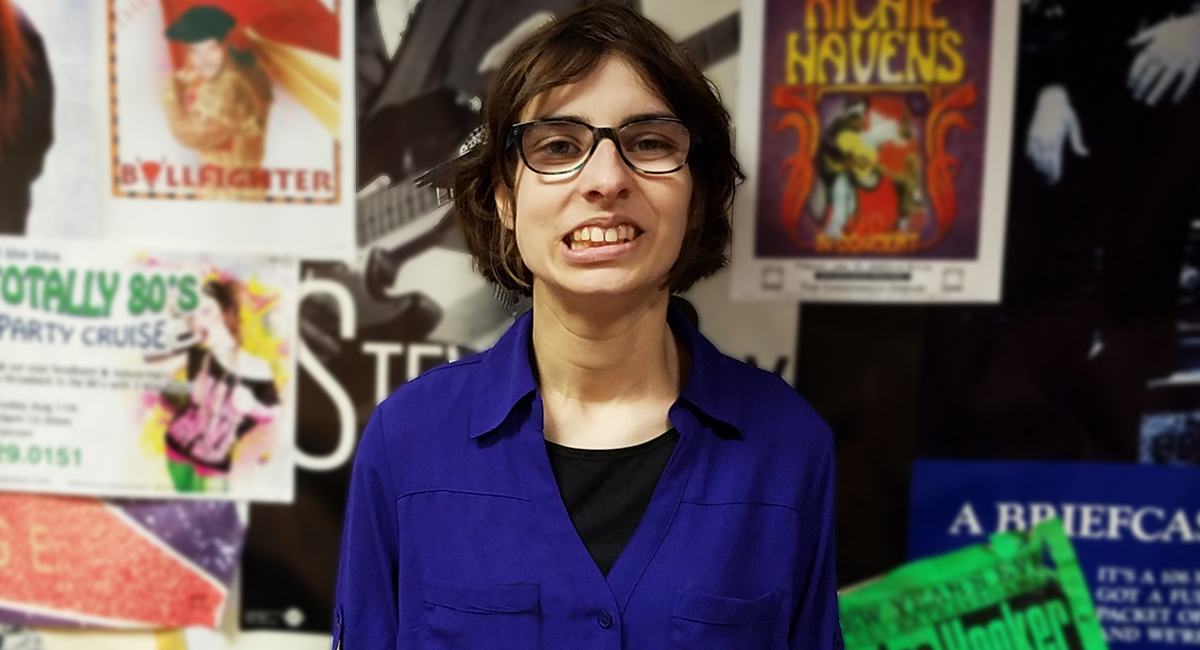 Speaker, Trainer, Activist: Taking Steps Towards the Future
By Sara Porcaro | June 18, 2019
"My disability does not limit me, but rather inspires who I am and what I have to offer the world."

These are the words of Rachel Ferreira: a senior at the University of Rhode Island and speaker at the 2019 TEDxURI Talks. It's a part of the essay she used to apply to the university, and it's a line of thought that has kept her striving for her dreams all throughout her educational and professional career--dreams of becoming an advocate, speaker, consultant, and training instructor in the world of human services. And recently, in her journey to achieving her dreams, she's found a next step right here at Perspectives as an intern!

As a senior majoring in health studies and minoring in leadership studies, Rachel has found her passion in human services, especially in work revolving around advocacy and staff training. She's also done classes in community involvement and finding employment, in which part of her coursework was volunteering her time at various community organizations. One of those organizations was Perspectives--and upon meeting the professionals within the agency's training department, such as Training Directors PJ Harder and Lynne Chaput, Rachel immediately inquired about how she might bring her skill set to the team.

Rachel says with enthusiasm, "When I learned about Perspectives' training department, I thought, 'I have to get in on this; they're speaking my language!'"

Her internship with Perspectives spans twelve weeks, from May to August. In that time, Rachel's schedule affords her experience in three major areas within the agency: the training department, community activity services, and employment services. She's sharpening her leadership and training skills, as well as gaining valuable experience, by being an active part of training sessions, department meetings, community partner development, person-centered planning meetings, and more--and she's also taking opportunities to become involved with organizations like the RI Association of People Supporting Employment (APSE) and the RI Cross Disability Coalition.

"Perspectives is unique in that we have a whole team dedicated to training our staff on how to best support individuals," PJ notes, "and Rachel's positivity, her willingness to share her stories and her eye for effective training, are all strengths that make her shine."

She shines at Perspectives, and within her community, too. Set to graduate in the fall, Rachel is ever active in pursuing her passions both on and off the URI campus; she's created trainings for various departments and the dining center at the school in order to help improve accommodations for individuals with disabilities on campus, and she's a member of the URI President's Committee for People with Disabilities. She's also been a guest speaker at various events, such as the Best Buddies RI Annual Gala, the Sail to Prevail event, and most recently, she was the keynote speaker at URI's Dare to Dream conference this May--a conference all about finding and reaching for one's dreams, and one she attended herself as a teenager.

"It's amazing how life works, and what a difference time can make," Rachel says. "Around the time I went to that conference, I had people telling me I wouldn't succeed at URI--and now here I am, set to graduate and speaking at that conference to other kids like me."

In Rachel's TEDxURI speech, she reintroduced disability as "dif-ability," or differently abled, and spoke about the importance of including individuals of differing abilities into conversations on human diversity. With the work experience from this internship at Perspectives, and her bachelor's degree from URI, Rachel hopes to forge onward into the human services industry and make a difference in the lives of individuals everywhere--to break down stereotypes and teach others how to make a world that accommodates and supports everyone, and the many talents everyone has to offer. Of all Rachel's many strengths, one of them is certainly her drive and passion to chase her dreams--and we're thrilled to have her on the team!

---
---