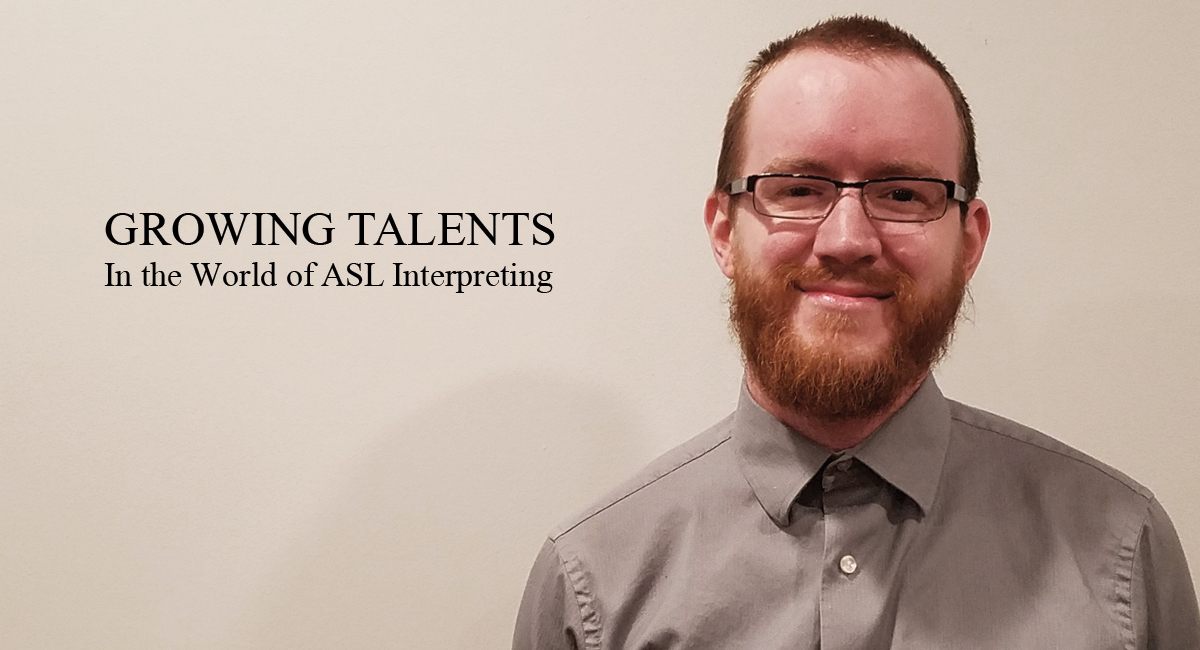 Growing Talents in the World of ASL Interpreting
By Sara Porcaro | June 11, 2019
With the Special Olympics Rhode Island (SORI) Summer Games and other tournaments bringing talented athletes from within and beyond Rhode Island's boarders, it's an energetic time, indeed: a time of putting one's skills to the test and celebrating hard-won victories with friends and families. However, even within Special Olympics, a place where athletes of all abilities come together for teamwork and friendly competition, there still exists a barrier to full participation for some--namely the Deaf and Hard of Hearing (DHOH) community. That's why last semester, one community-conscious professional rose to the challenge to find solutions to that barrier: Perspectives intern Greg Pfersich!

Coming from Bristol Community College, Greg, a pharmacist technician, recently found a new field of interest in his search for a more fulfilling career path: ASL interpretation. Greg has been learning ASL and about the greater world of Deaf culture within the college's Deaf Studies program, which he graduated from this spring, and his capstone class is the culmination of semesters of study. His final project was sixty hours internship work--eighteen of which he did with Perspectives through his work in the agency's Deaf and Hard of Hearing services and with the DHOH individuals on the Special Olympics soccer team.

"I used to play sports myself, but I never thought about it relative to the Deaf community," Greg notes. "But it's been incredibly rewarding to get a different perspective and find other ways to help people do what they love."

An opportunity for Greg to support Deaf individuals was during the Special Olympics soccer practices, where Deaf and hearing players practiced together, sometimes without an interpreter present. Greg has spent his time at practices recommending areas of improvement that could be made to clarify the training experience for everyone--as without proper communication, misunderstandings and other problems disrupt a Deaf player's opportunity to work with their teammates and coaches. Greg worked with coaches and created communication tip sheets for them to use with Deaf players; this way, practices could become more inclusive and Deaf friendly.

Staff Interpreter Hayley Baccaire, says with pride: "I was grateful to work with Greg on his journey here; the things he learned will be invaluable to him as he continues his career." Having a similar start in her interpreting career, with an internship as a human service agency, Hayley also notes, "Greg has a bright future ahead of him, and I would love to partner with him."

Along with his work at SORI soccer practices, Greg also assisted Perspectives ASL classes alongside Perspectives Lead Therapist and ASL Instructor Sherry Zarembka, where he supported students in their introduction to Deaf culture and learned the dynamics of bilingual settings. As someone who also studied German and Russian, but hadn't previously had much exposure to ASL, he's no stranger to new languages--and he finds ASL to be totally unique.

"I love that ASL is a 3D language," he says, "and how it can convey things in a way spoken language doesn't, or just can't."

For this dedicated professional, his time at Bristol Community College has come to a close, and he seeks to continue his education and become a full-fledged ASL Interpreter. Greg is excited to join the field with peers like Hayley and highly motivated to helped bridge communication between Deaf and hearing individuals--and with his incredible work on the SORI teams and in the classroom, we know he'll shine wherever he goes! Awesome work, Greg; your passion for your career path is incredible!

---
---