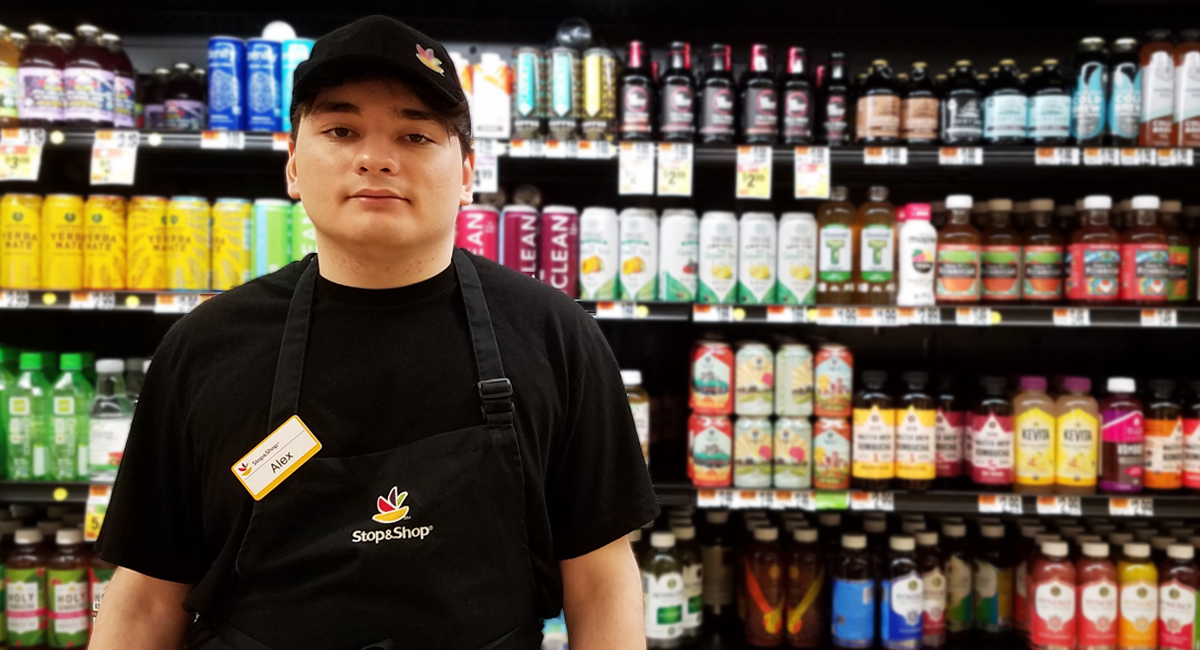 Taking the Leap: Alex's Success in the Retail World
By Sara Porcaro | July 30, 2019
With the seaside breeze floating by as the waves crash against the rocks, there's no doubt that Rhode Island's coast brings much needed relief in the summer heat. On the way to the beach, countless people--families and friends all excited for an afternoon of water fun--drop by the Narragansett Stop and Shop for snacks and sunscreen; the summer months leave the story buzzing with activity, and it's dedicated employees like Alex that keep the day going smoothly for everyone!

Alex, who works as a porter at the Narragansett store, once thought that retail wasn't a field that would match his talents. However, after a job trial in 2017 at Dave's Market, where he worked at bagging, maintenance, inventory management, and store cleanliness, he discovered a real knack for the work--and an interest in continuing it. As of this May, Alex found the opportunity to continue shining with his retail skills at the Narragansett Stop and Shop, where he works as a porter.

"I proved to myself that I was more capable than I thought," Alex says. "Dave's also prepared me for the position I work in now."

Each day, Alex is responsible for keeping the store clean and managing waste. He operates a baler to compact cardboard boxes into small cubes wrapped in chords for waste shipment. As well, he operates the trash compactor to keep the store's many trash cans available for use and keeps the bathrooms clean. When his main work is done, Alex checks his task list and tackles his other responsibilities head-on--all while making sure to check in with management and give them time estimates for what still needs to be done. His accountability, self-advocacy, and stellar communication make him a valuable asset to the team, one that his supervisors are more than comfortable leaving in charge of the porter duties during evening shifts.

"We're really impressed by how Alex interacts with management and his coworkers," says Manager Dave Schindler. "He's a diligent worker with great communication and time management skills, and we love having him here."

The focus, dedication, and eye to detail Alex brings to the job also inspire his hobbies at home; as a growing musician and avid artist, he takes piano lessons, experiments with new rhythms on his drum set, and takes art classes. Alex is especially fond of digital art, and the possibility of going back to school for animation or music production remain on his radar. When with friends, Alex enjoys bowling, billiards, music events, and more, and he's also part of a hangout group where he connects with likeminded people and discovers new interests. But as Alex he works towards his goals for the future, this summer is spent working a job he enjoys and excels at.

Alex says, "This is a good store, with really nice coworkers and supervisors, so it's important to me that I always come to work on time and be there for the team. I enjoy getting to help the customers where possible, too."

With his ambition and determination fueling his talents, Alex has become comfortable and confident in his new position at Stop and Shop. He's been a powerful self-advocate from the start, always willing to ask questions and learn more to master his position, and he's proactive about completing his duties every shift. His supervisors are glad to have such a dedicated team member, and he's proud of himself for becoming fully independent on the job. Congratulations on your achievements, Alex--and best wishes as you continue chasing your dreams!
---
---