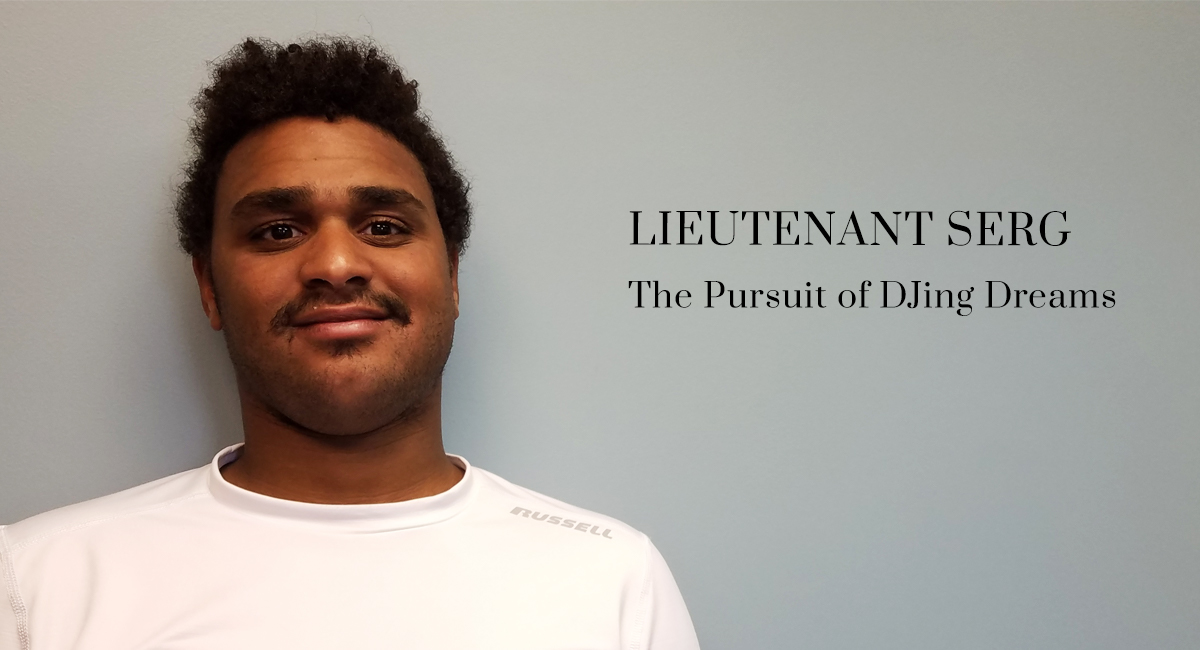 Lieutenant Serg: The Pursuit of DJing Dreams
By Sara Porcaro | July 2, 2019
Achieving our dreams isn't an event: it's a journey. Along that journey, we experience new things, meet new people, and find new methods to reach our goals--sometimes finding them even when we're working on other projects. For Sergio, whose dream is to become a professional DJ, he found the next step in a place made for learning and exploring: Brown University's Partners for Adult Learning (PAL) Program!

For three years, Sergio has been a part of the PAL program, a place where Brown students pair up with individuals who want to continue growing and exploring new subjects throughout the semester. He heard the program was a great place to learn about all kinds of new things, and he's been a part of the program every year since he started. But one thing he hadn't yet brought to his PAL experience was his love of DJ'ing--until he told student and first-time PAL tutor Rachel Avram about it.

He smiles as he says, "I feel good when I'm playing music; I love rap and dancing, and I really want to make a career out of this--maybe DJ at parties and things like that."

Rachel, who has long since enjoyed teaching others and tutoring, decided that the PAL program was the perfect fit for her interests after learning about it at Brown's activities fair, and a great way to expand her tutoring experience, as she's only previously worked with children. She didn't have any DJ experience before meeting Sergio, but wanted to help him meet his learning goals regarding his dream all the same, so she reached out to her peers in the program for advice; from there, she and Sergio connected with Brown Student Radio, where they had the opportunity to learn about the tools DJs use every day.

Each afternoon was a sunny experience as he went with Rachel to the radio station. Sergio was thrilled to not only learn about how radio stations run and how the DJs choose the music, but to also pick some of the music from his favorites to play for nearby students on campus. He often builds his own playlists to listen to at home, combining songs from his favorite artists to play at home and for friends--namely Lil Wayne and Drake. His DJ name, "Lieutenant Serg," is something he hopes to one day brand his own DJ services with.

"I loved his contagious enthusiasm," Rachel notes as she looks back on the semester. "He always came to every session with a positive attitude and eagerness to learn something new; it was wonderful to help him explore something he's so passionate about!"

After the semester ended, Sergio continued on his daily schedule--working hard at Price Rite, building new playlists to enjoy with his family, and hanging out with friends for a bit of shopping at the Warwick Mall. Music's a huge part of his life, always setting the mood for his daily activities, and after experiencing the DJ life, Sergio is ready for more, especially with a partner who loves to get outside the classroom for educational, hands-on learning!

"Rachel's really nice," Sergio says. "She helped me out a lot, and I'd be happy to work with her again. I can't wait for next semester; this has been a dream come true!"

The summer is already passing by, and soon enough, school will be back in session--along with the PAL Program. Sergio's experience, and the discovery of a new path to chase his dreams on, has inspired him to keep working hard, and with an equally adventurous partner like Rachel by his side, we know it'll be a blast!
---
---