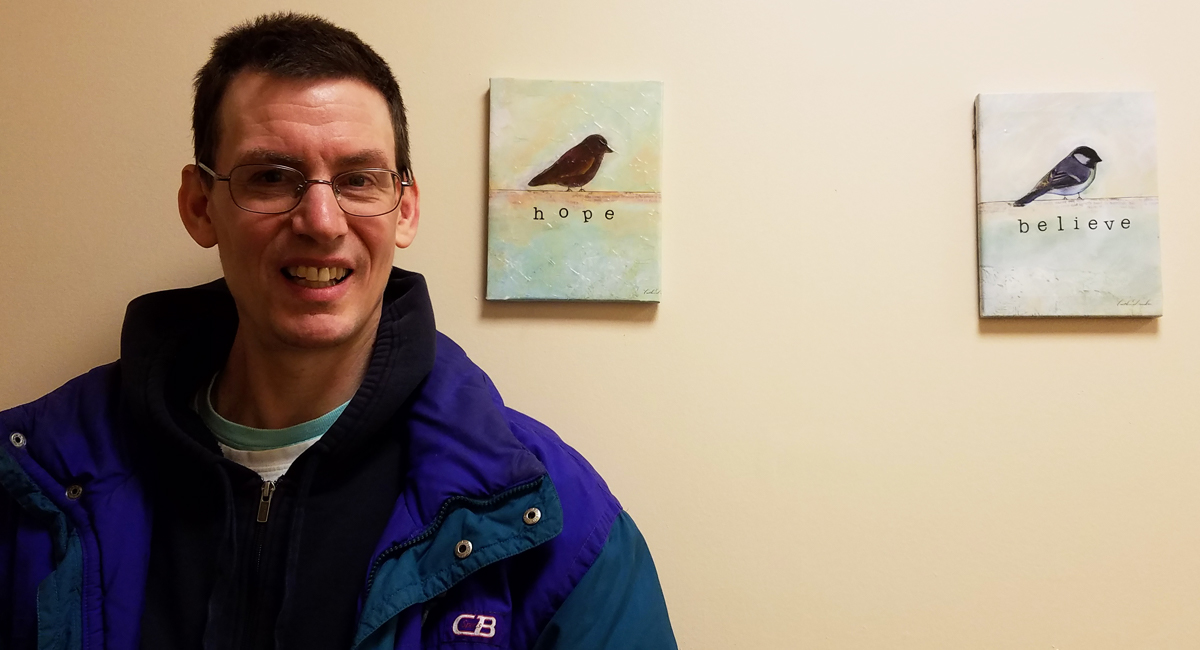 The New Year: Vincent's Success Driving His Focus
By Sara Porcaro | January 8, 2019
After another year of countless new memories and experiences, January has everyone looking at where they've been and where they'd like to go with their 2019 resolutions. Last year saw many positive changes--and for Vincent, that meant a fresh start with a career at Newport's Ney Hall Galley. Now, with 2019 in full swing, he's ready to take on new resolutions, all while working a job he loves!

For almost a year, Vincent has worked at the Galley, serving military personnel, Naval Academy students, and their families. He works three days a week, serving lunch and dinner to hungry patrons. On each shift, Vincent is happy to work wherever his peers need his help: be that serving food with them, cleaning and replacing dishes, keeping the dining room and bathrooms clean, or ensuring the salad bar stays stocked and ready for lunch and dinner service.

"It's a job I love dearly," says Vincent. "My favorite is getting to take charge of the salad bar. It's cool seeing all the different ways people can make a salad!"

Last year, part of Vincent's goals was to work in an environment where he could make great relationships with others and work as a part of a team. His coworkers, supervisors, and patrons of the Galley appreciate both his hard work and cheery, upbeat attitude--especially during the Thanksgiving meal rush last November.

While Vincent notes that patrons of the Galley are supportive and kind to staff, he was especially blown away to come into work after Thanksgiving and see large "thank you" cards on the walls from patrons, who credited him and his coworkers by name for all their hard work serving patrons day after day. He was also proud to be featured on the Ney Galley Hall's newsletter, which credited him and his coworkers for a wonderful holiday lunch service.

Vincent remarks, "I love getting to see the students and military officers. They're so down to earth and friendly, and it's nice getting to know them as they come in each day."

Now, Vincent hopes to make headway towards his 2019 resolutions: finding his own apartment, getting a car, and earning more money to support the first two goals. For him, who loves to get outside cycling and swimming or go out to eat or shop with friends, he has a clear vision of what kind of car he wants. A car that has space for running errands, like grocery shopping, as well as space for bringing friends and family to events and mounting his bike, would be perfect. He notes that a dream car would be a Lincoln MKX.

With such a great experience starting at Ney Hall Galley in 2018, Vincent is excited to see what 2019 has in store for him. He's more motivated than ever, with the support of his friends and coworkers behind him, and with his positive attitude, we know he'll thrive in the year ahead! Wonderful work, Vincent, and best wishes for the new year!

---
---
Copyright 2022 © Perspectives Corporation