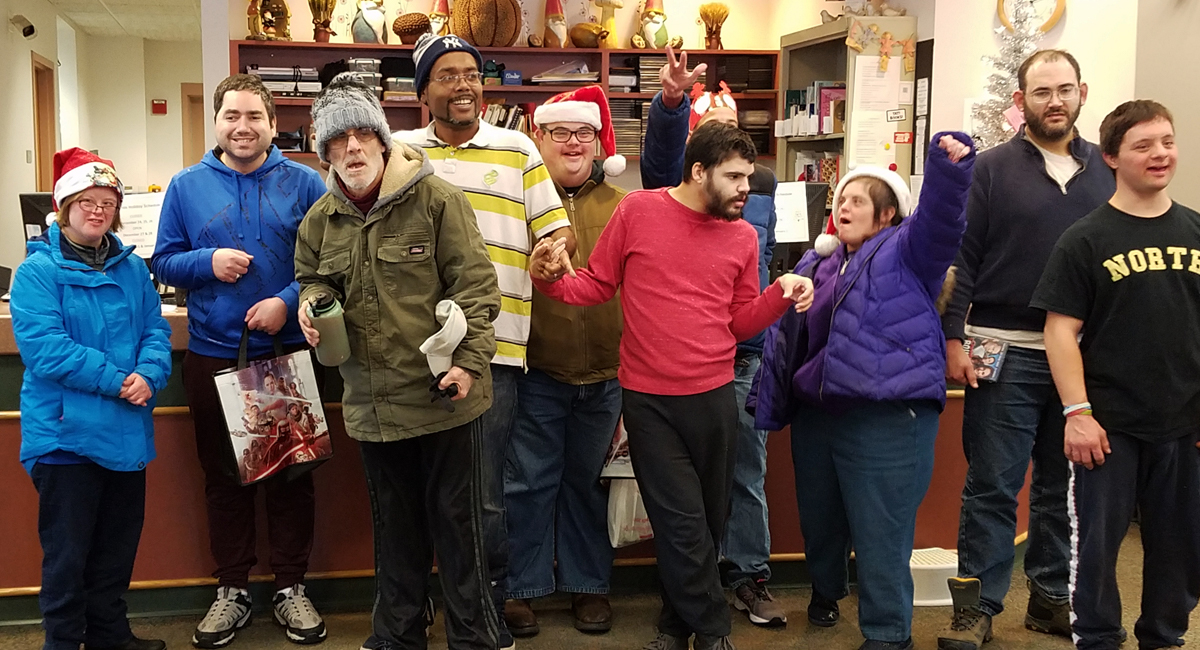 Preparing for the Holidays with Cheer and Charity!
By Sara Porcaro | December 17, 2019
"That was fun. That was a nice party."
So says Scott, smiling as he gets ready to head home after an afternoon of Christmas cheer. With all the holiday excitement to come next week, the magic of the season is in full swing--and countless people are preparing for this festive time of the year with all manners of activites! From caroling to Christmas parties, toy drives to gift shopping, there's always a busy, cheerful moment in December. Such was the scene recently at the Exeter Public Library, where friends and library patrons came together for a wonderful holiday party!
The Exeter Public Library is a cozy, friendly place every day of the year, and it makes the perfect place for all manners of events--from last year's Comics for Kids event to holiday get-togethers. The holiday party was proposed by Direct Support Professional Andy Ming a few months prior, and the library was delighted to host it, having developed relationships with individuals and Perspectives professionals through the fun and exciting community experiences they've all created together.
"We love getting to host these events," says Library Director Amy, "and it's wonderful to get to know everyone and catch up with them each time."
After a fresh snowfall, with a newly sunny and bright blue sky, the party was the perfect event to enjoy a winter Wednesday, where library tables brimmed with activity. Friends like Dave, Joe, Nico, Domenic, Jacob, Scott, and more gathered around to chat, enjoy each other's company, decorate Christmas cards to give to their loved ones, and dance together. As well, the party hosted a raffle, where party-goers had the chance to win gift baskets and other prizes--along with the table of gifts for everyone to enjoy.
"Everyone had a great time," says Amy with a smile. "The dance party was the best part; it was so energetic, and library patrons who didn't know about the party were happy to see everyone having so much fun."
Andy, who organized the raffle prizes, activities, and event flyers, says, "I love getting to do these kinds of things for everyone. We used to have a big holiday party back in the day, when we all met up at a community center; this party was a way to bring that vibe back and get everyone back together for some holiday fun."
This party is just one of the events that individuals receiving day services from Perspectives take part in. Many are also a part of the Project Holiday initiative, where they raise money and collect toy donations to bring to children in need on Christmas day. Andy, who organized the holiday party and is managing the 7th year of the Project Holiday initiative, was recently hosted on DJ Franchise's radio show on WBRU with Director of Quality Assurance George Card; there, they reached out to let the community know how they could help. With Santa's Workshop at Lang's Bowlarama already coming up on the 20th, where they'll wrap all the donated toys for Christmas, everyone will be plenty busy preparing for the holidays!
"It was cool to be able to reach a bigger audience for the kids," says Andy, "and it gets easier to plan each year; we get better and better at finding gifts the kids enjoy. Everyone loves being a part of it and seeing the family's faces light up on Christmas."
As the party winded down and everyone said their goodbyes, they left with bright smiles and wonderful memories--perfectly setting the stage for the rest of the holiday season to come. Along with the fun of the party, the crew is also looking forward to another afternoon of wrapping presents for children, eating good food, and friendly competition on the bowling lanes--all while counting down the last few days to Christmas!
Interested in donating to the Project Holiday toy drive? Reach out to Andy Ming at aming@perspectivescorporation.com, or check out these
partnered drop-off points
!
---
---