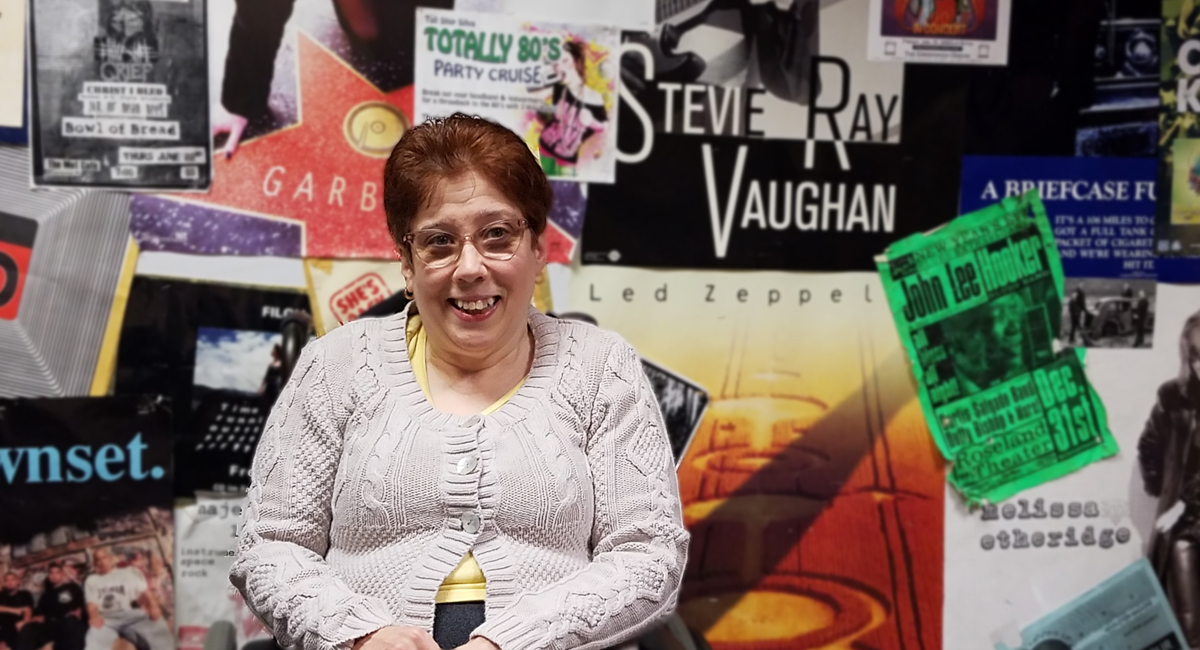 Full Steam Ahead for 2020: The New Peer Navigator
By Sara Porcaro | December 31, 2019
So begins the first day of a brand new decade--and with it comes a whole host of opportunities for change and innovation. At Perspectives Corporation, where hundreds of dedicated professionals have come to fuel that innovation for over forty years, we continue to shift our services to the most person-centered approach possible--and 2020 is looking bright already, with Self Advocate, educator, and social work professional Deanne Gagne joining the team as Perspectives' very first Peer Navigator!

With the services that an individual is able to receive from agencies like Perspectives, the possibilities are virtually limitless. However, the official and legal language of service plans can sometimes be confusing--and the decisions themselves can be daunting. From self-directed services to agency-provided services, from independent and shared living arrangement options to classic residential services, finding exactly the right combination requires careful consideration and an intimate understanding of the language--and that's exactly what the Peer Navigator is there to help with.

"It's important to us that 'person-centered' doesn't just become a buzzword," says Chief Operating Officer Kim Einloth. "We recognized that we needed the voices of individuals who have experience with choosing and receiving services to help people maximize their dollars and live the life they want."

After the Business Innovation Factory experience that Perspectives professionals completed in 2018, where they identified multiple areas in the agency where innovation could flourish, it was clear that they couldn't wait for the perfect opportunity to manifest the Peer Navigator position, which was already years in the making; they had to create that opportunity. With that realization, Perspectives moved to fully create this part-time position, and Kim and CEO Judy Niedbala agreed: Deanne Gagne, long-time advocate, social worker, friend, and collaborator, who also manages her own self-directed services, was perfect for the role. Kim and Judy had always dreamed of an opportunity to work with Deanne, and when it finally arrived, they approached her--talked about the position, the changes coming to the agency--and invited her aboard.

"I thought the position was interesting and exciting when I heard about it," Deanne says with a smile. "Perspectives is so cutting edge, always moving forward and really looking at the individuals they support; that's exactly the kind of place I want to do this work in."

Deanne is an incredibly accomplished and experienced professional, and a tireless advocate for individuals with disabilities across the state. She was one of the four original founders of Advocates in Action, where she's worked to provide resources, advice, leadership trainings, peer support, and more for twenty-five years. As well, Deanne has much experience with various committees and coalitions, such as the Rhode Island Cross Disability Coalition, and as of 2006, has achieved her bachelor's degree in social work from Rhode Island College.

"She's so great," says Kim, without hesitation. "Deanne has the skills, the vision, and she's genuinely a good, comforting person; her goals align so beautifully with Perspectives' mission. I'm so excited to see what she's going to create within this position and where she'll take it."

With such an outstanding educational and professional history alone, her knowledge of the state of services in Rhode Island is vast--but combined with her personal experience in tailoring her self-directed services, she knows first-hand the process, and provides a valuable voice to individuals looking to change their lives. In the Peer Navigator role, she'll be working directly with individuals, families, plan writers--with whole services branches within Perspectives--as a part of the Quality Assurance department. Her work will ensure that individuals receive not only the resources to make informed choices about which services they want, but the guidance, assurance, and advocacy necessary to take charge of how their services are implemented.

Deanne says, "The Peer Navigator position is also an advocate, and it's exciting to me that I'll be a part of establishing this position--that I'll be able to lend a voice to individuals receiving services." She beams as she notes, "I look forward to helping individuals figure out where they want to go and make their own choices about their lives!"

With 2020 here, the stage is set for Perspectives' journey forward--and we couldn't be more excited to have such incredible, talented professionals joining us for it all! As Perspectives looks to continue innovating, to continue moving away from system-centered services and more to person-centered services, Deanne's experience and knowledge is beyond crucial. All the work she's done for individuals with disabilities across Rhode Island is truly admirable, and paired with her kindness and compassion, we know she'll shine as Perspectives' first Peer Navigator. Welcome aboard, Deanne!
---
---