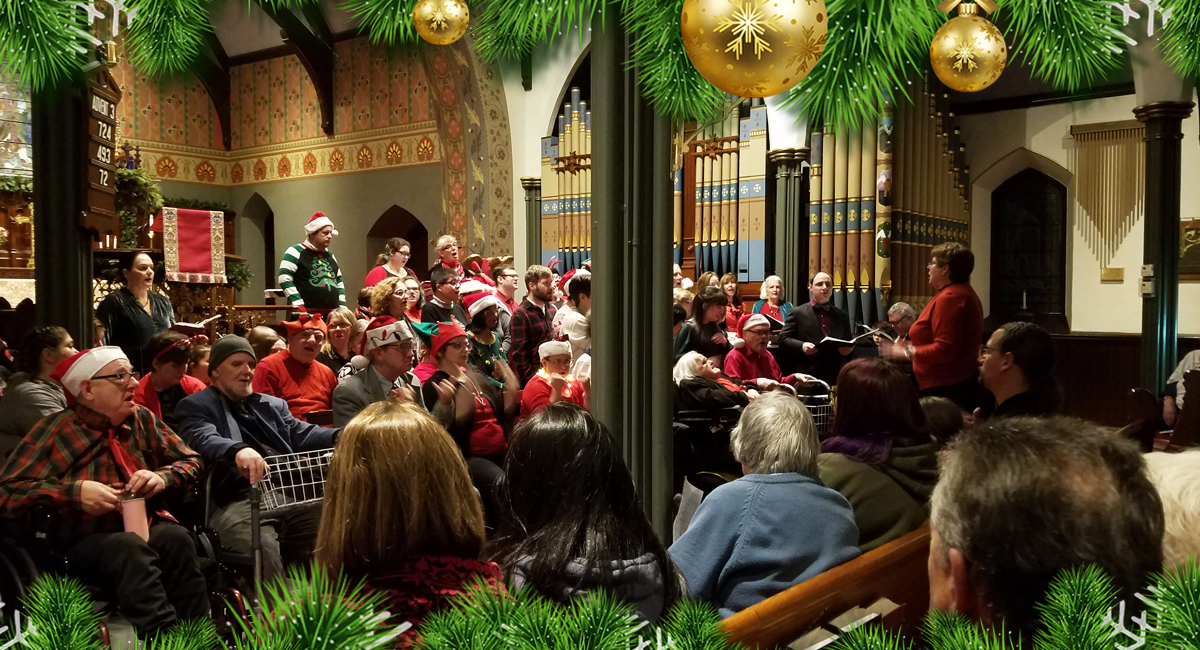 A Night of Song and Sign: Annual Perspectives Chorus Lights Up St. Peter's!
By Sara Porcaro | December 23, 2019
Another Christmas is finally here, and children spring from their beds in the early hours of the morning, feet padding down stairs and hallways as they seek their shining destination in the winter-dark house. Their parents trail behind with sleepy smiles as the children discover their bounties, and soon, the house is alight with Christmas cheer--the very spirit of the season that has built up all December long. Of course, one of the many events contributing to that cheer was the 35th annual Holiday Concert at St. Peter's Episcopal Church, where the talented Perspectives Unified Chorus lit up the beautiful church!

Thirty-five years ago, the tradition of the holiday concert was first planted, with individuals representing the Adeline LaPlante Memorial Center as they sang Christmas classics like "The First Noel" and "Go Tell It on the Mountain." Among some of the first members were Sarah, Mindy, and Joyce, who have participated all the years since as the chorus grew to include more individuals and community partners, such as Beth Berry from Give Everyone a Role (GEAR) Productions--and who have all remained singing at St. Peter's, where the pews were always filled with merry church-members and the friends and family of chorus members.

"A while back, we were thinking about moving to a new church as our chorus grew bigger," says Activities Supervisor Joni Lonczak, "but we were asked to stay here at St. Peter's. It's become such a great community partnership, and it really feels like we're a part of the St. Peter's family."

As the LaPlante center became part of Perspectives, more and more individuals came aboard to sing, and soon the number of participants grew from ten to nearly fifty: forty individuals and eight community partners. And while singing together is great fun for all, they take their performance seriously, as well. They begin their rehearsals in mid-October, where the chorus comes together to decide on which classic songs to sing, and who will sing solo, in duets, or in groups. On their final rehearsal, everyone gathered to perfect their parts--including Joyce's incredible performance of "O Holy Night," which she solos every year.

"My favorite song is 'O Holy Night,'" said Joyce during the final rehearsal at St. Peter's, "and I'm honored to be a part of this every year. After tonight's rehearsal, I'm confident we're going to do well!"

At the final rehearsal was another element to practice, a new piece to the Perspectives performance: the inclusion of Deaf and Hard of Hearing individuals in the chorus! Jennifer, Chris, and other friends joined the Perspectives chorus this year, with Deaf Interpreter Charley Thorn and ASL Interpreter Heather Anderson there to assist in rehearsing the ASL translations to all the chorus's songs--adding a beautiful visual element, and a great inclusive spirit, to an already fantastic community night.

"This is my first time in a show, and I really like it," Jennifer signs. "My favorite songs are 'Rudolph the Red-Nosed Reindeer' and 'Silent Night.' I'm a little nervous, though, because ASL isn't English, and I don't want to accidentally sign the wrong translation to people! I'll have to practice hard!"

And so Jennifer did! Her practice certainly paid off, as on the night of the concert, where cars lined the streets all around St. Peter's and the pews were once again packed with children, parents, and other community members, Jennifer stood proud with Joyce during her famous performance of "O Holy Night" and nailed her ASL Translation with a smile. A great roar of applause carried all the way up to the church's high ceilings afterwards, and so the concert continued on with the bright, sweet sound of dozens of merry carolers. It was yet another successful concert, and we're thankful to everyone who helped make it a lovely night of community and song! Happy holidays to all, and we hope everyone's enjoying their Christmas day!
---
---