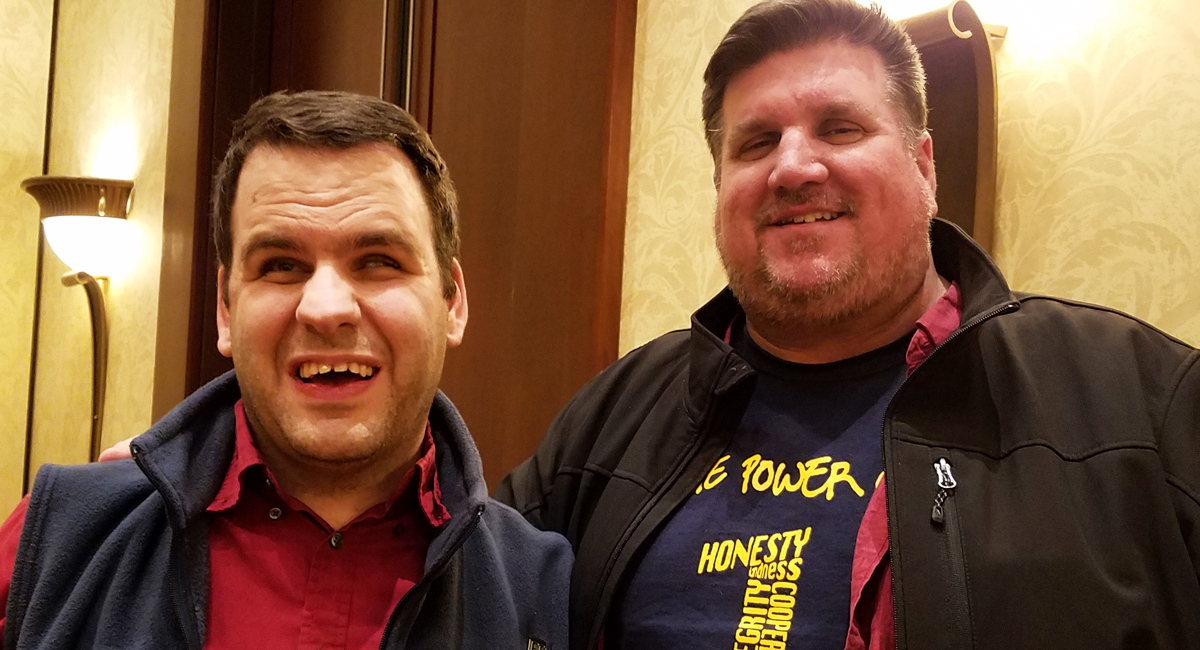 Person-Centered Services, Person-Centered Advocacy: March Advocates in Action Meeting
By Sara Porcaro | April 9, 2019
The Crowne Plaza hotel lobby is quiet this time of night, patrons relaxing or exploring the town. But down the plush hallways, towards the ballroom, excited chatter floats through as tables of snacks and other refreshments make their way out. It's the beginning of the March Advocates in Action conference, and the Advocacy Class sits on stage, ready to share their knowledge with the ballroom full of guests--two of those guests being Jeff and his Shared Living Provider, Mike!

Since 2003, Jeff, a Board Member at Advocates in Action, has been attending the group's statewide, biannual conferences. He applied to become a member on the recommendation of a friend. After an interview with other members, and self-advocacy classes like the Leadership Series, Jeff became a part of the team--and was eventually elected the Advocates in Action Treasurer while the position was available. When the position was no longer necessary, Jeff became a Board Member.

"I like that we get to talk about things that are important to us and our everyday lives, like voting rights," said Jeff about being a Board Member. "It's great getting to teach people about things they may not have known about before."

The conference opened with a great vibe of positivity as one member sang "God Bless America," his peers happily singing along. From there, RI Cross Disability Coalition Coordinator Deanne Gagne opened up the event with Advocacy Class introductions; everyone on stage shared their name and their many life goals, such as getting their own apartment, learning French, going to beauty school, and more. A PowerPoint presentation--including video clips, live skits, and other material--then focused on the theme of person-centered planning in one's services and resources. With person-centered planning now the standard in disability services, the Advocates in Action officials make it a point to discuss what it means to truly make one's service plan for and about themselves.

During the break for refreshments in between, Jeff joined his peers in collecting soda tabs to raise money for the local Ronald McDonald House charity. Mike came with him, happy to chat with many old friends catch up over coffee and support Jeff--a friend of Mike's since their meeting in 2007 and roommate since October 2017--in his charity work.

"We like a lot of the same things, like sports, so when he moved in, it worked out really well," says Mike. He worked at Sparrow Point for years before extending a Shared Living invitation to Jeff in 2015. "It's been great having him with us."

Along with the many advocates there to learn, among the guests was RI State Senator Thomas Paolino of District 17, there to show his support and listen in on all the great information being shared. At the end, after an open mic session for attendees to share their thoughts and ask questions, Deanne led the night's raffle, where several people won a gift card to Dunkin' Donuts: a wonderful way to end an informational, fun night.

Jeff beamed at the end of the night. "The presentation went really well!" He said. "It's great to see everyone supporting each other."

Many thanks to Advocates in Action for another wonderful event! With friends coming together to share stories, support one another, and enjoy each other's company, all while learning more about the ways they can advocate for themselves in their life plans, it was certainly a night well spent. And for Jeff, the conference had him proud of what his peers accomplished--and he, Mike, and other attendees all left in high spirits. We're all looking forward to the next biannual conference!

---
---