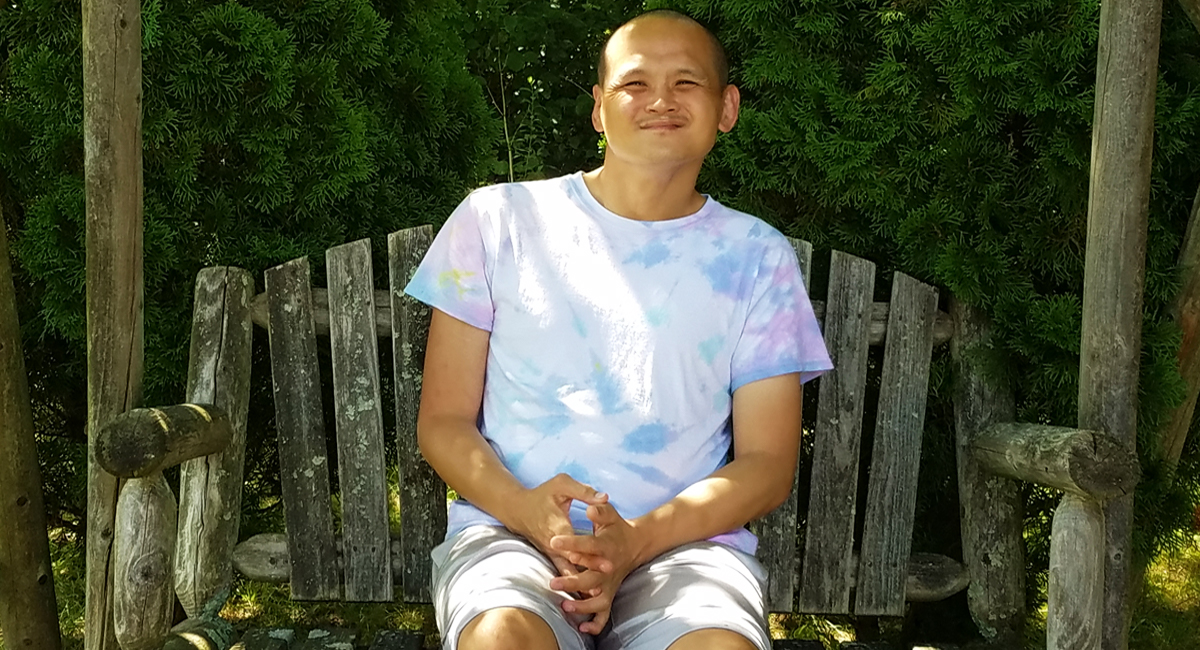 A New Chapter for Chee
By Sara Porcaro | September 4, 2018
Out in West Warwick sits a home nestled in the shade of its big trees--a place where the green grass and garden plants flourish in these warm summer months, and the space inside is a cool, comfortable place to rest after busy days of adventure. In the past few months, this home has seen some wonderful changes after integrating with Perspectives Corporation's adult residential Deaf and Hard of Hearing program, becoming another place for Deaf culture to flourish among its residents. Recently, a new resident has joined this happy place seeking just that culture--and his name is Chee.

For 20 years, Chee, a Deaf individual, has lived in home where his friends didn't know all too much American Sign Language (ASL) and developed different ways of communicating with him. They made their own signs, or simply gestured to their conversation topics instead. Chee expresses that he very much enjoyed living there, and that he loved his friends and staff there.

However, with 20 years of improvised sign behind him, some of the sign language he knew began to fade. As a result, the thought of moving to a Deaf and Hard of Hearing home seemed a bit daunting--but once he arrived, Chee transitioned into his new home easily and became a fast friend with residents and staff.

"[Chee] is enjoying the communication level with staff and is very affectionate towards them," says Site Supervisor Felicia Rocchio. "His housemates are friendly towards him, and some are enjoying his affection--even giving him hugs first."

When Certified Deaf Interpreter Charley Thorn asks about his new housemates, Chee beams. He expresses that he likes them a lot, enjoying his time with everyone in his new home--and he especially enjoys getting to refresh his sign language with everyone. Direct Support Professional Rachel DeLora is one of many that encourages Chee to use his sign language, helping him recover what he'd forgotten over the past 20 years.

Rachel says, "After not having anyone to sign with for so long, he's forgotten some of it, but I always try to have us communicate with sign. He has a much easier time expressing what he wants and doesn't want now."

With a different schedule in this new home, Chee has quite the busy days. They're days filled with more activities of his choosing, which often includes a drive around town, hikes out in the sunny weather, helping keep the house clean, and going out for ice cream--a wonderful treat in this hot summer. His bright energy and love for adventure mean he's finding himself right at home in this new place, where adventure is the name of the game. It's a whole new chapter for Chee, and it's one he's loving every minute of.
September is Deaf and Hard of Hearing Awareness Month, and this year, we're celebrating our friends in the DHOH community--including the stories of individuals like Chee who are finding their way towards bigger and better things! With one wonderful chapter for Chee closing and another beginning, we have no doubt that his bright, energetic self will have a whole world of fun ahead!

---
---
Copyright 2020 © Perspectives Corporation