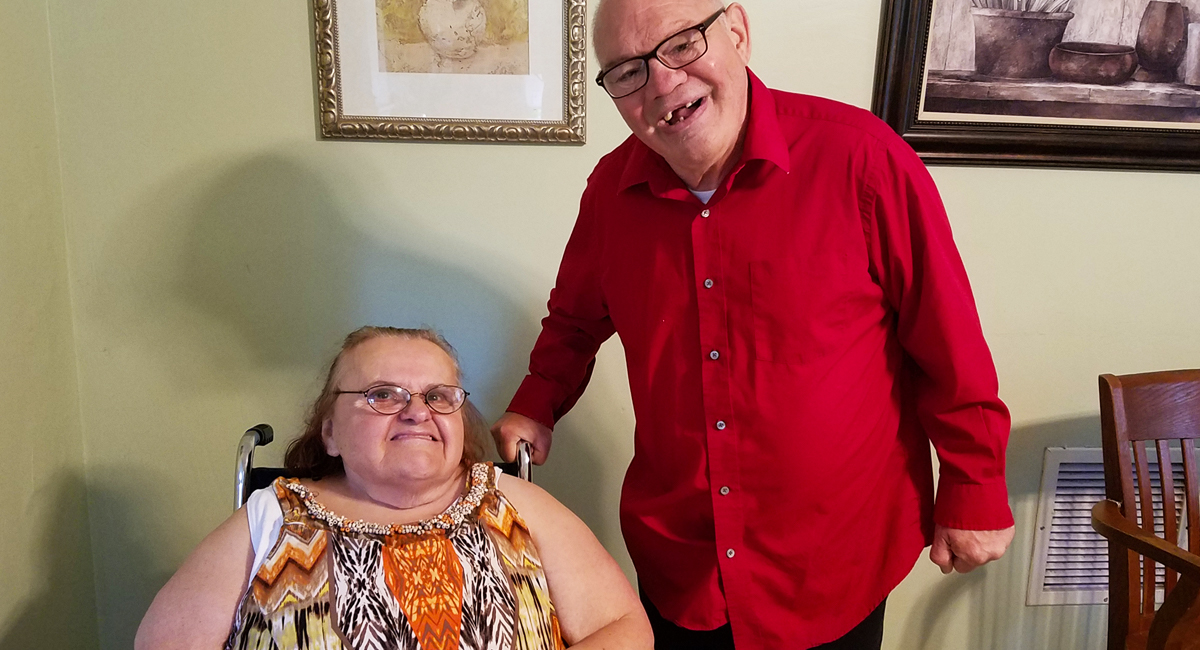 Love is in the Air: Mike and Nancy
By Sara Porcaro | October 9, 2018
The scenery of South Kingstown is still lush and green this time of year, with trees weaving canopies over the narrow roads and the sun shining bright on quiet neighborhoods. With the sea nearby, and all manners of interesting sights to explore around this part of Rhode Island, it's a great place to call home--especially with those you love. Just ask Mike and Nancy, a happily married couple who receive residential supports with their roommates!

For nine years, Mike and Nancy have lived in South Kingstown, enjoying a warm, peaceful home with their other roommates. Before then, they lived in apartments in Narragansett--Mike with a long-time friend, George, and Nancy with her friends. It was through a Perspectives employee, who offered to arrange a blind date between the two, that Mike and Nancy first met for an afternoon of coffee and conversation.

"Mikey was shy at first," Nancy notes with a smile, "but he asked me for my phone number, and we started talking after that."

From there, a relationship bloomed between the two as they came to know one another better. Their interests and hobbies naturally differed; Nancy is a fan of shopping and watching shows like Golden Girls. She also loves to knit and crochet, and she's working on her current project: a beautiful afghan blanket. On the other hand, Mike prefers a good episode of Bad Boys, or listening to classic tunes by The Beatles. Wrestling is another great interest, and he has tickets to an upcoming WWE show.

On Bad Boys, Mike says, "It's a really good cop show. I recommend it to anyone who likes that type of show."

But with the many different interests they had to share with each other, they also had a wonderful common ground. Nancy and Mike are both social people, who love to spend time with each other, as well as their other friends, and explore their communities. The date nights spent out in their favorite restaurants, enjoying a meal over comfortable conversation, is another way these two like to spend their time together. After some time, they moved into their current home, where they got to know their new roommates and spend more time together.

It was on May 17th, 2014, that Mike and Nancy tied the knot, with a beautiful ceremony and big outdoor celebration with their family and friends. Over forty people joined the couple on their big day, which, thanks to the help and support of friends and family, was a day of fun and joy for all involved. No detail went overlooked, from the food to the decorations to their wedding day attire. Mike had a fine suit to wear for the day, and Nancy got her hair and makeup done to compliment her dream dress.

Now, Mike and Nancy are still living happily together with their roommates, enjoying the peace and natural beauty of South Kingstown. They spend their days out on the town, finding new things to experience, new hobbies to explore. And with such a cozy place to call home, a house full of friendship and love, the days remain bright and sunny--no matter the time of year.
---
---