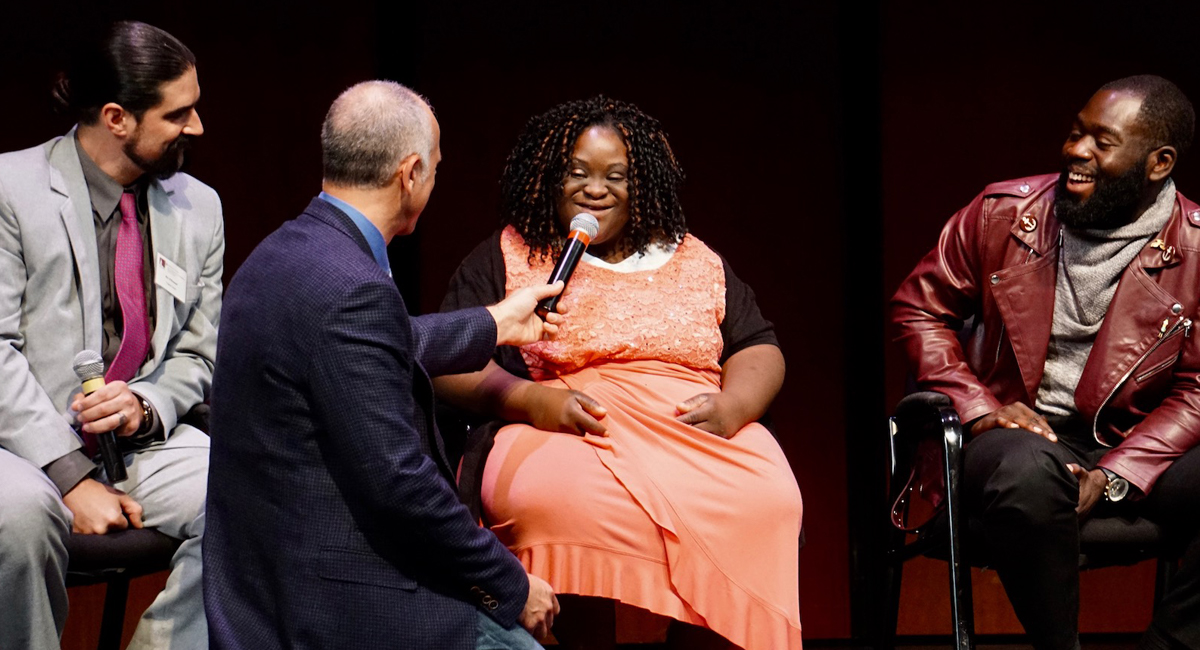 Behind the Scenes: Documentary Screening at Rhode Island College
By Sara Porcaro | October 16, 2018
Photo Credit: Anne Peters
When one thinks of intelligence, and how intelligence is measured, the first and most obvious thing that comes to mind is the IQ test. Since the modern IQ test's development in 1904, it's been the hallmark for intelligence testing--and has significantly impeded our ability to see the talents and potential of people who don't conform to the IQ expectations. But there's no time like the present to break down the stereotypes associated with intelligence, and that's just what Dan Habib's documentary, Intelligent Lives, is doing!
Last week at Rhode Island College, quite the crowd gathered to see a free screening of Intelligent Lives: a documentary about three amazing individuals and their journey through high school, college, and the modern workforce. After the screening, Habib himself opened up a panel on inclusion, opportunity, and perception, with one of the film's stars, a Rhode Island resident named Naomie, also there to discuss the film and answer questions.
Several Perspectives Corporation members attended the screening, both to show their support for the documentary and to learn all that the documentary and panel offered to teach its audience. What they experienced was more than a well-made film; it was a celebration of society's success in disability rights, a reminder of its unfortunate history and treatment of individuals, and an illustration of what still needs to be done to ensure all of society's members are given the freedom, opportunity, and equal standing they deserve.
Senior Director Kim Einloth notes that "The film was thought-provoking, inspiring, and hopeful... Several people that saw the film told me they were moved to tears. In my perspective, the film evoked feelings of success and loss (and the fluid journey that lies between the two)."
Naomie, supported by her brother, employer, and service provider, the Fogarty Center, answered questions and discussed her experiences in school and the workforce. She attended a segregated high school, Harold A. Birch Vocational Program, where she made jewelry in the school's sheltered workshop for very little pay (and sometimes none at all). With the 2014 Consent Decree between Rhode Island and the U.S. Department of Justice, practices such as the sheltered workshop came to an end--and now, Naomie continues her journey in integrated, paid employment with the Empire Beauty School.
Along with Naomie, her co-stars, Micah and Naieer, have also reached amazing heights and continue to grow in their aspirations. Micah received an online Certificate in Disability Studies from Syracuse University, and Naieer, a creative and artistic individual, has dreams of going to college, too. Both chase their dreams and study alongside their peers in integrated settings, where their full potential is given the room to grow.
Already, Habib's film has seen an excellent start in its first month out. With its inspiring message, and the view into the worlds of three dedicated and passionate individuals, it's a fantastic step forward in further breaking down the stereotypes and misconceptions surrounding intelligence and disability. For those interested in this amazing work, free screenings are available all over the country--just go to the
Intelligent Lives website
for more information on a screening near you!
---
---