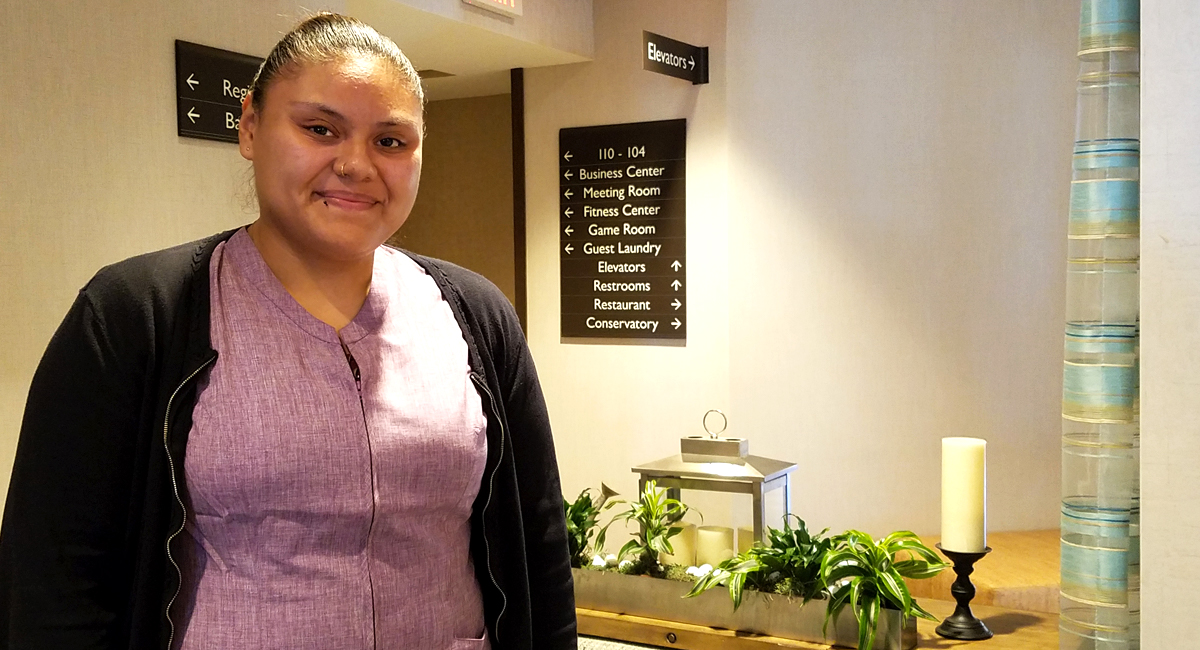 Beginning a New Chapter: Marixa's Next Step
By Sara Porcaro | October 30, 2018
Today is a fresh day, full of new and exciting possibilities--and one that potentially looks completely different from this day one year ago. In a year of working towards one's goals, countless things can change, be it where one lives, where they go to school, or anything else. And with the change from the classic rock-and-roll d้cor of Boneheads to the sunny, spacious lobby of the Hilton Garden Inn, it's the beginning of a whole new chapter in Marixa's employment journey!

Since April of 2016 to this October, Marixa had been working at Boneheads. In that time, she spent those weeks focused and dedicated to the job at hand--a job she enjoyed, and whose patrons and crew appreciated her work ethic and bright personality. There, she gained valuable experience in the food service industry, her teamwork, focus, and customer service skills only expanding over those two years. However, one detail about Boneheads had her turn her eye to other opportunities.

"[Boneheads] was too far away," explains Marixa. "I took the bus to work, and it took a really long time to get from Providence to West Warwick, especially in the morning. [The Hilton] is a lot closer to my house."

Now, after a smooth transition between these two workplaces, Marixa's brought all her skills with her to the Hilton Garden Inn, where she has just begun working as a part of the cleaning crew. Three days a week, Marixa comes in and ensures that guests have a comfortable, spotless lobby to rest in, as well as a clean game room and bathrooms. She also assists housekeeping in bringing linens down to the laundry room. Her goal is to eventually work with housekeeping, but as she transitions from food service to the hospitality industry, she's currently working on immersing herself in her new duties.

With the extra time afforded to Marixa through a shorter commute, she enjoys it with others, using her hard-earned money to see new movies and shop at the mall with friends. She also likes checking out new reads from her local library, immersing herself in all kinds of new stories. But no matter what she's doing, Marixa makes sure to participate 100%!

Her supervisor at the Hilton, Kathy, is also happy with this change: "Marixa seems like a very nice young woman," she says. "The position is working out well so far, and we're happy to have her join us this fall."

"Working with Marixa has been quite an honor," says Perspectives Career Developer Ashley Ponton, who has worked with Marixa in finding new employment opportunities. "It has been amazing watching her grow within her career endeavors and other aspects of her life. She is an extremely driven, and motivated woman and is passionate about the work that she completes. I look forward to Marixa's many future successes!"

For Marixa, this new opportunity brings a complete change of scenery to where she stood one year ago. But her smile remains just as wide, knowing she's taking the steps to do what's best for her. As she takes on these new challenges and opportunities, we're rooting for her all the way! Congratulations on the new job, Marixa!

---
---