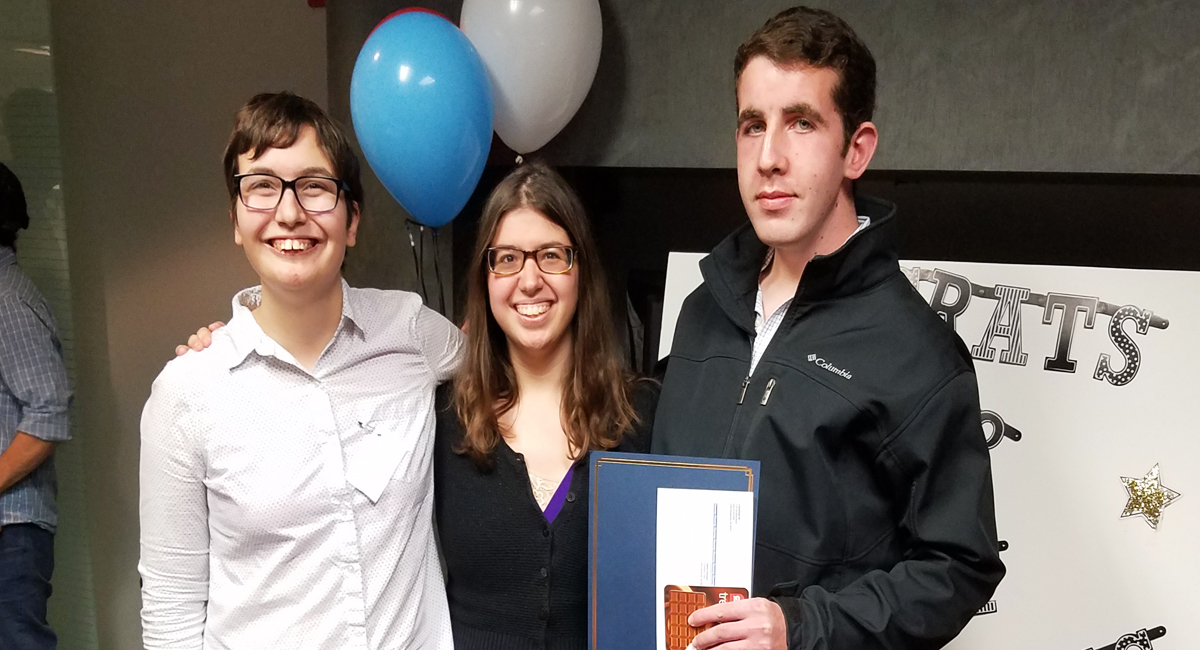 CVS and Celebration: This Season's Graduating Class
By Sara Porcaro | November 20, 2018
The journey of self-improvement is one full of allies, friends, and lessons, especially when so many new opportunities appear every day! One of those opportunities joined several dedicated individuals, including our friends Lydia, Justyn, and Brianna, who all took an amazing opportunity to continue developing their career skills with CVS's employment internship program. This November, their enthusiastic class had much to learn--and more to celebrate at their graduation ceremony!
This year, Access Point RI, the Department of Labor and Training, and CVS paired up for another wonderful round of internships--with teachers, Job Coaches, and Job Developers provided by the agency. Early this month, Access Point RI's main office hosted the ceremony, and there was plenty of cheer to go around for the CVS interns. Along with friends and supporters, members of the Governor's Workforce Board and the Department of Labor and Training attended to congratulate this class of dedicated individuals--as well as award them their program certificates, gift cards, and flowers for all their hard work. It was a warm event for everyone involved, and a fantastic way to kick off the future for these employment-ready individuals.
CVS Health announced last year
that it would be collaborating with the National Consortium of State-Operated Comprehensive Rehabilitation Centers to further expand its 8-week internship program for individuals with disabilities. This included the opening of more mock pharmacies in several states to supplement the in-class portions of the training, which focused on developing workplace etiquette, customer service skills, teamwork, and skills specific to each position in the retail industry.
"It's a really good program," says Lydia. "I loved everything about the class, and I have a much better sense of teamwork and workplace behavior than I did before."
Lydia was introduced to the program through Career Developer Casey Getchell. To qualify, students had to fill out an application and conduct an interview as part of the screening process. The class took place at William M. Davies Jr. Career and Technical High School, where students were taught by qualified trainers in the various retail skills for their future careers either with CVS or other businesses. She took the bus to the school each day, as well as coordinated rides with staff, to ensure that she was always on time for class.
According to CVS Health
, this project continued to grow after the successes of the first mock pharmacy, stationed at Fisherville, Virginia's Wilson Workforce and Rehabilitation Center. It opened in in 2016, with dozens of graduates like Lydia, Justyn, and Brianna walking away with even sharper skills necessary for the workforce, and several finding employment within CVS's stores. It's also a fantastic opportunity to meet new people from other agencies, or within one's own.
Lydia notes, "I didn't know Brianna before I started this internship, but after we met in class, we started talking and exchanged numbers. She and I became good friends over the course, and we're staying in touch after!"
After graduating, Lydia knows she's taken another step towards her dream job: to be a dolphin trainer. Along with her, the education this season's classmates received has them all reaching for their goals, and all excited to take the next step in their employment journeys. Congratulations to all graduates of this season's CVS Internship, and best wishes for the future!
---
---