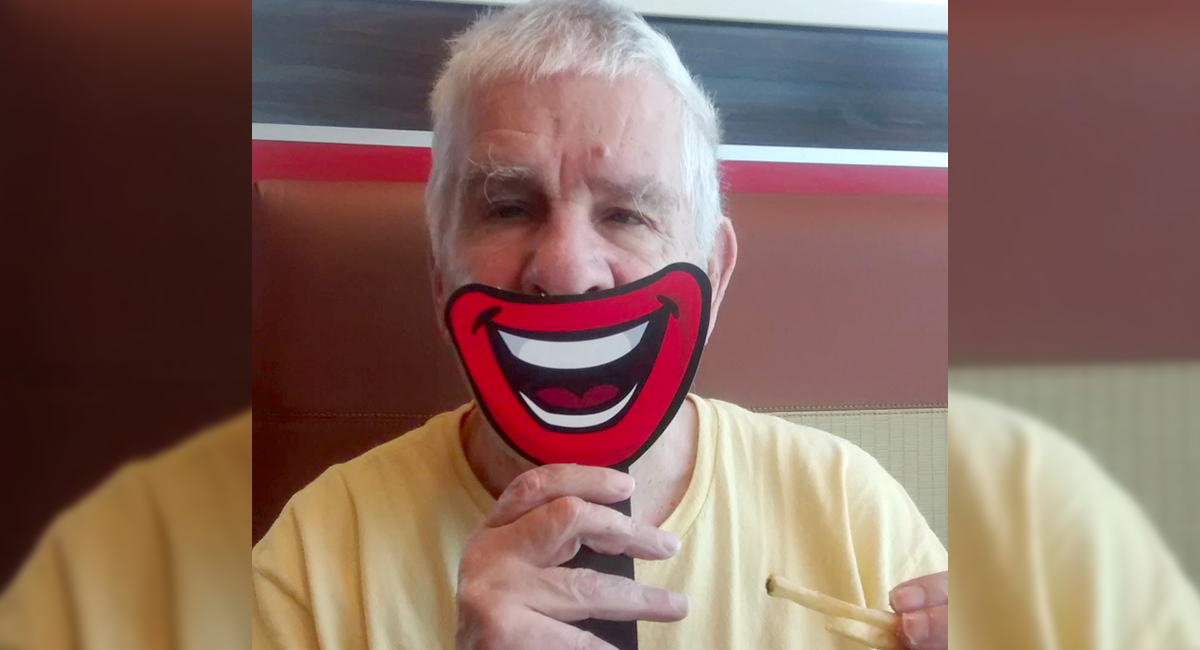 Meet the Neighbors: Jean's Coffee and Country Music
By Sara Porcaro | May 17, 2018
On a cozy April afternoon, a festive group gathers over vanilla cake, full of good cheer as they celebrate the 88th birthday of their friend and roommate, Jean, in the comfort of their Wakefield home. His best friend, Robert, helps set the table with utensils, and Direct Support Professional Tom Papa asks Jean how it feels to be 88 years old.

"Fine," Jean says. "Just fine."

He's what Service Coordinator Calie Sherman describes as "a mild-mannered guy who enjoys the simple things in life like a hot cup of coffee." With gifts of new clothes and a new radio to listen to country music on, Jean has been spending his time relaxing and enjoying the spring sunshine. Since the early 1980's, Jean has been receiving Residential and Day Services from Perspectives Corporation at his current home in Wakefield, surrounded by people that love and care for him--roommates, friends, and more.

Of course, Jean's story doesn't start with Perspectives. Before living with the friends he's made here, he lived for some time at Shady Acres Nursing Home in West Kingston--and before that, at the Ladd Center. From 1937 to 1977, Jean lived at the Center, and it was there that he met his friend Robert. It's also where he discovered his love for style, now reflected in the nice wardrobe he keeps at home.

"I used to shave the men and cut hair for a job," says Jean. "I also worked in the dining room."

Jean would also sometimes help Robert, who worked washing and waxing the floors. Over time, they became inseparable, helping each other in their day-to-day tasks and supporting each other through thick and thin.

After the journey that took him and Robert to their current home, the two have kept their friendship strong. Robert makes coffee for Jean and helps him set the radio, and Jean relaxes with his other housemates in kind, enjoying T.V. shows like Wheel of Fortune on his days at home and loving a leisurely drive around town, country music playing in the car.

On an average day, one can find him grabbing a cup of coffee at a local Dunkin' Donuts, taking a walk on the nearby beaches, meeting with friends at the Wakefield Senior Center, or staying fit with exercise. Jean loves to spend time with friends and participate in Perspectives events like the Holiday Chorus, making sure he looks his best whenever he goes out--just as he always has.

"Jean sure can put a smile on your face," says Site Supervisor Heather Peterson. "He has a great personality and loves a good joke."

When asked if there's anything more he'd like to share about himself, Jean is modest. But Tom's voice rings out:

"I'll tell you what, Jean: I think you're a really cool guy."

That, he is! Jean is going strong, living each day surrounded by fantastic people. He enjoys making new friends and relaxing with those he loves, and with the beautiful weather this season is bringing, we know he'll be out making the most of it.

---
---