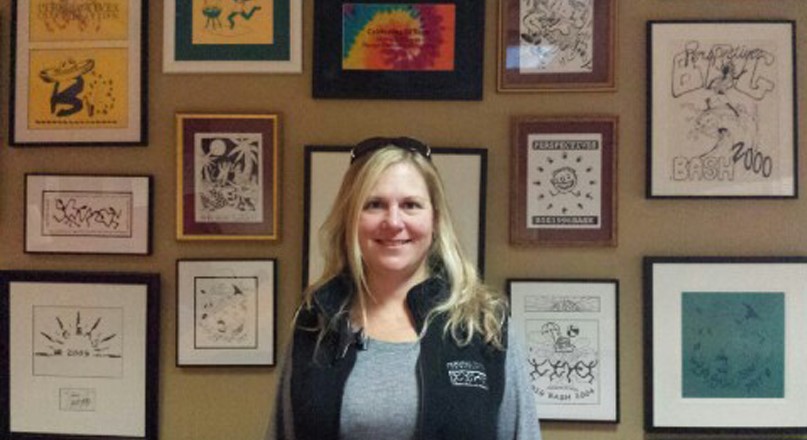 Careers at Perspectives: Working Outside the Box
By Sara Porcaro | May 31, 2018
For all those newly graduated with a degree in nursing, it might seem like the future is set. One can imagine work in a hospital or doctor's office, taking care of new patients each week--a classic career path for countless new nurses. However, there are plenty career options for those who want to try something different; just ask Perspectives Corporation R.N. Melissa Augaitis!
Right after her high school graduation in 1990, Melissa joined the Perspectives team as a Direct Support Professional, working with individuals receiving Residential Services. Her cousin worked with the company, and as a young adult about to go to college, Perspectives was a great place to both earn money and learn about potential careers.
"I was originally going to school at Johnston and Wales University for Equine Business Management, because I love horses," says Melissa, "but I decided to keep that as a hobby and studied psychology instead--and eventually nursing, too."
Melissa studied nursing and psychology at the Community College of Rhode Island and Rhode Island College. All throughout college, she worked at Perspectives in direct care and later as a Medical Records Person (MRP), which allowed her to work with the medical professionals of Perspectives.
After graduating from RIC, Melissa did try the traditional nurse settings, like a local hospital and other similar places. However, no matter where she went, there was something missing. In 2003, when a nursing position opened up at Perspectives, she reached out to Executive Director Judy Niedbala and soon joined the team once more. There, she rediscovered that missing element: the close-knit group of professionals and the individuals she'd grown close to that created a supportive, rewarding environment.
"I was comfortable with Perspectives," Melissa notes. "It had a family feeling to it because I'd made such strong friendships with my coworkers and individuals I support. And to this day, working directly with individuals is my favorite part of the job."
Now, Melissa works in Perspectives Residential Services program, bringing quality healthcare right to individuals' homes and training dedicated Direct Support Professionals in following medical plans. She also acts as a liaison between individuals and their doctors, advocating for them in medical manners, and she works to educate individuals on how to make the best choices about their health--both at the doctor's office and in everyday life.
Senior Director Deb Harbin glows with praise for Melissa: "She is very invested in individuals' wellbeing," says Harbin, "and her earlier experiences with hands-on care helps her relate to staff as well. She's a great nurse to work with, always willing to help out when others need a hand."
Melissa notes that "there are a lot of different career opportunities with Perspectives and benefits that other employers don't offer--a 401K plan, a lot of earned time off, and health benefits. It's a positive, friendly place to be."
If you're looking for a supportive, vibrant workplace, then Perspectives Corporation has what you're looking for. Check out our
Careers
page and apply today!
---
---